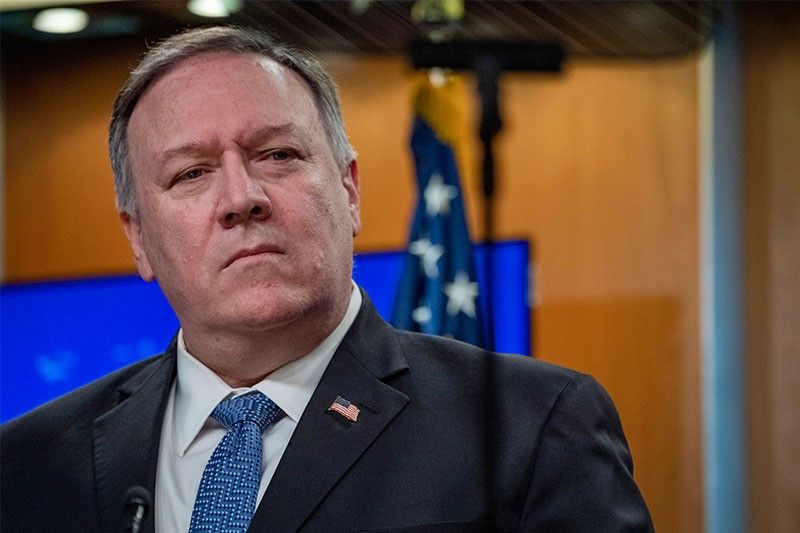 In this file photo taken on March 5, 2020 US Secretary of State Mike Pompeo delivers remarks to the media, in the Press Briefing Room, at the Department of State in Washington,DC. US Secretary of State Mike Pompeo warned China on March 16, 2020 not to spread disinformation on the novel coronavirus after an official in Beijing promoted a conspiracy theory on US involvement.In a phone call with senior Chinese official Yang Jiechi, Pompeo "stressed that this is not the time to spread disinformation and outlandish rumors, but rather a time for all nations to come together to fight this common threat," the State Department said.
AFP/Eric Baradat
US, China accuse each other of coronavirus fear-mongering
Shaun Tandon
(Agence France-Presse) - March 17, 2020 - 7:55am
WASHINGTON, United States — The United States and China on Monday each demanded that the other stop smearing its reputation over the novel coronavirus as the pandemic became the latest row between the powers.
The clash came on the day that the World Health Organization said more cases and deaths had been reported in the rest of the world than in China, where the new coronavirus virus was first detected late last year.
US Secretary of State Mike Pompeo, in a phone call he initiated with top Chinese official Yang Jiechi, voiced anger that Beijing has used official channels "to shift blame for COVID-19 to the United States," the State Department said.
Pompeo "stressed that this is not the time to spread disinformation and outlandish rumors, but rather a time for all nations to come together to fight this common threat," the department added.
The State Department on Friday summoned the Chinese ambassador, Cui Tiankai, to denounce Beijing's promotion of a conspiracy theory that had gained wide attention on social media.
Foreign ministry spokesman Zhao Lijian, in tweets last week in both Mandarin and English, suggested that "patient zero" in the global pandemic may have come from the United States -- not the Chinese metropolis of Wuhan.
"It might be US army who brought the epidemic to Wuhan. Be transparent! Make public your data! US owe us an explanation," tweeted Zhao, who is known for his provocative statements on social media.
Scientists suspect that the virus first came to humans at a meat market in Wuhan that butchered exotic animals.
'Stern warning' to US
Pompeo himself has sought to link China to the global pandemic, repeatedly referring to SARS-CoV-2 as the "Wuhan virus" despite advice from health professionals that such geographic labels can be stigmatizing.
Yang issued a "stern warning to the United States that any scheme to smear China will be doomed to fail," the official Xinhua news agency said in its summary of the call with Pompeo.
The key Chinese foreign policy leader "noted that some US politicians have frequently slandered China and its anti-epidemic efforts and stigmatized the country, which has enraged the Chinese people," Xinhua said.
"He urged the US side to immediately correct its wrongful behavior and stop making groundless accusations against China."
President Donald Trump, under fire over his handling of the pandemic, and his allies have sought to cast the coronavirus as a disease brought by foreigners.
Republican Senator Tom Cotton, a Trump ally, has spoken of the "Chinese coronavirus" and in a recent statement vowed, "we will hold accountable those who inflicted it on the world."
While COVID-19 -- the disease caused by the virus -- has largely come under control in China, it has killed more than 7,000 people around the world and severely disrupted daily life in Western countries.
The pandemic comes at a time of wide-ranging tensions between the United States and China on issues from trade to human rights to Beijing's military buildup.
As It Happens
LATEST UPDATE: April 8, 2020 - 4:08pm
Follow this page for updates on a mysterious pneumonia outbreak that has struck dozens of people in China.
April 8, 2020 - 4:08pm
The Department of Health reports 106 new confirmed COVID-19 cases, bringing the tally to 3,870.
There are 23 new recoveries and five new fatalities, the DOH adds.
April 8, 2020 - 3:32pm
Voicing joy and excitement from behind face masks, tens of thousands of people fled Wuhan on Wednesday after a 76-day travel ban was lifted on the Chinese city where the coronavirus first emerged.
Previously quiet train and bus stations bustled as an exodus began from the city of 11 million, with some passengers wearing hazmat suits.
Hao Mei, a single parent from the nearby city of Enshi, said her two children had been home alone since she got stuck in Wuhan, where she works in a school kitchen.
"You have no idea! I was already up around 4 am. I felt so good. My kids are so excited. Mum is finally coming home," the 39-year-old told AFP as she waited to board a train.
"At the start of the lockdown, I cried every night. I was really miserable, because my little girl is still young, she's only 10."
Up to 55,000 people are expected to leave Wuhan on Wednesday just by train, according to government estimates. -- AFP
April 8, 2020 - 12:14pm
The National Telecommunications Commission and United Nations Children's Fund join hands with the telecommunications to ensure parents and children's security both online and offline amidst the COVID-19 pandemic.
Upon UNICEF's request, the NTC extends its support in spreading information to alleviate the situation. The telecommunications sector is sending out text blasts encouraging subscribers to visit unicef.ph and saferkidsph.org for information and tips on how to support parents and children in managing the impact of COVID-19.
April 8, 2020 - 8:02am
US President Donald Trump threatens to put a "hold" on funds to the World Health Organization, accusing it of bias toward China and performing badly in the coronavirus pandemic.
Trump tells he was "going to put a very powerful hold on" the WHO, the UN body whose biggest funding source is the United States. He gave no details about how much money would be withheld or when. — AFP
April 8, 2020 - 8:01am
The worldwide number of fatalities from the novel coronavirus rises 80,142, according to a tally compiled by AFP at 1900 GMT from official sources.
More than 1,397,180 declared cases have been registered in 192 countries and territories since the epidemic first emerged in China in December. Of these cases, at least 257,100 are now considered recovered.
The tallies, using data collected by AFP offices from national authorities and information from the World Health Organization (WHO), probably reflect only a fraction of the actual number of infections. — AFP