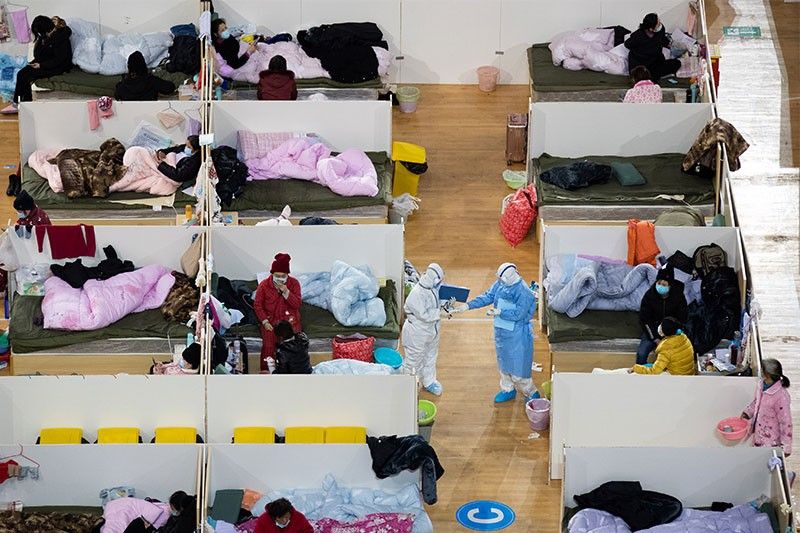 This photo taken on February 18, 2020 shows medical personnel walking among patients with mild symptoms of the COVID-19 coronavirus resting at night in the temporary Hospital set up in a sports stadium in Wuhan, in China's central Hubei province. The death toll from China's new coronavirus epidemic jumped past 2,000 on February 19 after 136 more people died, with the number of new cases falling for a second straight day, according to the National Health Commission.
AFP/STR
China's Hubei province reports 115 more virus deaths
(Agence France-Presse) - February 21, 2020 - 8:33am
BEIJING, China — The death toll in China from the coronavirus epidemic rose to 2,233 on Friday after 115 more people died in Hubei province, the hard-hit epicentre of the outbreak.
The vast majority of the deaths were in the provincial capital of Wuhan, where the virus first emerged in December, according to a daily update from the Hubei health commission.
Around 75,000 people have been infected by the new coronavirus in China, and hundreds more in over 25 countries.
The Hubei health commission said there were 411 new cases of the virus in the province, with 319 in Wuhan and the rest spread out across several other cities.
China said on Thursday that it had once again changed the method of counting patients with the novel coronavirus and will now include only those diagnosed by laboratory tests.
It was the second revision of criteria in just eight days, a move that could muddle statistics and complicate efforts to track the spread of the illness.
Chinese health officials had last week said that patients from Hubei who had been diagnosed through clinical methods including lung imaging would be added to the count in addition to those confirmed by lab tests.
That led to a huge one-day increase in the number of confirmed cases — 14,840 — on February 13.
The change was blamed on a backlog of patients awaiting nucleic acid tests whose condition was deteriorating and needed urgent treatment.
National figures on the virus are typically released hours after Hubei's numbers.
As It Happens
LATEST UPDATE: May 26, 2020 - 9:15pm
Follow this page for updates on a mysterious pneumonia outbreak that has struck dozens of people in China.
May 26, 2020 - 9:15pm
The World Health Organization said Tuesday that Dutch workers apparently infected with the coronavirus by minks could be the first known cases of animal-to-human transmission.
The WHO told AFP that it was in close contact with Dutch researchers investigating three cases where the virus appears to have been passed to humans from minks.
"This would be the first known cases of animal-to-human transmission," the UN health agency told AFP in an email.
"But we are still collecting and reviewing more data to understand if animals and pets can spread the disease," it said. — AFP
May 26, 2020 - 4:50pm
The Department of Health announces that a total of 14,669 individuals have contracted the coronavirus disease, with the agency reporting 350 new cases.
There are 89 new recoveries and 13 new deaths.
May 26, 2020 - 9:03am
The US coronavirus death toll has risen by 532 over the past 24 hours, the Johns Hopkins University tracker said Monday.
After that relatively small increase, the US toll now stands at 98,218 lives as of 8:30 pm (0030 GMT Tuesday), according to the Baltimore-based university, and US cases of infection now number 1,662,375.
Both are the highest anywhere in the world. — AFP
May 26, 2020 - 7:21am
The novel coronavirus has killed at least 344,107 people since the outbreak first emerged in China last December, according to a tally from official sources compiled by AFP at 1900 GMT on Monday.
The drop in the total numbers of deaths is due to Spain's revision of its toll downwards by nearly 2,000.
At least 5,453,650 cases of coronavirus have been registered in 196 countries and territories. Of these, at least 2,133,900 are now considered recovered. — AFP
May 25, 2020 - 9:30am
The US coronavirus death toll has risen by 638 over the past 24 hours, the Johns Hopkins University tracker reported Sunday night.
After that relatively small increase, the US toll now stands at 97,686 lives as of 8:30 pm (0030 GMT Monday), according to the Baltimore-based university, and US cases of infection now number 1,641,585. — AFP