China's Hubei province reports 115 more virus deaths
February 21, 2020 | 8:33am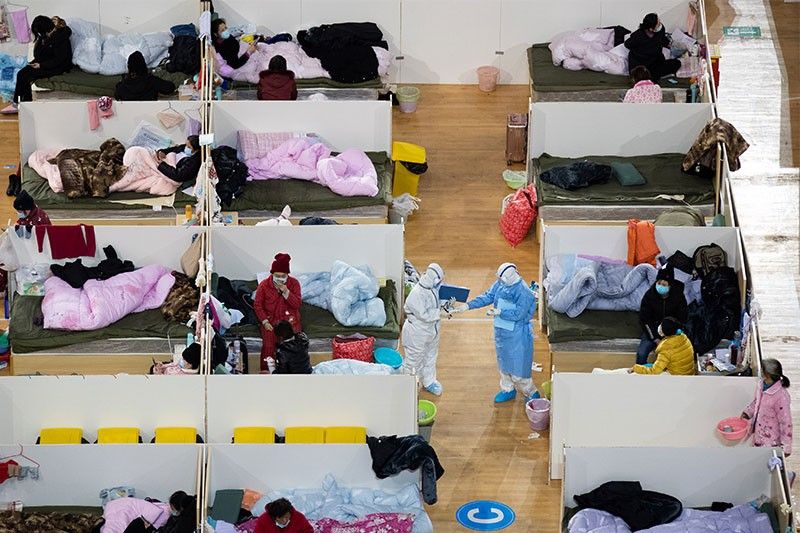 BEIJING, China — The death toll in China from the coronavirus epidemic rose to 2,233 on Friday after 115 more people died in Hubei province, the hard-hit epicentre of the outbreak.
The vast majority of the deaths were in the provincial capital of Wuhan, where the virus first emerged in December, according to a daily update from the Hubei health commission.
Around 75,000 people have been infected by the new coronavirus in China, and hundreds more in over 25 countries.
The Hubei health commission said there were 411 new cases of the virus in the province, with 319 in Wuhan and the rest spread out across several other cities.
China said on Thursday that it had once again changed the method of counting patients with the novel coronavirus and will now include only those diagnosed by laboratory tests.
It was the second revision of criteria in just eight days, a move that could muddle statistics and complicate efforts to track the spread of the illness.
Chinese health officials had last week said that patients from Hubei who had been diagnosed through clinical methods including lung imaging would be added to the count in addition to those confirmed by lab tests.
That led to a huge one-day increase in the number of confirmed cases — 14,840 — on February 13.
The change was blamed on a backlog of patients awaiting nucleic acid tests whose condition was deteriorating and needed urgent treatment.
National figures on the virus are typically released hours after Hubei's numbers.
As It Happens
LATEST UPDATE: September 19, 2021 - 4:17pm
Follow this page for updates on a mysterious pneumonia outbreak that has struck dozens of people in China.
September 19, 2021 - 4:17pm
Australia's second-largest city will exit its coronavirus lockdown in late October if vaccine targets are met under an official roadmap released Sunday.
About five million people in Melbourne have been under stay-at-home orders since August 5, the sixth lockdown they have endured so far during the COVID-19 pandemic.
Officials in Victoria state, which includes Melbourne, announced those orders would be lifted when 70 percent of over-16s are fully vaccinated. They projected that target would be reached around October 26.
"Lockdown will end. The (limited) reasons to leave your home and the curfew will no longer be in place," Victoria premier Dan Andrews said, adding that a raft of restrictions would still be enforced.
Restaurants and pubs will be allowed to reopen but only with a maximum of 50 fully vaccinated people seated outdoors, while a ban on visitors to homes will remain in place. — AFP
September 17, 2021 - 7:07pm
The novel coronavirus has killed at least 4,667,150 people since the outbreak emerged in China in December 2019, according to a tally from official sources compiled by AFP.
At least 226,967,810 cases of coronavirus have been registered.
The vast majority have recovered, though some have continued to experience symptoms weeks or even months later.
September 14, 2021 - 8:48pm
Frontline health and social care workers, older people and the clinically vulnerable in Britain will start to receive a booster jab against COVID-19 from next week, the government says.
Health minister Sajid Javid tells parliament he had approved a recommendation from advisory body the Joint Committee on Vaccination and Immunisation (JCVI) to start the programme.
He also approved a controversial proposal to offer jabs to children aged 12-15 as concern mounts about the spread of the virus in schools. — AFP
September 14, 2021 - 5:51pm
All children aged 12-15 will be offered COVID-19 vaccinations, Britain announces, following the advice of four top medical officers.
Britain has been one of the countries hardest hit by COVID-19, recording more than 134,000 deaths.
Despite a succesful vaccination programme, case rates remain stubbornly high due to the emergence of the Delta variant, and officials are anxious about them rising further now that schools have returned after the summer break. — AFP
September 14, 2021 - 2:21pm
Australian authorities extend a coronavirus lockdown of the nation's capital Canberra to mid-October, saying the measure was necessary while vaccinations are ramped up.
About 400,000 Canberra residents have been under stay-at-home orders since August 12, when a single case of COVID-19 was detected.
Now at just over 250 active cases, the cluster caused by the highly infectious Delta variant remains small but has been treated with caution in a city that had largely avoided outbreaks. — AFP