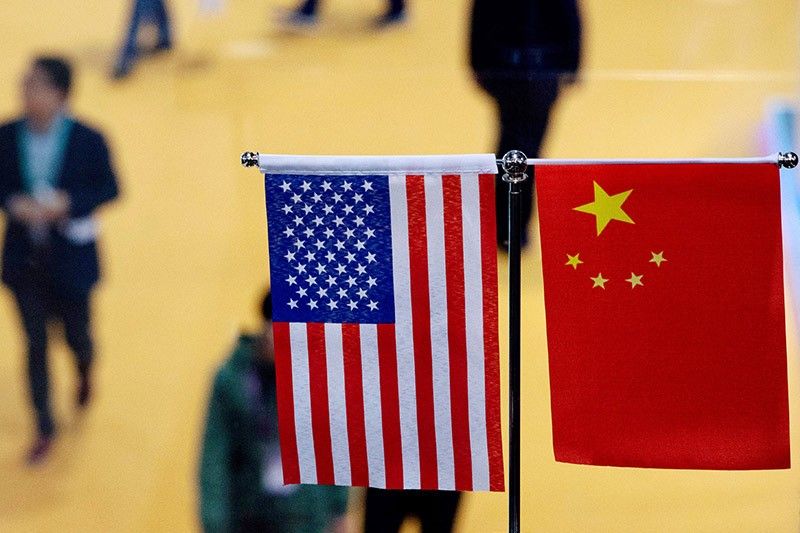 This file picture taken on Nov. 6, 2018, shows a Chinese and US flag at a booth during the first China International Import Expo in Shanghai. The World Civilization Research Association, a group of professors from Chinese academic institutions, claimed that all European-based languages are "dialects" of Mandarin.
Johannes Eisele/AFP
Chinese scholars claim English is actually Mandarin
(Philstar.com) - September 10, 2019 - 3:25pm
MANILA, Philippines – A group of Chinese scholars claim that all European languages, including English, are actually Mandarin dialects.
Speaking at the first China International Frontier Education Summit in Beijing, the World Civilization Research Association also argued that Europe had no history before the 15th century.
In an interview with Sina Online, World Civilization Research Association Zhai Guiyun cited examples of English words derived from Mandarin, Taiwan News reported.
The word "yellow" sounds like the Mandarin word "yeluo" which means "leaf falling" and it is also the color of autumn, Zhai said.
Another example is the word "heart" that resembles the Mandarin word "hede" meaning "core."
Zhai claimed that this is proof that English is just a "dialect" of Mandarin and that other languages such as Russian, French, German and other European-based languages went through the same process of sinicization.
According to Encyclopaedia Britannica, the English language, a West Germanic language of Indo-European language family, originated in England.
"The parent tongue, called Proto-Indo-European, was spoken about 5,000 years ago by nomads believed to have roamed the southeast European plains," Encyclopaedia Britannica said in its website.
The Chinese group, meanwhile, also claimed that Europe's history of ancient Egyptian, Greek and Roman civilizations were fabricated and were only based on Chinese history, The Independent reported.
"Before the 15th and 16th centuries, Europe had no history, only myths and legends," Zhai told Sina Online.
The World Civilization Research Association has opened branches in the United States, Canada, the United Kingdom, Thailand, South Korea and Madagascar to "restore" truth in world history as opposed to "fake" Western-centered history. – Patricia Lourdes Viray