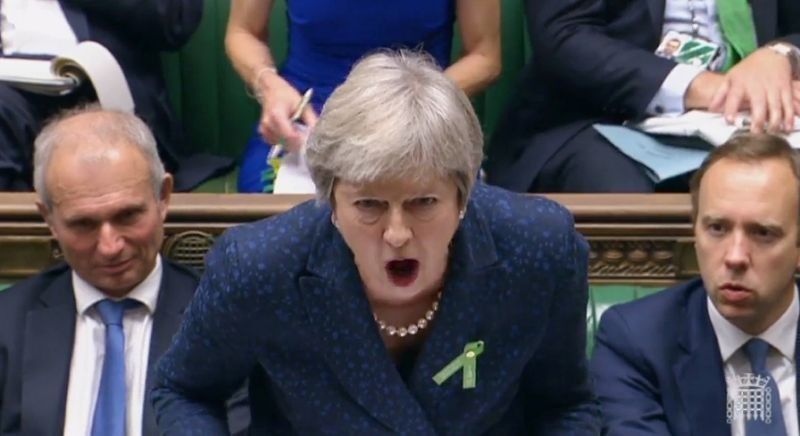 British Prime Minister Theresa May has insisted she will not accept any Brexit deal that creates "a border down the Irish Sea".
AFP Photo/HO
DUP kingmakers threaten to pull support for Britain's May
London - British Prime Minister Theresa May's allies threatened yesterday to pull their support for her government if she gives away too much in Brexit negotiations, just days ahead of a crucial EU summit.
Sammy Wilson , Brexit spokesman for Northern Ireland's Democratic Unionist Part, made public a previously private threat to vote against the government;s budget proposals this month if May breaches his party's red lines, a move that could lead to fresh elections.
May's Conservative party has relied on the DUP's 10 MPs to pass legislation in the House of Commons since losing its majority following the June 2017 general election.
Less than six months before Brexit day on March 29, 2019, the talks are stuck on how to keep open the border between the British province of Northern Ireland and its neighbour Ireland, which will remain part of the European Union.
Wilson warned that any solution that resulted in checks on goods transiting between Northern Ireland and the rest of Britain, as outlined by EU negotiator Barnier in a speech on Wednesday, would be "unacceptable".
Accepting such demands "would have implications not just for Brexit legislation -- 50 percent of which would not have passed without DUP support -- but also for the budget, welfare reform and other domestic legislation", he wrote in the Daily Telegraph.
If the party votes against the budget, which will be presented on October 29, this could trigger a confidence motion and a general election if the government loses.
"As a unionist party, we will not give our support to any deal that includes such economically and constitutionally damaging arrangements," Wilson said, warning that the party would hold firm even if the government tries to "bribe, bully or browbeat us".
In what was interpreted as a warning shot, DUP MPs failed to back the government on a vote on an agriculture bill late on Wednesday, although it still won.
The sabre-rattling came after DUP leader Arlene Foster met Barnier in Brussels this week as part of the build-up to the October 18 summit, which the EU has billed as a "moment of truth" in Brexit discussions.
German Chancellor Angela Merkel said Wednesday that progress is being made and Barnier said a deal was "within reach", but Britain has said that significant issues must still be resolved.
- 'National interest' -
Britain and the EU have agreed on the need for a legally binding "backstop" arrangement to avoid physical checks on the Irish border, whatever the outcome of future trade talks.
Barnier said that "administrative procedures" would be required on goods travelling to Northern Ireland from the rest of the UK if the Ireland-Northern Ireland border is to remain free-flowing.
European Union proposals would keep Northern Ireland in its customs union and force the province to abide by European single market rules.
May has insisted she will not accept any deal that creates "a border down the Irish Sea" but recent reports have indicated that her government may be willing to compromise.
The prime minister will brief some of her key ministers later yesterday about the current state of the Brexit talks.
May is also facing strong opposition from eurosceptic Conservative MPs who want a clean break with the EU, and there were reports at the weekend that some of them too could vote against the budget as a sign of strength.
At prime minister's question time on Wednesday, she urged MPs of all parties to "put the national interest first" when they come to vote on the final Brexit deal.
The opposition Labour party has warned it is likely to vote against the agreement, but reports suggest up to 40 Labour MPs might rebel and back the government.
A Labour source said this speculation was "wide of the mark".