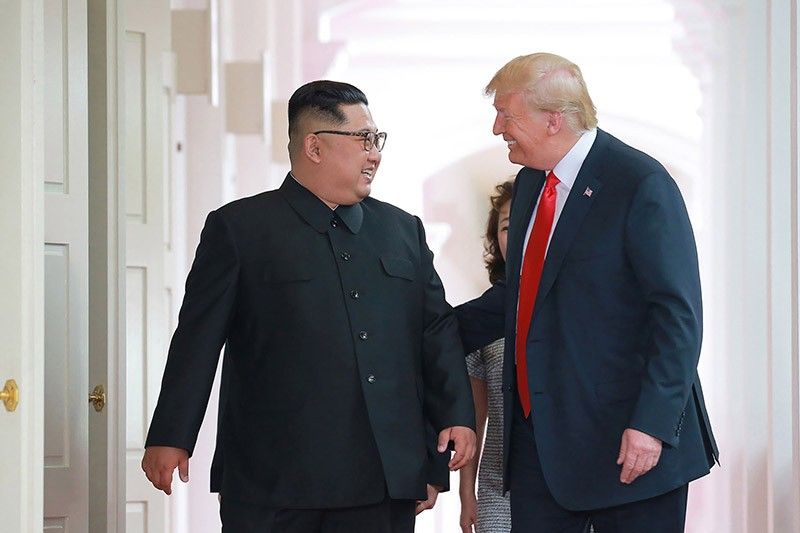 In this picture taken on June 12, 2018 and released from North Korea's official Korean Central News Agency (KCNA) on June 13, 2018, US President Donald Trump (R) and North Korea's leader Kim Jong Un (L) walk to attend their historic US-North Korea summit, at the Capella Hotel on Sentosa island in Singapore.
KCNA via KNS/AFP
Trump downplays abuses by Kim Jong Un's regime
(Agence France-Presse) - June 14, 2018 - 11:03am
WASHINGTON, United States — US President Donald Trump downplayed abuses by Kim Jong Un's regime in an interview following his summit with the North Korean leader, saying that other countries had also done "bad things."
"A lot of other people (have) done some really bad things. I mean, I could go through a lot of nations where a lotta bad things were done," Trump said in an interview with Fox News.
He praised Kim as "a very smart guy" and "a great negotiator," saying that "I think we understand each other."
According to Trump's own State Department, Kim's regime holds between 80,000 and 120,000 political prisoners in forced labor camps, facing torture and forced starvation.
As well as abuses at home, Kim is also suspected of ordering the assassination of his brother at a Malaysian airport last year.
Trump and Kim met in Singapore on Tuesday—an unprecedented encounter that saw the leader of the world's most powerful democracy shake hands with the third generation scion of a dynastic dictatorship, standing as equals in front of their nations' flags.
Critics have charged the summit legitimized Kim and said the summit was more about headlines than substantive progress.
Trump also had kind words for Chinese President Xi Jinping in the interview, describing him as "an incredible guy" and noting that he is "essentially president for life. That's pretty good."