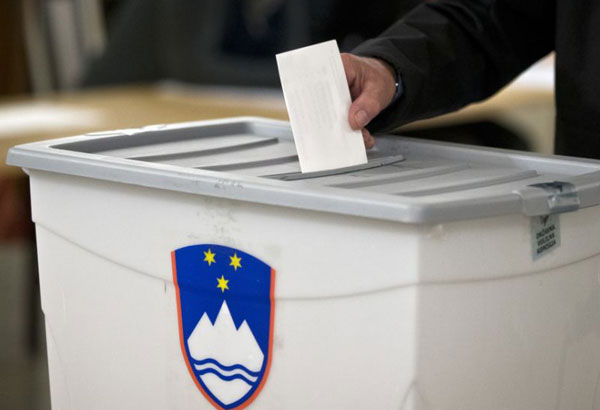 FILE - In this Sunday, Oct. 22, 2017 file photo, a voter casts his ballot at a polling station in Sempetr Pri Gorici, Slovenia. Slovenia is holding a runoff presidential election on Sunday, Nov. 12, 2017, that is pitting President Borut Pahor against a challenger Marjan Sarec, a former actor. (AP Photo/Darko Bandic, file)
Ex-comic challenges president in Slovenian election runoff
Jovana Gec
(Associated Press) - November 12, 2017 - 9:20pm
BLED — Voters in Slovenia cast ballots yesterday in a presidential runoff, with President Borut Pahor's bid for re-election facing a tough challenge from an ex-comedian who's now the mayor of a northern town.

Pahor, a veteran politician known as the "King of Instagram" for his frequent use of social media, led by a large margin after the first round of voting on Oct. 22. But his runoff opponent, Marjan Sarec, the mayor of Kamnik, has since narrowed the gap.

The president in Slovenia holds no executive powers but he or she proposes a prime minister and their opinion on important issues holds weight. The two politicians are both centrist, but they have clashed on issues such as the privatization of Slovenia's biggest bank and the composition of the country's anti-corruption body.

Slovenia, a country of 2 million people in Central Europe, is known for its Alpine mountains and lakes and its love of nature. It is the birthplace of US first lady Melania Trump.

Key topics facing Slovenia include the economy, a border dispute with Croatia and the future of the European Union, which Slovenia joined in 2004.

After voting yesterday, Pahor complained that some people viewed him as a populist — which he says he is not — while Sarec was trying to assume the role of a "statesman."

Sarec, for his part, expressed confidence that he could win.

"I wouldn't have run for the position if I hadn't thought I could be elected," he said.

Pahor, a former model like the US first lady, was Slovenia's prime minister before he was first elected president in 2012. He has sought to portray himself as a uniter of all Slovenians. Critics say, however, the 54-year-old simply avoids taking a stand on important issues.

Sarec, in contrast, is a relative newcomer who has won support from many Slovenians fed up with established politicians. The 39-nine-year-old was a well-known satirical comedian before entering politics in 2010 to run for the mayor of Kamnik.

Sarec won and gave up acting so he could commit to the job. He is currently serving his second term as mayor.