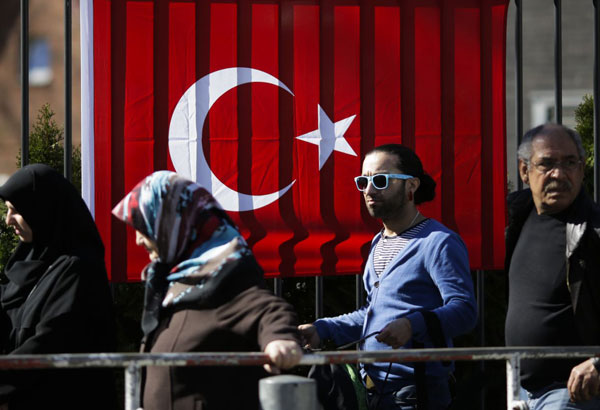 FILE - In this March 27, 2017 file photo people wait outside the Turkish consulate in Berlin, Germany, to cast their votes on the first day of the referendum on the presidential system in Turkey. The high support for Turkey's president of Turks living in the European Union has worried some officials in the 28-nation bloc. Critics fear their endorsement of Turkish President Recep Tayyip Erdogan's push toward undisputed rule amounts to a rejection of the Western democracies many Turks have lived in for decades. (AP Photo/Markus Schreiber, file)
High Turkish support for Erdogan in EU worries Europeans
George Jahn
(Associated Press) - May 14, 2017 - 11:05pm
VIENNA — Ayhan Ogelge lives in Austria. But his heart is in his Turkish homeland and beats for its president, even as Europe's democracies raise the alarm over the Turkish leader's push toward one-man rule.

President Recep Tayyip Erdogan "speaks for all of us," says Ogelge, when asked why he voted to strengthen his powers. "In Austria, in Turkey — everywhere."

Ogelge is far from alone. While nearly half overall of those who voted last month opposed a referendum giving Erdogan more power, many of the 1.4 million votes cast in Europe tell a different story.

More than 70 percent voted yes in Austria, the Netherlands and Belgium, and more than 60 percent in Germany and France. Critics fear their endorsement of Erdogan's moves toward undisputed authority amounts to a rejection of the Western democracies many Turks have lived in for decades.

Reflecting deep polarization within Europe's Turkish communities, most members refuse to discuss their vote. Additionally, because Austria doesn't allow dual citizenship in most cases, Turks with Austrian and secretly held Turkish passports won't acknowledge they voted.

"I've never experienced such a climate of distrust," says publisher Birol Kilic, a first-generation Turkish immigrant with Austrian citizenship. "Even when I, a Turk, ask other Turks about their vote here, I am met with silence."

But Erdogan critics have ready answers to why so many supported the Turkish leader.

They speak of indoctrination — and intimidation — through a web of mosques, social clubs and other organizations loyal to Erdogan's AKP party.

Germany's pro-European Turkish Community says many were led into thinking the question boiled down to "are you a Turk, or a traitor to the fatherland?"

Sevim Dagdelen of Germany's Die Linke party speaks of manipulation by "Erdogan's networks, his army of informants and trolls." Peter Pilz of Austria's Greens party says Erdogan's support in Europe was strongest "where there are powerful religious and political webs financed and controlled by Ankara."

Pilz notes that Erdogan lost in Sweden, Switzerland and other countries with relatively small Turkish populations and weak Turkish state-backed organizations.

ATIB, the Turkish acronym for Turkish-Islamic Cultural Unions in Europe, which reports to Ankara's religious authorities and was named by Pilz as a key state-influencer of Austrian Turks, didn't respond to requests for comment.

In Vienna, the sprawling Brunnenmarkt bazaar appears to be the most fertile ground for any Turkish state outreach.

Essentially a Turkish outpost, it provides life in the comfort zone with the minimum of forays into what for many is the strange world of Europe.

The language here is Turkish, as are the signs and the enticing smells from the food stalls. So are the television programs beamed by state and pro-state networks loyal to Erdogan. And holiday trips always lead back to Turkey.

Even when understood in a community where many only speak Turkish, questions about Erdogan from outsiders are unwelcome here.

A kerchiefed woman selling pastries frowns when asked what she thinks of the Turkish president. "No time," she mutters, turning away. "Too much work." Another Turk a few stands away is even curter. "No reporters," he barks.

German migration researcher Joachim Schulte speaks of Turkish "ghettos" distrustful of outsiders where "nationalism is strongly conserved and the contacts to Germans or Austrians are reduced to a minimum."

"Every-day communication occurs only in the home community," he says. "One remains in his own world here. Turkish brides are imported. And they never learn German — no need, everything works fine in Turkish."

Many break out and integrate. Still, statistics indicate that most don't feel they have arrived.

An Austrian government study from last year says 51.8 percent of first- and second- generation Turks feel more at home in Turkey than Austria. A survey in the German state of Bavaria from February notes that of migrants from nine nations or regions, Turks and their descendants show "the greatest readiness to return home and the greatest ties to the motherland."

But fault for such "parallel societies" lies not only with the Turks.

Enclaves like the Brunnenmarkt grew from the arrival of the first "guest workers" in the mid-1950s. They did the menial work that the citizens of economically growing Western Europe considered below them. Subsequent generations inherited such work — and with it, European aversion.

The German study reflects Turkish frustrations, with 51 percent of first- and second-generation respondents agreeing with the statement: "No matter how hard I try, I am not accepted as part of German society."

While EU nations are offering language lessons, courses on socially acceptable behavior and job training to the wave of migrants that swarmed into Europe starting in 2015, the guest workers never had such opportunities.

German Chancellor Angela Merkel said as much two years ago in comments marking the 60th anniversary of the arrival of the first guest workers. Officials back then, she said, "pushed a book in their hands titled 'German for Foreigners' and said: 'OK, that should work.'"

In terms of adapting, "they were simply thrown into cold water," she added.

Many turn to the old country in their search for the self-esteem they can't find in their new homes.

Aydan Ozoguz, Germany's commissioner for immigration, refugees and integration, says Erdogan voters saw in him "the strong man who represents the self-worth apparently missing" in Germany. And Erdogan's anti-European tirades apparently fell on receptive ears.

"The message 'we want a strong Turkey, all of Europe wants a weak Turkey' hit the right nerve," Austrian migration and assimilation researcher Kenan Gungor says.

The vote for Erdogan, he says, was "almost a declaration of love."