EDITORIAL - Above all, go after the litterbug
October 3, 2022 | 12:00am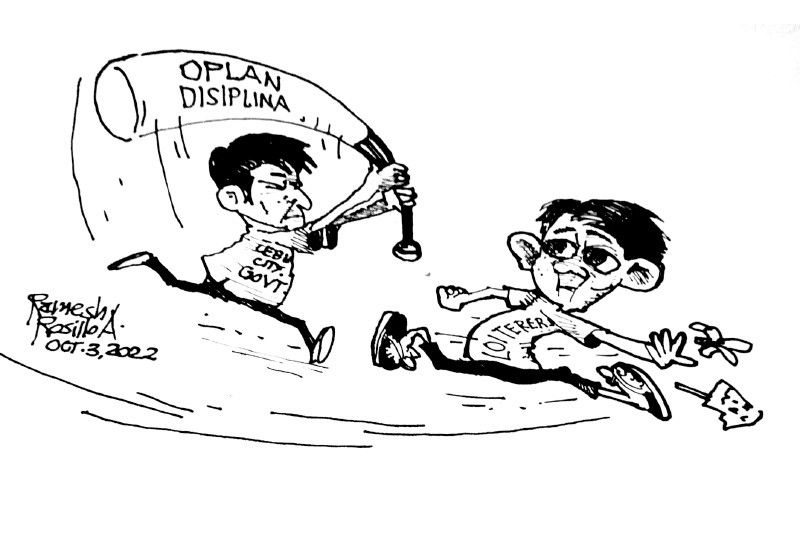 In a bid to instill discipline among Cebu City residents, Mayor Michael Rama has authorized the implementation of Oplan Disiplina and fielded personnel from various government offices and agencies to enforce ordinances on the environment, health and safety, sanitation, and traffic at the barangay level.
Cebu City Police Office deputy director for administration Police Lt. Col. Wilbert Parilla said the task force will also keep an eye out for residents smoking in public places, those in public without shirts on, and as well as those spitting and littering.
That's quite a tall order considering how many people do exactly that. Jeepney drivers think nothing about lighting up a smoke while driving, so do vendors, and people outside their homes. Manual laborers usually go about their business half-naked, while many practice what has come to be called "the freedom of spits".
The litterbugs? Don't get us started. We also think they should look out for this lot the most.
Littering is perhaps the most common of these offenses. There isn't a day when we don't see someone nonchalantly getting rid of a food wrapper, a water bottle, a barbecue stick, a plastic cup or bag, or any piece of trash like it was no big deal.
We already know what carelessly-thrown trash can do, especially during heavy rains. But it's not just the accumulation of trash in places where it shouldn't gather and the resulting massive flooding that's the issue here.
Our children are taught in school to dispose of garbage properly. But when they are outside the school they see the exact opposite of this; adults, most likely even their own parents, carelessly disposing of garbage everywhere. Because they tend to follow more what they see instead of what they hear, they end up mimicking the same behavior.
And when children do what they see adults doing, the number of litterbugs increases.
We don't expect a change in attitudes overnight. Our culture of always throwing trash anywhere runs deep. But if we can start somewhere and at the same time provide a good example for our children, this is where it should happen.