EDITORIAL - Old problem in a new light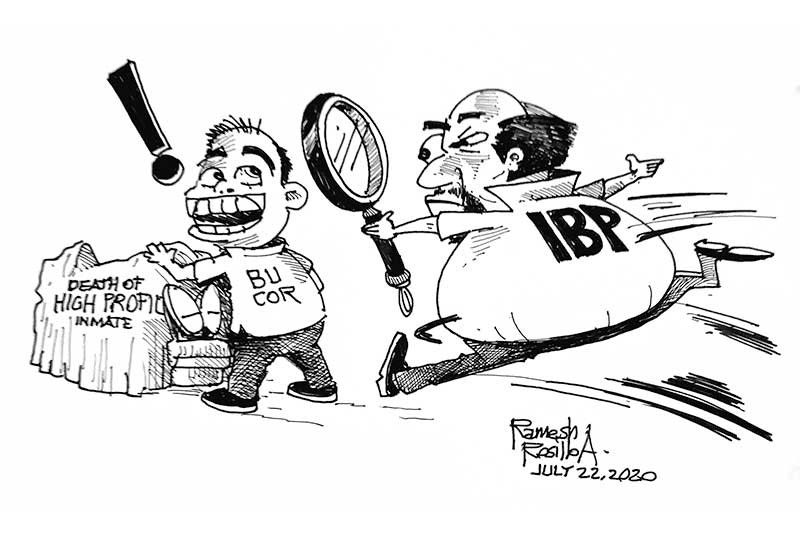 In an earlier editorial we called attention to making sure our jails are safeguarded from COVID-19. This call becomes timely again with the recent deaths in what can be considered the country's "top" jail, the New Bilibid Prisons in Muntinlupa City.
The latest group to ask the government to look into the situation in our jails is the Integrated Bar of the Philippines.
"We support a thorough investigation of the many reported anomalies in our prisons, including the latest questioned deaths of high profile inmates due to COVID-19," IBP national president Domingo Egon Cayosa is quoted as saying in a report in Philstar.com.
The New Bilibid Prisons has reported 21 deaths due to COVID-19 since March. Five inmates with the coronavirus are under isolation.
If this is the situation in our country's foremost jail, imagine how the situation is in other areas.
Our jails, like the rest of the country's infrastructure, are struggling to contain its assigned population. Even in the farthest-flung provinces where the crime volume is lower than in urban areas, we can expect detention facilities to have a population that is over the number it was intended to hold.
This overcrowding not only leads to cramped conditions, it also leads to poor sanitation and heightened risk of transmission of disease. And COVID-19 thrives in such conditions.
If COVID-19 can run rampant in a squatter community where a family has at least a thin plywood wall separating them from the neighbor, imagine what will happen if COVID-19 gets loose in a cramped jail where inmates have to sleep side-by-side like sardines packed in a can.
There is another reason to call attention to the situation in our jails and the ultimate move to decongest them.
If you think those who still have their liberty are suffering in their homes during quarantine restrictions, think about what those in our jails are going through. For many of them, the only thing they have to look forward to is that visit from a loved one. It is their only link to the outside world.
Now they are deprived of this sole pleasure due to the lockdown.
This problem of congestion jails has actually been around a long time. It's just being brought to the forefront again because of COVID-19.
This is also a problem that needs to be addressed soon. Like the population of our country, the number of people entering our jails is also growing every year.