Reaching out, touching lives
January 9, 2017 | 12:00am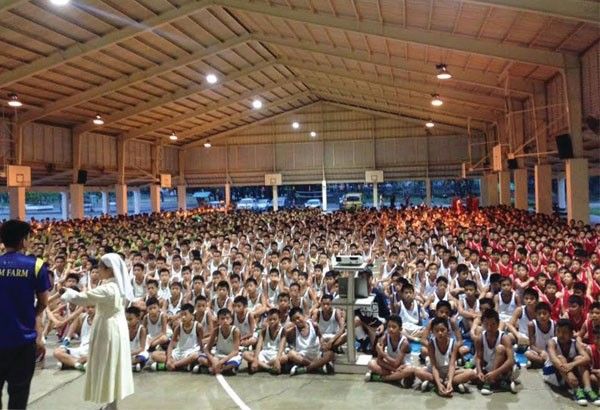 CEBU, Philippines - To be at service of humanity is the greatest achievement one could ever have in life.
Highly esteemed coach and league organizer Van Halen Parmis could ponder on this thoughts deeply and with proud joy in his heart for having reached out and touched the lives of others in his own little way through his sports community outreach project for then less fortunate individuals.
Over the weekend, Parmis celebrated his 35th birthday in a very special way, spearheading a multi-sport clinic to poor but deserving students of Sisters of Mary Boystown in Minglanilla.
Around 1,600 underprivileged kids from the charitable institution took part in the fun-filled training where they learned the fundamentals of basketball, tennis and football.
"One of my wish list for Cebu sports in 2017 really is to hold free grassroots training for those who are deprived of it. And a sustainable one," said Parmis, assistant coach and chief scout of reigning CESAFI basketball champions University of the Visayas Green Lancers.
This early, his wish is already granted after the Cebu Provincial Sports Commission through its excutive director lawyer Ramil Abing and Brando Velasquez has assured its all-out support in nurturing the noble endeavor of Parmis.
And it's all a product of a dedicated and concerted effort. For that, Parmis can't enough his well-meaning friends who lend him a helping hand in accomplishing his mission.
Among them are Rico Navarro of Sacred Heart School-Ateneo de Cebu, coach Eleazar Toledo (football), Freza Tabura (tennis) and basketball coaches Jun Pepito, Gary Cortes, Jaymar Canoy, Bon Rosito, Rommel Rasmo and Benjamin Alcaraz Jr. among others.
"I would like to extend my profound thanks to all of them for being part of this endeavor. I may not know all of them personally, but I'm glad that they address my cry for help. Thank you for standing by my advocacy. To the local superior of Sisters of Mary Boystown and all the nuns, thank you for welcoming me and for allowing me to create a difference in the lives of your boys. I will be forever grateful," said Parmis, who is also a well-known commercial basketball organizer in the Vis-Min region.
Making a difference in the lives of others is truly the longing of his heart. Having laid down its foundation is something that Parmis will cherish in his lifetime. For in this being we shall pass but once and it is indeed gratifying to have planted a seed of goodness for others that is worth remembering for.
That's exactly what Parmis just did.
"My prime purpose in life is training not the privileged, but the deprived and the disadvantaged sector of our society. To me, that is fulfillment. I want the kids to know that they are valued and that someone is thinking of them. My goal is really to make a difference for these young boys," Parmis ended. (FREEMAN)