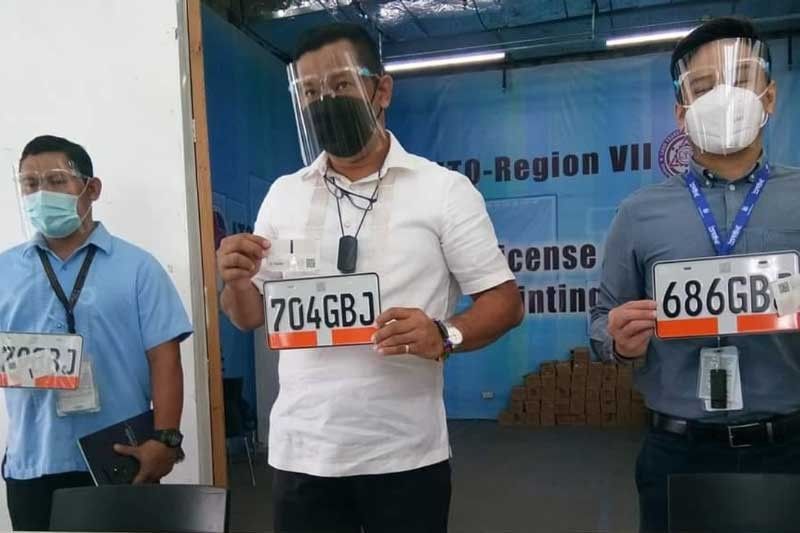 Land Transportation Office-7 Director Victor Caindec (center) shows one of the plate numbers that have arrived for motorcycle owners in Region 7.
Contributed photo
LTO-7 gets 18,879 motorcycle plate numbers
CEBU, Philippines — The first batch of 18,879 motorcycle plate numbers for Region 7 has arrived and now ready for distribution.
Motorcycle owners and dealers whose units were registered from February 2018 to April 2018 can now get their plate numbers at the Land Transportation Office 7 Temporary Offsite Plate Distribution Office at the Seaview Wing of SM Seaside City.
LTO-7 regional director Victor Caindec, who led the official launching of the motorcycle plates distribution in the region yesterday, said that dealers can claim the plate numbers provided they have authorization from the motorcycle owners.
Caindec, in an interview, said that 200,000 more plate numbers are expected to arrive gradually this year.
He however said that to claim the motorcycle plates, it would need an appointment and confirmation from their text line at 0947-349-9965.
"Dili ni pwede walk-in. Dapat mo text sa ang motorcycle owners or dealers with authority from the motorcycle owners nga i-text nila ang ilang mga details needed then the LTO will text them back if ready na for pick up," said Caindec.
The details like plate number and motor vehicle file number, date of the first registration, and name of the owner are needed for verification.
He said that motorcycle owners must secure an appointment and a confirmation otherwise the agency will not entertain them.
Once the motorcycle owner received a confirmation from LTO-7, he or she should bring the photocopy of his/her official receipt, certificate of registration and valid government identification card.
But Caindec said the motorcycle owner should not expect an immediate reply but what he assured is that they will reply.
Caindec said that even if the owners will not receive a confirmation right after sending the details, their personnel are doing their best to give the appointment date as soon as the plates are ready for pick up.
The LTO-7 chief explained that the printing was done in the central office and whatever the region receives, they do the inventory and distribution.
Most of those that were printed are the latest registered motorcycles.
Present during the launching were Claro Lumagas, LTO-7 New Registration Unit head, and Anton del Prado, mall manager of SM Seaside City. — GMR (FREEMAN)