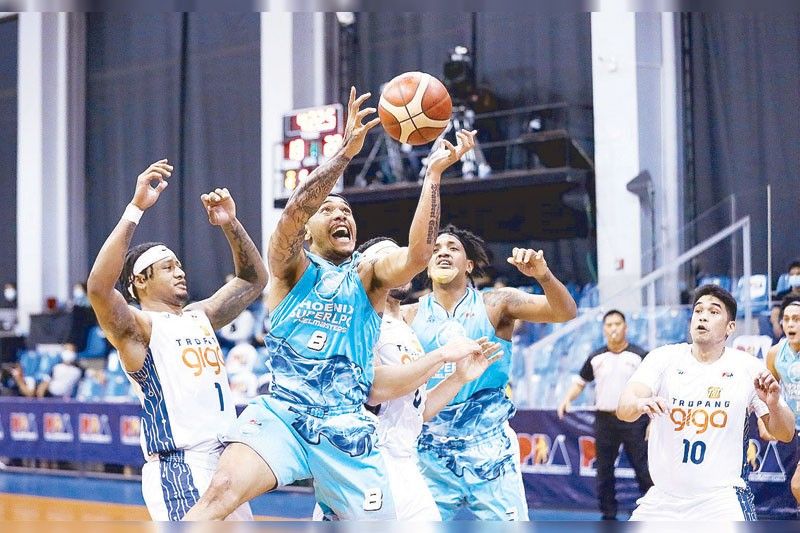 Calvin Abueva of Phoenix tries to score underneath against Bobby Parks Jr. of TNT Tropang Giga in the Fuel Masters' 110-103 win last Friday.
PBA Images
SMART CLARK GIGA CITY , Philippines — Calvin "The Beast" Abueva has been unleashed and has played a vital role in Phoenix Super LPG's steady rise in the Philippine Cup playoffs here.
But is Abueva, who came off a 16-month suspension and missed the first five games in the elims, qualified for any season award given his impressive performance thus far?
According to traditional league rules, players must have played at least 70 percent of his team's games in order to qualify for the MVP and any end-of-season award.
So far, Abueva has suited up in nine out Phoenix' 14 games (six in elims and three in playoffs) after being reinstated midway through the elimination round for a 64 percent mark.
In the elims (13.6 ppg, 10.6 rbp, 6.6 apg) and playoffs (13.0 ppg, 10.6 rbp, 1.3 apg, 1.6 spg), Abueva has been the same old beast for the Fuel Masters, whose Final Four series against TNT is now at 1-1, down to best-of-three.
Abueva would fall short with only 68.75 percent (11/16) if the series closes out in four games. If it goes the distance in five, he would then play 12 out of Phoenix' 17 games for a 70.5 percent, making him eligible for an award.
Commissioner Willie Marcial said the the final say on handing out the awards for MVP, Rookie of the Year, Most Improved, Sportmanship, Mythical and All-Defensive teams will soon be discussed by the board.
PBA chief statistician Fidel Mangonon has recommended naming a maximum seven candidates for the prestigious MVP award comprising of the top five in the statistical race and one each from the finalists.
For Abueva, everything is in the air. But he can always fit in to any other award like "Comeback Player of the Year."