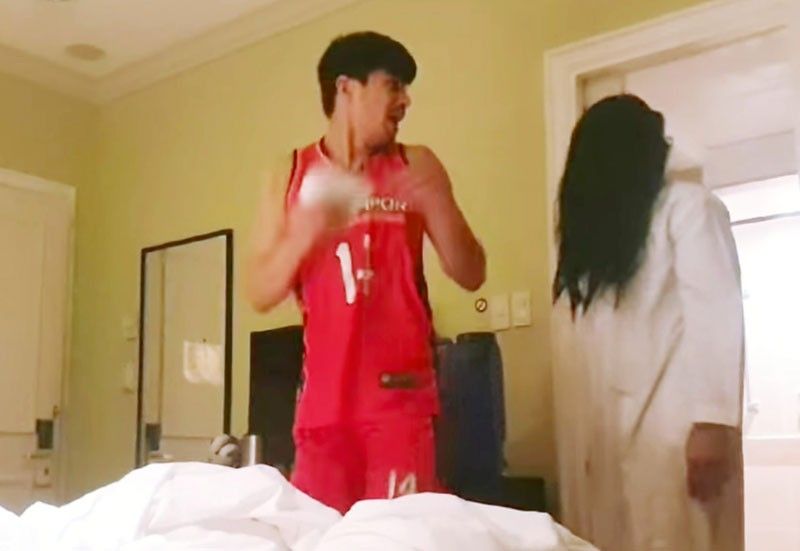 NorthPort player Jonathan Grey is shocked seeing Sadako emerge from his closet.
Grabbed from Ryan Araña's Facebook page
Sadako scares, brings laughter
Inside the bubble
SMART CLARK GIGA CITY, Pampanga, Philippines — Sadako appeared at Quest Hotel on a cold, rainy Halloween and scared the hell out of her victims.
That was Rain or Shine player Ryan Araña sporting a long-haired lady costume of the famed "The Ring" antagonist and pulling spooky prank on his young teammates Clint Doliguez, Vince Tolentino and Norbert Torres.
Conniving with another Elasto Painters freshman Prince Rivero, Araña also shocked former teammate Raymond Almazan of Meralco and NorthPort's Jonathan Grey when he came out from their rooms' closets.
In a way, Araña's scary prank brought laughter to the players holed inside the bubble for more than a month now.
* * *
The five barbers allowed to ply their trade in the bubble had the thrill of their lives having PBA personalities as their clients.
"Kinikilibutan pa nga ako. This 2020 pandemic will go down in history. To have this chance to cater service in the PBA bubble, there are no words for it," said Folk Barbershop general manager Bryan Corella.
"First-ever bubble tapos kami pa 'yung barbers. Who would ever think of it? It's such a big honor. It's a gift. We're thankful for this opportunity, he added.
Corella and four other barbers groomed almost 40 players and coaches led by TNT Tropang Giga's Jayson Castro, NLEX's Kiefer Ravena and Kevin Alas with Ginebra's Scottie Thompson, LA Tenorio, and Stanley Pringle.
Aside from the opportunity to earn after re-opening just two months ago upon the easing of the pandemic restrictions, the five barbers relished fan moments attending to their PBA idols.
A testament to their experience are treasured signatures of all the players and coaches on their own ball that they plan to put on an acrylic glass to be displayed in their Escolta shop.
Corella, a graphic designer, and his four friends put up Folk Barbershop in 2017.
Three years later amidst the pandemic and the strongest typhoon in recent memory, they made history as five barbers with their time with the PBA personalities inside the bubble.