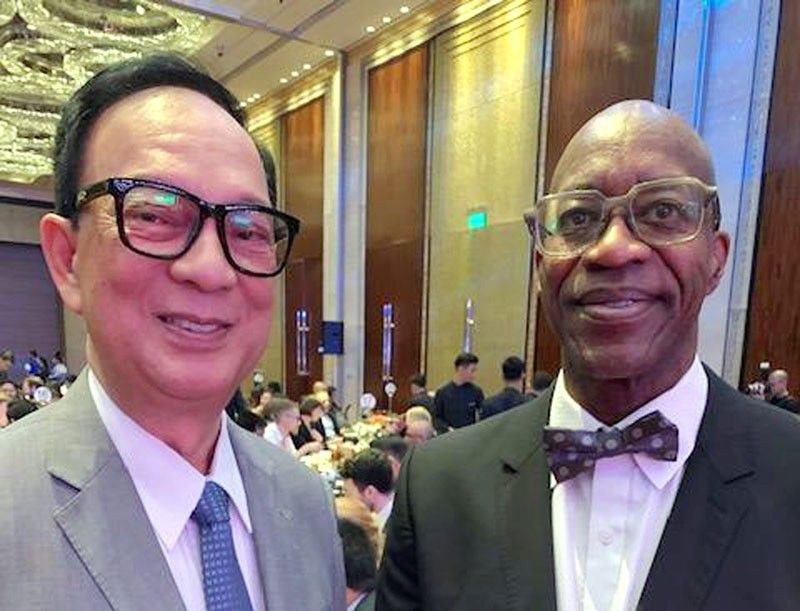 Athletics legend Dr. Edwin Moses and former POC president Celso Dayrit.
Moses bats for integrity in sports
MANILA, Philippines — It was an inspiring message that two-time Olympic 400-meter hurdles gold medalist Dr. Edwin Moses delivered during the SPIA Asia sports business conference at the Grand Hyatt Hotel, BGC, last week. He spoke about the integrity of sports and his campaign to wipe out illegal drug use as education chairman of the World Anti-Doping Agency (WADA).
Moses, 64, was in Manila less than a week for the conference and left to attend the WADA Executive Committee meeting that was held in Lausanne yesterday. He participated in discussions on the recommendation of the WADA compliance panel to ban Russia from sporting competitions for four years after Moscow was accused of falsifying athletes' laboratory data.
The decision will impact on Russia's attendance in the Tokyo Olympics next year, considering the accusation alleges a state conspiracy. While Russia as a nation may be barred, the country's athletes would still be allowed to compete if they can prove to be out of the drug system.
Moses has been in the forefront of the crackdown on illegal drug use in sports since retiring from track in 1988. He made it an advocacy to clean up sports and developed the first random out-of-competition drug testing program. With his involvement in WADA and the United States Anti-Doping Agency, Moses said his own personal integrity must be beyond reproach.
"We maintain strict standards," said Moses who took the gold medal in 400-meter hurdles at the 1976 and 1984 Olympics. "We can't accept tickets to watch games. We can't mingle with athletes. We can't go to casinos even if gambling is legal. We can't be involved in any sports federation so there is no possibility of conflict of interest. We set the highest standards on ourselves. Our credibility is of utmost importance."
Moses recalled that in 2015, WADA supervised drug testing on Floyd Mayweather Jr. and Manny Pacquiao before and after their fight in Las Vegas. "We do testing anywhere in the world," he said. "Two to three months before the fight, we tested Mayweather and Pacquiao several times. We know about VADA (Voluntary Anti-Drug Agency) and applaud its efforts. But I was recently advised that an English pro boxer under VADA tested positive."
Moses explained that WADA itself isn't a testing center. "It certifies labs for analysis and designates testers," he said. "WADA is a supervising body. IOC has members sitting in the WADA Executive Committee. Theoretically, we can come out with test results two days after the sample is extracted or two weeks at the most. Urine samples are tested faster than blood. We also collect lots of samples which we store and analyze over time. Two years ago, we just finished analyzing the last samples from the Beijing Olympics and samples from the London Olympics are still being studied."
Moses said he's aware of Mexican strength and conditioning coach Memo Heredia's testimony to implicate certain manufacturers of hard-to-detect performance enhancing drugs in the celebrated BALCO bust in San Francisco in 2002. As WADA education chairman, Moses said coaches must be aware of what drugs are illegal so athletes are properly guided.
In Manila, Moses exchanged notes with former POC president and Southeast Asian Games Federation executive council chairman Cito Dayrit. A topic they discussed was International Association of Athletics Federations president Lord Sebastian Cole's stand to ban Russia from participating in track and field events at the 2016 Rio Olympics. Dayrit is in full support of Moses' advocacy.
Moses was an academic scholar at the all-male Ivy League-type Morehouse College in Atlanta and took up Physics and Industrial Engineering. He worked for an aerospace company General Dynamics before committing himself full-time to sports. His father Irving was a US pilot during World War II and had occasion to visit the Philippines. To complement his anti-drug advocacy, Moses serves as chairman of the Laureus World Sports Academy, an international service organization of world-class athletes.
"It's my first time in Manila," said Moses. "I haven't had a vacation in five or six years and I'd love to return to do scuba diving. I know the Philippines has some of the most beautiful dive sites in the world. I watched some of the Southeast Asian Games events on TV, like 3x3 basketball and I'm impressed. But I never got out of my hotel to see the sights. I'm definitely coming back to stay longer."