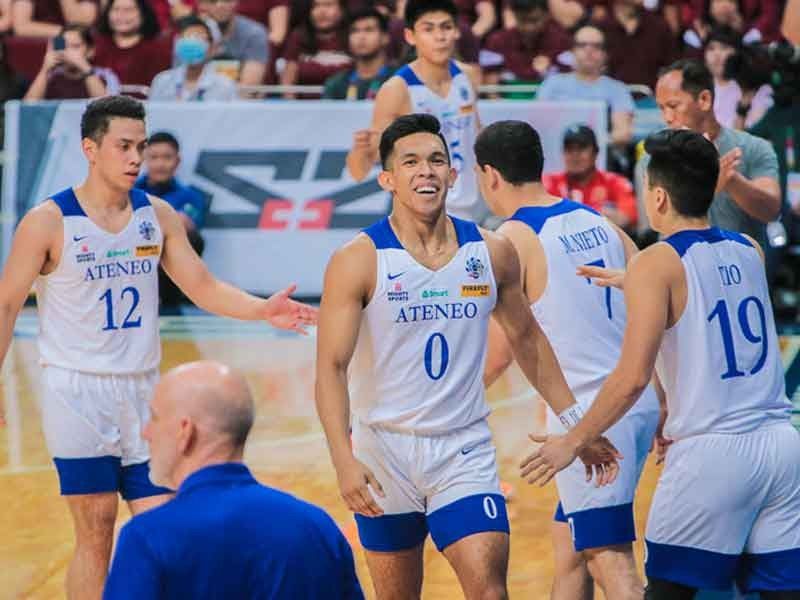 Thirdy Ravena and the Ateneo Blue Eagles have swept their way to an outright UAAP finals berth.
Philstar.com/Erwin Cagadas
On Ateneo's historic UAAP run: Temper that exhilaration
MANILA, Philippines – There is a sense of exhilaration for Ateneans at seeing their Blue Eagles sweep the elimination round for the first time in its UAAP history after that 86-64 win over the University of the Philippines Fighting Maroons. They have come close on three occasions —1987, 2011, 2012 and most recently in 2017. Each time though, they won the championship.
This is charting new ground more so since this awards the team an automatic finals slot. The downside though is there isn't any thrice-to-beat advantage and there is the long layoff. We have seen it affect the Blue Eaglets each time they have accomplished that feat. But while one must learn from those lessons, one does not place their faith in such things. At this point, how they come out is also within their control.
Yet despite the giddiness that an Atenean can feel, it should be tempered. It isn't done by a longshot. There are two more wins that need to be earned. A sweep doesn't mean anything if one doesn't bring back the title.
Having defeated every challenge this year, the fear aside from rust is a sense of complacency.
Ateneo cage history has shown that can be one's downfall.
This 2019 is actually the 80th year Ateneo teams have gone out for athletic battle using the moniker "Blue Eagles." In 1939, the Ateneo Blue Eagles swept the elimination round, 8-0, but lost in the finals to La Salle (for their first NCAA title).
Former Ateneo star Primitivo Martinez was the coach that season and come the finals, he opted to start his second unit rather than his usual five. It was a huge mistake as the Green Archers rang up a huge lead. By the time Ateneo woke from its slumber, the rally fell short, losing 27-23. Ateneo averaged 35.5 points per game back then but was held to 23 points.
In 1977, Ateneo was one win away from sweeping the elimination round, and back then that meant an outright championship. There was one last game to play against San Beda. Three Blue Eagles were called up to the national team. While they were told they can release one, the other two opted to go abroad, leaving an Ateneo team a bit depleted against a strong Red Lions team. San Beda won and now there was a best-of-three finals that Ateneo lost in Game Three. Yes, it was that infamous closed door match.
The coaching staff has enough veterans to know about not seizing the moment (anyone remember the second round loss to NU during the 2007 campaign). Hopefully, they will be ready come the finals.
But what can be taken from this win right now?
For one, it puts a huge damper on UP and everyone else's designs. Fourteen times they tried to get that win, but 14 teams they were beat back; some in a most disparaging manner.
Second, you have other players now finding their groove. I am talking about SJ Belangel, Isaac Go and Angelo Kouame.
Belangel has come a long way from his Blue Eaglet days when he said he couldn't win one despite his talent. He did win a juniors title and now one seniors chip as well. He is gunning for a second in the collegiate ranks.
Third, there is the seamless return of William Navarro to the team after getting knocked out by Nick Abanto. He finished with 13 points, two rebounds, two assists and two steals against one turnover. That is very good considering he was out for two games.
Fourth, it is denying the UP coaching staff a win. You do not want a former coach and former players getting a win over you. Look reputations too are on the line here whether they admit it or not. Bragging rights as well. That is just how it is; unfair or not.
And fifth and last, it is how this team has dealt with adversity. During Tab Baldwin's first year, he lost a bunch of players due to academics yet they still made the finals. That underscored what Baldwin has done for the team.
This season, in addition to losing Anton Asistio to graduation, Aaron Black opted out of his final playing year. Then Jolo Mendoza and Raffy Verano were knocked out as well due to academics.
Talk about next man up.
I remember last season as saying that Will Navarro in the starting five was good. Someone remarked if I thought that was a better move than Raffy Verano in there.
Each player brings something. Verano has his toughness and willingness to do the dirty work. Plus, he can pass. Will is more athletic, can shoot, and play multiple positions on both ends of the floor.
If anything. It once more underscores the work that the coaching staff has done to mine the talents of their players despite others being star-studded.
On that note, their biggest work will be done in the next two weeks or so as they prepare the team for its endgame.
Temper that celebration. This isn't done yet.