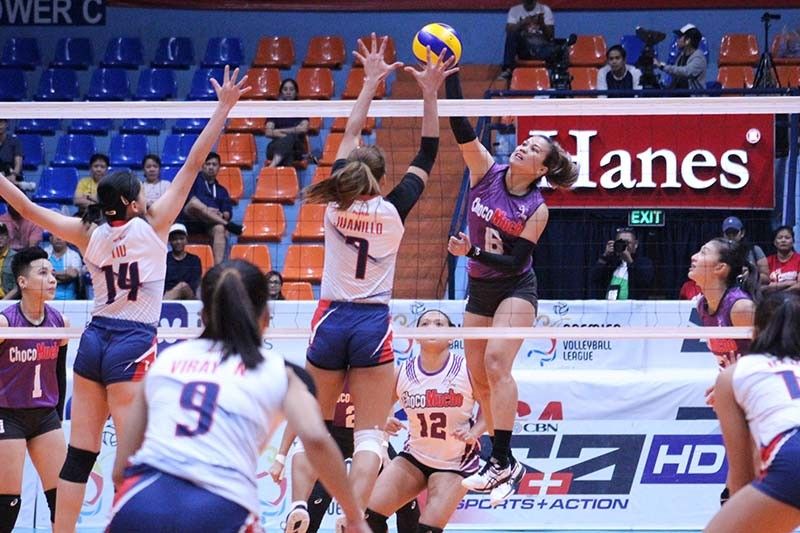 Bang Pineda of the Choco Mucho Flying Titans goes up for a spike against the Chef's Classics Lady Red Spikers in their first round encounter in the PVL Open Conference on Saturday, August 24, 2019.
Philstar.com/Luisa Morales
Choco Mucho rebounds, fends off pesky Chef's Classics
MANILA, Philippines -- The Choco Mucho Flying Titans had to overcome a gallant stand from the Chef's Classics Lady Red Spikers in four sets, 25-21, 22-25, 25-14, 25-18, for their second win in the Premier Volleyball League Open Conference at the FilOil Flying V Centre on Saturday.
The Flying Titans overcame a sluggish start against their opponents to get back to their winning ways.
Bang Pineda, Maddie Madayag, Kat Tolentino and Arianne Angustia all connived as Choco Mucho avoided the upset axe.
The Lady Red Spikers had terrific starts in the first two sets, with the Flying Titans playing catch-up.
In the first two sets, Choco Mucho did not hold the lead going into technical timeouts.
But come the third set, the Flying Titans were out for blood.
Wanting to bring the momentum back to their side after that second set loss, Tolentino and the rest of Choco Mucho stepped on the gas pedal.
The Lady Red Spikers once again had a terrific start in the fourth set, but were quickly stymmied by the Flying Titans.
Justine Tiu and Nieza Viray were the driving forces behind Chef's Classics' challenge.
The Flying Titans now tote a 2-1 win-loss record for the third spot in the standings.Chef's Classics, meanwhile, remains winless at 0-3.