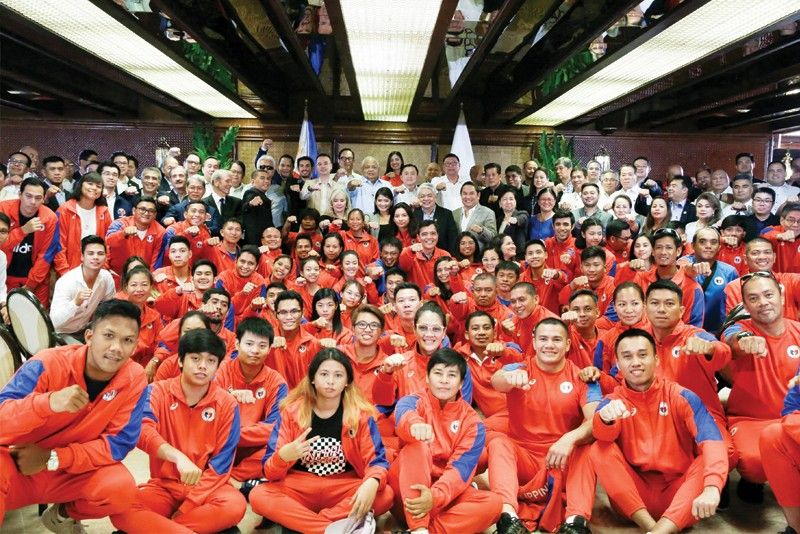 Athletes and coaches of the Philippine contingent to the 30th Southeast Asian Games pose with Executive Secretary Salvador Medialdea, Sen. Bong Go, House Speaker Alan Peter Cayetano and sports officials during a recent 'Call for Unity' gathering at Malacan?ang.
Biggest SEA Games ever on tap
(2nd of 2 Parts)
MANILA, Philippines — The Southeast Asian (SEA) Games Federation has approved a list of 56 sports for the coming SEA Games, making it the biggest ever in terms of disciplines. Indonesia holds the record for staging the most sports, 44, in 2011 and the Philippines will reset the mark this year. But Indonesia will keep the record for most events, 545, set in 2011. The agenda of competitions was recently tweaked to list 530 events for the 30th edition of the 11-nation conclave to be held in 54 venues here on Nov. 30-Dec. 11.
The initial lineup had 529 events then it was trimmed to 523 later bumped back up to 529 and now to 530. The breakdown of sports is two under Category 1 (compulsory) – aquatics and athletics, 42 under Category 2 (Olympic and Asian Games sports, at least 16) and 12 under Category 3 (other sports, limit of 12). Athletics tops the list with 48 events with aquatics next at 45. Sports with at least 15 events are arnis (20), taekwondo (22), wushu (16), judo (16) and gymnastics (19).
The sports to be introduced this year are obstacle course, surfing, kickboxing, jiu-jitsu, modern pentathlon, skateboarding, kurash, sambo, underwater hockey and e-sports. In basketball, the 3x3 events for men and women will make their SEA Games debut.
Boxing will be a departure from the adjusted divisions in the 2020 Tokyo Olympics. For the SEA Games, the men's divisions are lightflyweight (46-49 kg), flyweight (52), bantamweight (56), lightweight (60), lightwelterweight (64), welterweight (69), middleweight (75) and lightheavyweight (81) while the women's divisions are lightflyweight (48), flyweight (51), bantamweight (54), featherweight (57) and lightweight (60).
SEA Games Federation sports and rules committee chairman Tom Carrasco said the entry of athletes' names will be submitted to PHISGOC by Sept. 2 and PSC chairman Butch Ramirez, as chef de mission, will confirm the final roster of the Philippine delegation. Tasked to confirm the list of sports and events are POC president Rep. Bambol Tolentino, SEA Games Federation executive committee chairman Celso Dayrit and Carrasco.
Tolentino said the training of athletes is going full-blast. "We're all excited," he said. "Almost all of our athletes have been selected and are now busy in their training preparations. Some submitted their out-of-the-country training in high altitude venues and non-ASEAN countries. Others are getting ready for test events. We are now in the process of aligning with PSC for the equipment needed for the SEA Games."
The opening ceremonies will be at the Philippine Arena in Bulacan. The Clark hub will be for aquatics, athletics, lawn bowls, archery, rugby 7s, baseball, softball, dancesport, golf, kurash, judo, jiu-jitsu, arnis, sambo, wrestling and wakeboarding. The Subic cluster will be for canoe/kayak/traditional dragon boat, chess, muay, pencak silat, table tennis, triathlon/duathlon, open water swimming, modern pentathlon, sailing, windsurfing, sepak takraw, beach handball, beach volleyball, rowing and shooting (shotgun).
Metro Manila will host badminton, bowling, basketball, e-sports, boxing, kickboxing, billiards, football (men), weightlifting, taekwondo, soft tennis, tennis, squash, ice hockey, ice skating, wushu, karatedo, fencing, gymnastics, indoor volleyball, shooting (rifle, pistol), obstacle course sports and petanque. Polo will be held in Calatagan, cycling in Tagaytay, football (men and women) in Biñan, surfing in La Union, underwater hockey in Vermosa, netball in Sta. Rosa and floorball and indoor hockey in Los Baños.
Under SEA Games Federation rules, a host country must stage at least 22 sports. Another rule is no sport may exceed five percent of the total gold medals at stake except for aquatics, athletics and shooting. Aquatics' share is 8.49 percent, athletics 9.06 percent and shooting 2.64 percent.