Filipino-American pole vaulter Natalie Uy resets national record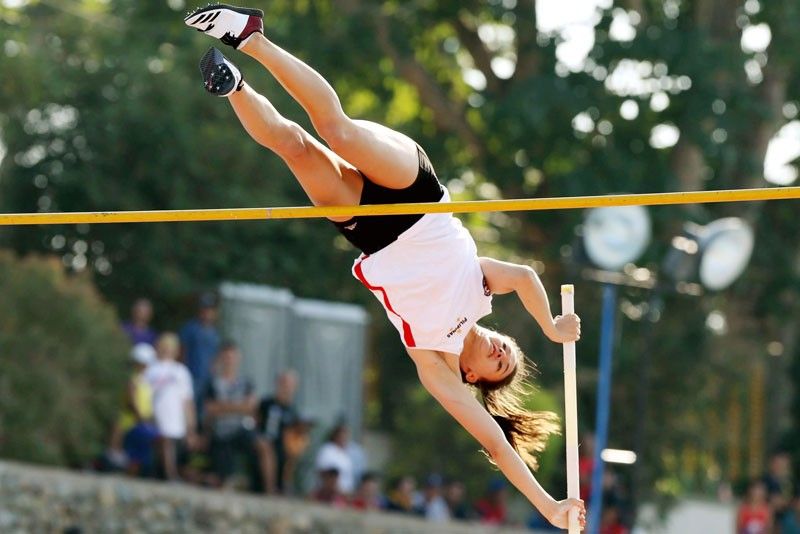 MANILA, Philippines — Fil-Am pole vaulter Natalie Uy continued her assault on the record books, posting a new national standard of 4.25 meters as she ruled her pet event in the Oliver Nikoloff Invitational-University of Cincinnati Meet at Coy Field and Gettler Stadium over the weekend.
It was the third time in as many tournaments that Uy, who joined Team Philippines only last month, has reset the Phl mark.
Last March, she marked her debut with a record-shattering 4.12m at the Phl Athletics Championships then a couple of weeks later established a fresh record with a silver-winning 4.20m effort at the Taiwan International Indoor Pole Vault Championships.
On all three occasions, Uy easily surpassed the 4.10m recorded by Thai Chayanisa Chomchuembee in taking the Southeast Asian Games gold medal in 2017, giving Phl athletics boss Philip Ella Juico much excitement over her golden bid in the 2019 edition at home.
"She continues to improve and break Philippine record and surpass SEA Games record," said Juico, who's hoping for a 13-gold harvest in the Clark SEAG. "She's really a vital cog in our SEA Games campaign."
Uy cleared 4.25m on her second try to beat Rachell Coghill of Cincinnati (3.91m) and Maria Heckman of Wright State (3.81) for the mint. The top Pinay prospect made three unsuccessful attempts at 4.31m.
Meanwhile, another US-based Team Phl stalwart, Zion Corrales Nelson, also performed well at the 125th Big Meet-Stanford vs California trackfest.
Nelson ruled the 200m run in 23.56 seconds, improving on her previous 2019 best of 24.03 at the PAC in Ilagan. She nosed out teammate Jackie Patterson (24.40) and Stanford senior Missy Mongiovi (24.62) for the diadem.
The 20-year-old Filipina annexed the 400m tiara with her 54.76-second clocking, beating Mongiovi (55.89) and teammate Jenna Mencarelli (58.56).