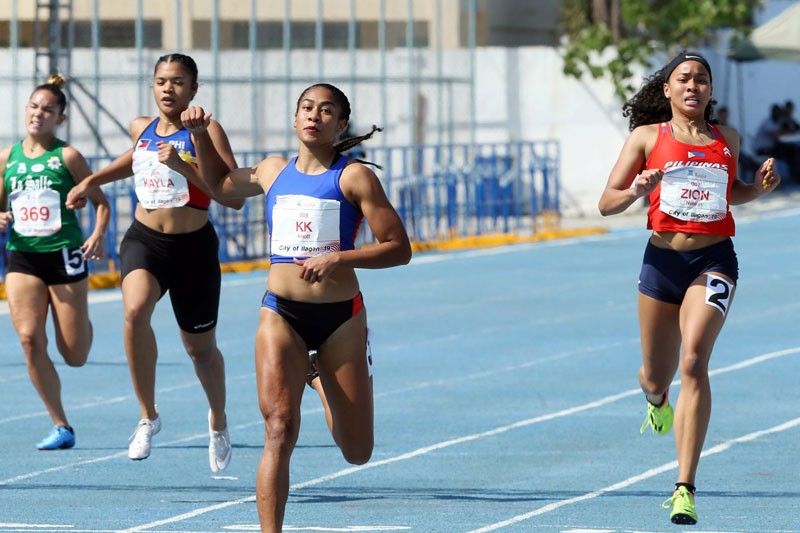 Fil-Am Kristina Knott sprints to the finish line in the 200m event of the 2019 Ayala Philippine Athletics Championships yesterday at City of Ilagan Sports Complex. Behind her is Kayla Richardson.
Jun Mendoza
Sprint queen: Two more races and Lydia de Vega's record will be gone
Olmin Leyba
(The Philippine Star) - March 9, 2019 - 12:00am
CITY OF ILAGAN , Philippines — Fil-Am Kristina Knott completed a sprint sweep in the 2019 Ayala Philippine Athletics Championships yesterday at City of Ilagan Sports Complex, trumpeting her serious intent to be this generation's Lydia de Vega.
Two days after crowning herself the fastest woman of the meet, Knott outduelled fellow US-based sprinters Zion Corrales Nelson and Kayla Richardson in an exciting race for the women's 200 meter run title, checking home in 23.63 seconds versus the two's 24.03 and 24.51 clockings, to show who's the boss in short distance races.
"I felt like I could have run faster but I can't beat myself up; it's only my first race of 2019 and this race was to get to see where I was at," said the 24-year-old speedster, who traces her roots to Cavite.
Knott fell short of De Vega's 23.25 Phl mark posted in the 1987 Southeast Asian Games but felt confident she can shatter it soon considering she's good for 23.23.
"Give me a couple more races and that record is gone," she said with conviction.
Owner of a personal best of 11.43 in the century dash, Knott is ready to take the mantle as Phl's sprint queen from the legendary De Vega, whose 11.28 remains the time to beat.
"I want to take all her records. No offense, but they've been up too long and it's time for some fresh meat to get the records," said Knott, who finished the three-day trackfest with three golds as part of the triumphant 4x100m women's team last Thursday.
Olympian Eric Cray took the crown in his only individual assignment, the men's 200m run, clocking a winning 21.92 seconds versus Singapore Sports School's Mohammad Irfan Daud (22.59) and Yann Guang Marcell Tan (22.88).
"It was alright considering all the conditions," said Cray, who skipped his pet 400m hurdles and joined the 4x100m relay and the 200m instead. "It was a nice buildup for the SEAG and I now move to the next competition."
Their teammates under the Phl-Ilagan City banner – Robyn Brown and Francis Medina – captured their third mints.
Brown, victor in the women's 400m hurdles and 4x100m relay, and Medina, the 400m hurdles king and men's 4x400m titlist, raced in the first-ever mixed 4x400m relay, where together with Michael del Prado and Eloisa Luzon, they set the standard of 3:33.44 in the new event.
Italy-trained pole vaulter EJ Obiena and 2017 SEAG triple jump silver medalist Harry Diones booked routine victories in their respective events.
Obiena cleared 5.36m – off his all-time high of 5.61m but surpassing the current SEAG high and gold standard of 5.35m – while Diones ruled with a 16.08m leap.
Junior javelin thrower Ann Katherine Quitoy shared the limelight as she came through with a record-smashing performance.
Quitoy heaved the spear to 44.71m to shatter the junior mark of 44.54m set by Rosie Villarito in 1998.
Dasmariñas, Cavite's Charmaine de Ocampo emerged as the most bemedalled juniors bet as she collared her fourth gold via the girls' 1,500m.
De Ocampo, 15, submitted a winning 5:09.98 to add to the 800m tiara she earlier won along with the girls' 4x100m and 4x400m mints plus silver in the mixed gender 4x400m relay.