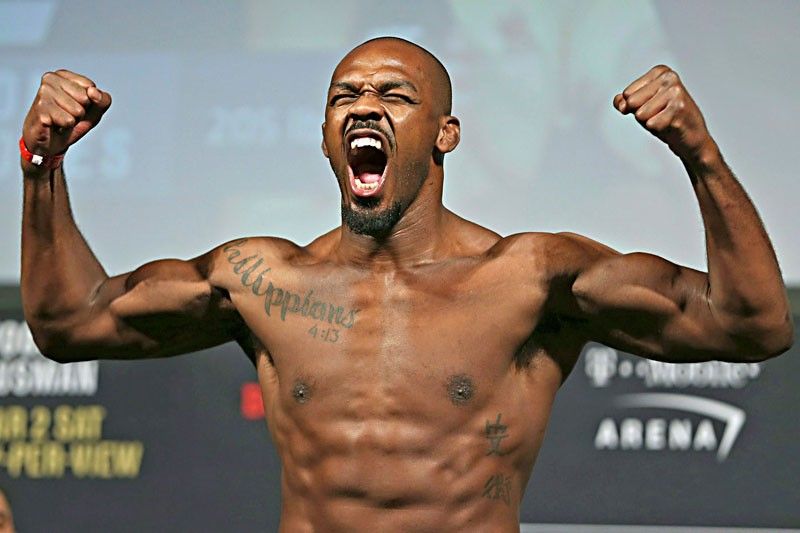 Jon Jones poses during the ceremonial UFC 235 mixed martial arts weigh-in in Las Vegas.
AP
Dope-free Jones sees new hope vs Smith
(Associated Press) - March 3, 2019 - 12:00am
LAS VEGAS – Jon Jones used to cry for days when he heard about his positive doping tests.
Although his system still isn't clean, Jones' eyes are finally dry heading into UFC 235.
The UFC's light heavyweight champion memorably wept in a news conference after getting pulled from UFC 200 in 2016, realizing his career was headed into a spiral. Jones cried again in a friend's arms a few months ago when tests showed more traces of the steroid metabolite that could be in his system for years.
But when two more tests last month revealed tiny amounts of the metabolite, Jones finally didn't cry. Although the results are casting a shadow over his every achievement, he has come to grips with his predicament – and more importantly to Jones, he is allowed to fight on.
Jones said he will take on Anthony Smith on Saturday night in the main event at T-Mobile Arena with clear eyes and a clean conscience.
"I'm at a place now where I've been hurt so many times," Jones said. "So many things have happened – I've caused a lot of my own pain, and there's been a lot of pain inflicted – that I just feel like I'm so comfortable with this scenario. I'm not going to allow anybody to hurt me anymore. ...I take responsibility for this whole thing, (but) I'm not going to let it bend me or break me."
Jones has always denied knowingly taking performance-enhancing substances, and mixed martial arts' various regulatory bodies believe his recent results are microscopic echoes of past violations, not a reason to ban arguably the most gifted fighter of his generation.
Jones has grown increasingly defiant in recent months, standing up to condemnation for what he claims to be an honest mistake with a supplement – a stance that makes his opponents laugh.
Now 31, Jones (23-1) is moving on to chase big paydays and career-defining excellence.