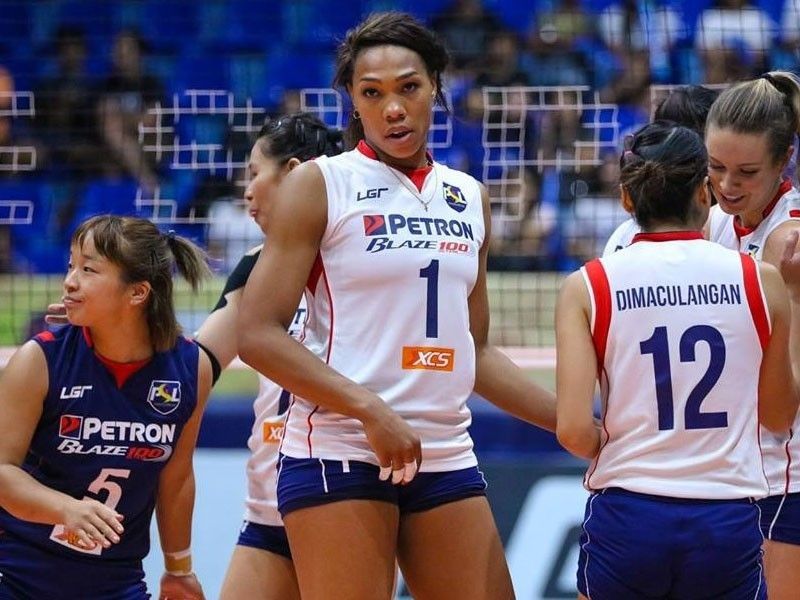 Katherine Bell proved to be good as advertised as she exploded for 42 points in Game One of Petron's best-of-three finals against F2 Logistics.
Philippine Superliga/Roman Prospero
Petron mulls re-signing Katherine Bell as import
MANILA, Philippines — With Petron clinching the services of Stephanie Niemer, other teams are scrambling to find the next super import for the Philippine Superliga Grand Prix next year.
Multiple sources said the Blaze Spikers are seriously looking to tap Katherine Bell to pair with Niemer, forming an explosive, high-scoring duo that would surely shake the league to its very foundation.
Upon learning this, a couple of teams immediately reached out to former Cocolife import Sara Klisura of Serbia, who is currently seeing action in Romania.
Nothing has been agreed on at this point, although Klisura was reportedly elated to be given a fresh offer by a local ballclub.
Also being looked at are Lindsay Stalzer and Gyselle Silva.
In her social media account, Stalzer already expressed her willingness to return to country while at least three teams are said to be willing to break the bank just to secure the services of Silva, who holds the league's highest scoring mark when she erupted for 56 points against Foton last year.
"Petron definitely raised the bar so high," said a league executive, speaking on condition of anonymity because nothing is definite at the moment.
"Now, everybody is scrambling to find very good imports who could match the firepower and explosiveness of Niemer and her potential partner."
Another sideliner said the pressure is now on F2 Logistics.
After winning the Grand Prix title with MJ Perez and Kennedy Bryan at the helm, the Cargo Movers immediately lost it when the Blaze Spikers brought in Bell to replace the injured Hillary Hurley in the crucial stretch of the season.
Bell proved to be good as advertised as she exploded for 42 points in Game One of their best-of-three finals — the second highest scoring mark since Silva broke Klisura's 41 points couple of weeks before.
"We know coach Ramil (de Jesus) is very conservative when it comes to imports. He wants imports who would jell well with his local players," said the source.
"But now that their rival — Petron — is bringing in a very good import, the pressure is now on him to find his own version of a super import."
The source said Niemer's signing with Petron is like firing a warning shot that echoed around the league.
And everybody has no choice but to open their holsters and pull out their guns.