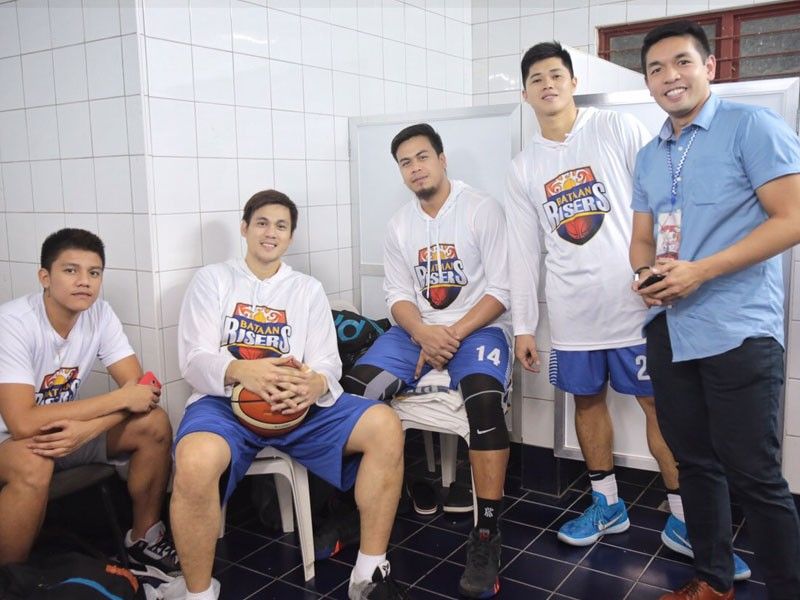 Borgie Hermida, in blue, with the Bataan Risers.
The game of life with Borgie Hermida
MANILA, Philippines – When you watch the ongoing Maharlika Pilipinas Basketball League, there's this familiar college star on the sidelines. No, Borgie Hermida, a former San Beda Red Lions star point guard, isn't going to check in for the Bataan Risers. He's there to provide steady logistical and managerial support for the MPBL team.
Sometimes, it is hard to believe that he's hung up his sneakers. Not when teammates Ogie Menor and JR Taganas are still plying their trade in the MPBL or the PBA.
When he was playing for San Beda, Hermida was a part of the three-peat champions from 2006-08 that ended a 28-year NCAA title drought. Then in his last year, the Red Lions made even bigger history by winning the title once more in 2010 via an 18-0 sweep.
But Hermida admits it wasn't an easy decision to stop playing. He was drafted by Barako Bull in 2010 and also played for Shopinas and NLEX. However, the minutes were hard to come by, and staring at Borgie was the sobering reality that his PBA career could be over.
"It is also my fault," he humbly disclosed. "I entered the pros not really ready. Ibang iba sa college ball. Akala ko kaya ko kasi nung nasa college ako yung nang mamatanda pero pagdating sa pros, ako yung minamama. This is what I can share also to the young players — don't rush going to the pros. Prepare yourself first."
"It is hard for a player to get drafted then sit on the bench. That is why the MPBL is perfect because you get the chance to really prepare. But of course, if you think that you are ready then go."
Hermida struggled with the notion that basketball was over. "For three-fourths of my life, I was devoted to playing basketball then it was over. I didn't know what to do at that time. It helped that my faith in God kept me going. Naniniwala ako na whatever happens is for a reason that will be unveiled in time."
Then came an offer for Hermida. NLEX offered him a chance to handle its PBA D-League team. "I was happy and thankful because my work was still basketball related and I was enjoying myself," bared Borgie. "And nadala ko sa D-League yung suwerte when I was playing because we won two D-League championships. Hopefully, magiging tatlo dito sa Bataan Risers sa MPBL."
"I am very happy with Bataan," he beamed of working with his new team. "We started from scratch. Then our team owner, Bong Zubiri, fully supports the formation of a team that will compete. He is generous and it makes my job easier knowing that this is not a multi-company owned team. He is so generous to the players that they all want to play hard for him, the team, and Bataan. We have built harmony within the team and yung samahan, malalim na, from management to the coaches to the players and utility men."
Regarding Bataan province, the support is no less huge. "Ang sarap maglaro sa homecourt ng Risers," enthused Hermida. "Buong buo ang support for the Risers from our LGU partners like Governor Abet Garcia, Vice Governor Cristina Garcia, Congresswoman Geraldine Roman, and Congressman Joet Garcia. Hopefully, we can give them and the whole province a championship."
Speaking of lucky streaks, Hermida recently hit another home run when he recently got engaged to his girlfriend, Mainey Dela Cruz. "We met back in 2011 but only became a couple in 2014 after college. "Ever since I met her, I kept praying that she will be the woman I would marry."
And that future is now.
"We are about to enter the next chapter of our lives and face the altar. It is something to look forward to. I'm excited to be married with the most remarkable woman."
With the Bataan Risers on an 11-game winning tear, and his engagement, things are looking up for Borgie Hermida.
When you give your life and take no shortcuts to the game, it rewards you back. He might not have had a career the way he envisioned it to be. But you know… life isn't so bad.
You see, good things happen to good guys.