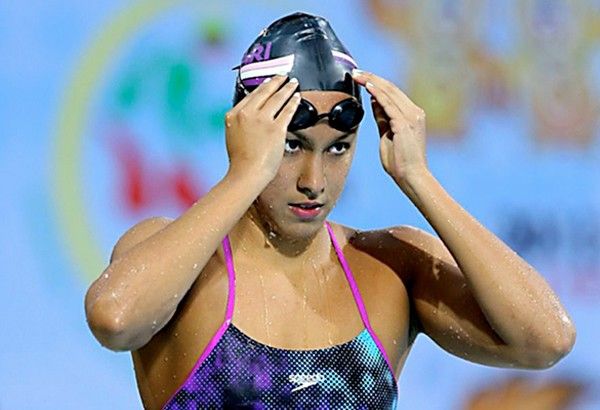 Jasmine Alkhaldi, 25, is now a full-time athlete living in Manila after graduating with a business degree majoring in management and marketing from the University of Hawaii in 2016.
File
Jasmine Alkhaldi sets sights on SEAG, Olympics
MANILA, Philippines — Two-time Olympic swimmer Jasmine Alkhaldi said yesterday living her dream to compete here in the SEA Games next year is the perfect lead-up to qualifying for the 2020 Tokyo Olympics and as a holder of eight national records, she hopes to bring more honor to the country despite the politics that has caused the POC suspension of her sport's NSA.
Alkhaldi, 25, is now a full-time athlete living in Manila after graduating with a business degree majoring in management and marketing from the University of Hawaii in 2016. Thrice a week, she's in the pool working to improve her strokes and times about four to five hours a day aside from doing gym drills for 1 1/2 to two hours. She trains half the program the rest of the week to stay in tip-top condition.
Alkhaldi has two competitions lined up before the year ends. She'll swim at the FINA World Cup in Singapore on Nov. 15-17 and if things work out, she'll compete at the World Swimming Championships in Hangzhou, China, on Dec. 11-16. Her participation in Hangzhou will depend on how she performs in Singapore. "We'll be less than 10 swimmers representing our country in the World Cup," she said. "We hope to make the times to qualify for the World Championships. Then, I plan to do a training trip for a month during the holidays. Nothing is set but I'm looking at camps in Hong Kong, the US and Italy. My goal is to train with swimmers who are better than me so I can learn to pace myself with them, to try to improve my times, to push myself to the limit. If it means sacrificing Christmas and the New Year to be with family and friends, I'm ready to do this. Actually, I'm used to training and being alone during the holidays."
Alkhaldi said after training camp, she'll evaluate which competitions to enter in gearing for the SEA Games. "I'm excited to compete in my fourth SEA Games," she said. "It's a big advantage to perform as a national athlete at home. I'm ticking all the boxes in my dream list and what remains is winning the gold medal. I've made it to two Olympics, qualified for two finals in the Asian Games and set eight national records. But it's a privilege to swim and do your best in front of our countrymen."
In the 2013 SEA Games, Alkhaldi was stripped of the gold medal in her favorite 100-meter freestyle event because of a false start involving a Thai swimmer and settled for the bronze in the re-swim. She also pocketed a bronze in 100-meter butterfly. In the 2015 edition, Alkhaldi took three bronzes in 100 and 200-meter freestyle and 50-meter butterfly. In 2017, she delivered four bronzes in 4x200 freestyle relay, 50-meter butterfly and 100 and 200-meter freestyle. "I did a new national record of 55.9 seconds in 100-meter freestyle and that would've earned a gold in 2015," she said. "I was a fraction of a second off first place."
At the recent Asian Games, Alkhaldi finished seventh in 100-meter freestyle with a clocking of 56.38 and eighth in 200-meter freestyle with a time of 2:02.53. She didn't advance to the finals in 50-meter freestyle and 100-meter butterfly. "I was disappointed even if I made it to two finals," she said. "I realized to improve my times, I need to train with swimmers who are better, faster and stronger. That's why I'm going to training camp abroad. It's the only way for me to improve and challenge myself."
Alkhaldi said preparing for the SEA Games is a "nice flow" leading to the 2020 Olympics. "After two Olympics, I feel I've matured," she said. "I'm more vibrant in how I train, I look at the minute things and work on every detail. I know I'll be ready not just for the SEA Games but for the next Olympics. I'll be 27 by 2020. My goal is to qualify for Tokyo then I'll assess what to do. I'm not setting a timetable on how much longer I'll compete. It depends on how I feel after Tokyo, whether I can still perform at a high level or not. Right now, I'll just focus on my training."
Alkhaldi said she's not aware of what's going on in the swimming NSA. "I try to stay away from politics," she said. "I think it's one of the reasons why we haven't done too well in swimming in international competitions lately. It has an effect on athletes. I'm grateful that I continue to be supported by the PSC and POC but since I need to go through the NSA, it's confusing. I don't even know who our national coach is."
Alkhaldi said she trains under former national coach and her Ayala Harpoons club coach Archie Lim. "I swim the short course at Ateneo and the long course at ULTRA," she said. "My national teammate Jessie Lacuna is also with the Harpoons and swims for Ateneo in the UAAP. Most of our national teammates are abroad so we get together only during competitions."
The other day, Alkhaldi met with Ever Bilena CEO Dioceldo Sy and was offered to become the cosmetics company's sports ambassador. "It's a big break for me," she said. "Ever Bilena will sponsor my competitions and training abroad so I can strictly focus on improving my times and not go around looking for sponsors." Alkhaldi's Saudi Arabian father Mohammad passed away in 2010 and her mother Susan Paler of Cebu is a businesswoman who lives in Manila. Her sister Sarah, 29, is married and resides in Singapore while her brother Fahad, 23, is an Economics student at La Salle.