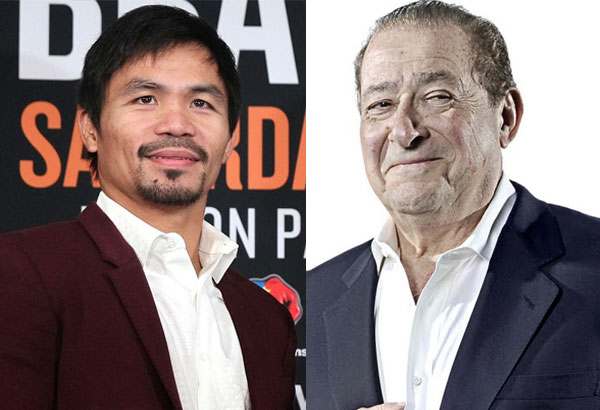 Manny Pacquiao and Bob Arum
Pacquiao settles TV rights issue with Top Rank, blames 'miscommunication'
MANILA, Philippines – All is now well between Manny Pacquiao and his former longtime promoter Top Rank Inc.
Pacquiao on Thursday took to Instagram to explain that "miscommunication" between his camp and Top Rank led to him to threaten to sue Bob Arum's company over non-payment of his share of revenue from the broadcast rights of his fight with Lucas Matthysse.
"My post from the other day was a result of miscommunication between my Team and Top Rank. Everything has been clarified. I would like to thank Bob and Top Rank for helping guide my career and for the many great years of working together. We have accomplished so many amazing things together," Pacquiao wrote.
The Filipino boxing icon referred to an Instagram post he made late Monday claiming he hasn't received payment for the broadcast rights of the Matthysse fight in Kuala Lumpur, Malaysia last July.
"Congratulations and good luck to Top Rank Boxing and ESPN on your 7-year partnership agreement," Pacquiao wrote in the caption of a photo of him and Matthysse during their fight.
"I know both of you have been very busy finalizing the deal. However, I have not received the U.S. rights payment for my July 15 fight against Lucas Matthysse that was broadcast on ESPN plus. Therefore, I am initiating legal proceedings against Top Rank and all other parties based on the non-payment and attempt to restrict my future rights. Thank you," he added.
The said caption has since been removed.
Arum responded that he has seen Pacquiao's post and vowed to deal with the matter, confident they can reach a resolution with his former fighter.
Pacquiao recently severed ties with Top Rank, with the Matthysse fight his first as a promotional free agent. His MP Promotions promoted the bout, with Top Rank coming in the handle the broadcast component mainly in the US.
The fighting congressman dethroned Matthysse via a seventh-round technical knockout to become the new WBA "regular" welterweight champion.