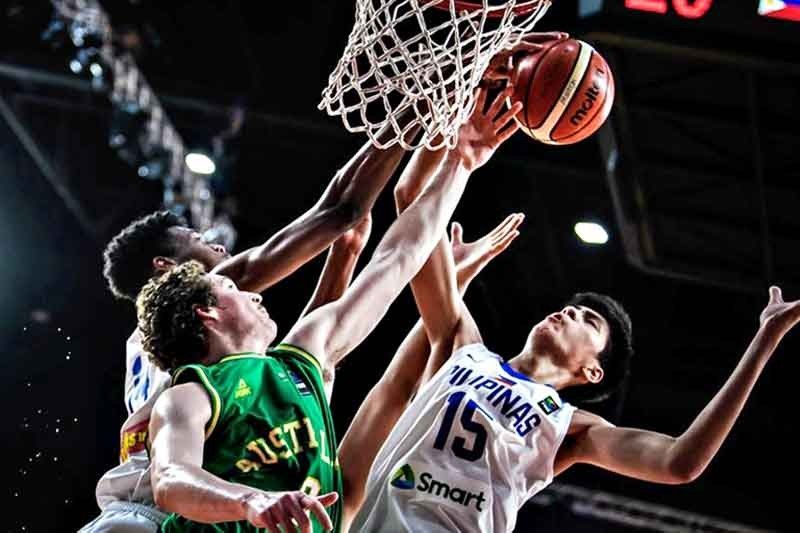 Kai Sotto (right) and Ariel Edu team up against an Australian defender in rebound play in the Gilas-Australia FIBA Asia U-18 semifinal game in Bangkok, Thailand.
WWW.FIBA.BASKETBALL.COM
Batang Gilas hits wall – the tall Australians
MANILA, Philippines — Batang Gilas found Australia's stratospheric youth team much more disciplined than expected as it reeled to a 43-77 loss in a battle of tall boys and settled for the bronze-medal game at the close of the FIBA Asia U-18 Championship last night at Studio 29 in Nnthaburi, Thailand.
The National Youth struggled to find their footing and their shooting against the unrelenting Australian press, staying in the fight only in the opening quarter as they saw the end of their unbeaten run in the weeklong continental conclave.
Kai Sotto and his teammates trailed just by two, 12-14, in the first quarter before being walloped by 22 points in the next quarter, 8-30, from which they failed to recover.
The Aussies, who overpowered the Thais, the Bahrainis, the Kiwis and the Japanese in their first four games by a whopping average margin of 56.25 points, also proved too much for the Filipinos, leading 44-20 at the half and sustaining a masterful performance through the second half.
New Zealand overcame China, 87-82, in a tough match and set up a gold-medal game with its longtime Oceania rival Australia.
Batang Gilas and China slug it out for third place at 1:30 p.m. (2:30 p.m. in Manila) today.
Win or lose, the National Youth are joining the Aussies, the Kiwis and the Chinese as the Asian teams in the world joust next year.
It will be the first time that the Philippines competes in the world junior championship since Joel Banal, Chito Loyzaga and Hector Calma led Team Phl to a 10th place finish in Brazil in 1979.
Australia stopped the Philippines' breakthrough run in the meet with an imposing game on both ends, with the Aussies shooting 42.3 percent from the field and holding the Filipinos down to a 24.6-percent clip.
Ariel John Edu was the lone bright light for Batang Gilas with nine points on 4-of-8 clip. He also snared 10 rebounds.
Sotto was held to 1-of-5 shooting although he also got eight rebounds and two assists.
Batang Gilas put up the toughest stand versus Australia in the tourney thus far. The Aussies crushed the Thais by 75 points, the Bahrainis by 65, the Kiwis by 49 and the Japanese by 36.