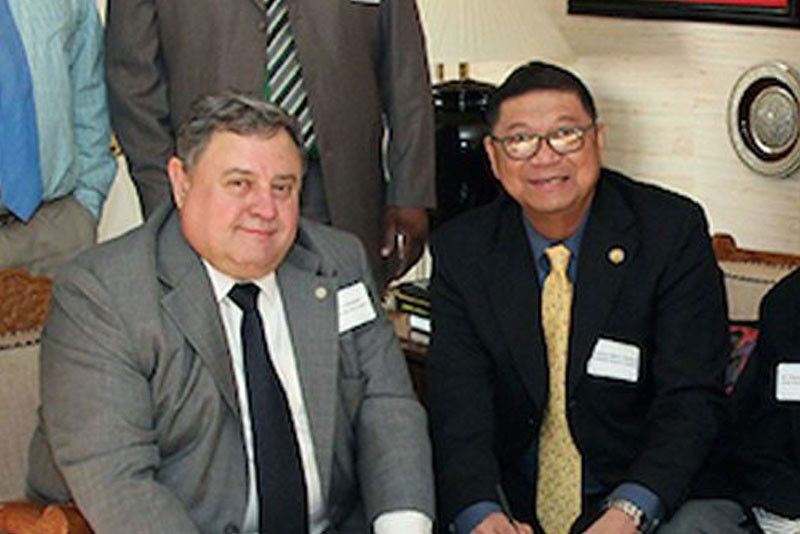 USSA president and CEO Dr. T.J. Rosandich and PSC chairman William Ramirez at the USSA headquarters in Daphne, Alabama.
PSC renews partnership with USSA
MANILA, Philippines — The Philippine Sports Commission has renewed its partnership with the United States Sports Academy in the hope of providing certificate programs to Filipino coaches in the national pool, physical education instructors and sports coordinators.
Chairman Butch Ramirez of the PSC signed a fresh agreement with USSA president and CEO Dr. T.J. Rosandich during a recent visit to the USSA quarters in Daphne, Alabama.
Ramirez said it's a renewal of the old partnership during the 1980s under the Marcos administration.
"We've had one of this before but it was discontinued. But we realized that we need to maintain our international connections," said Ramirez.
Under the deal, the USSA will offer subjects, including masters and doctorates, to Filipino coaches, P.E. instructors from the education department and sports coordinators from the different LGUs (local government units).
"We can start off with 50 coaches from the national pool. If they're not satisfied with the diploma, then they can seek higher degrees. We believe that coaches education is one missing link in Philippine sports," said Ramirez.
The USSA, which was founded 45 years ago, has provided sports education and service programs to around 65 countries.
"We taught our international certification programs in sports management and sports coaching in the island nation (Philippines) in the early 1980s, so to return is meaningful indeed," Rosandich said.
"The Academy is looking forward to playing a role in enhancing the national sport effort in the Philippines through our programs in education, research and service. Having taught sports education programs to more than 65 countries, this partnership with the Philippines is a continuation of our mission," he added.
The partnership with the USSA is part of the PSC program preserving its ties with the international community, having sealed similar agreements with the United States Olympic Committee, Korean Institute of Sports Science (KISS) and their counterparts in China and Russia.