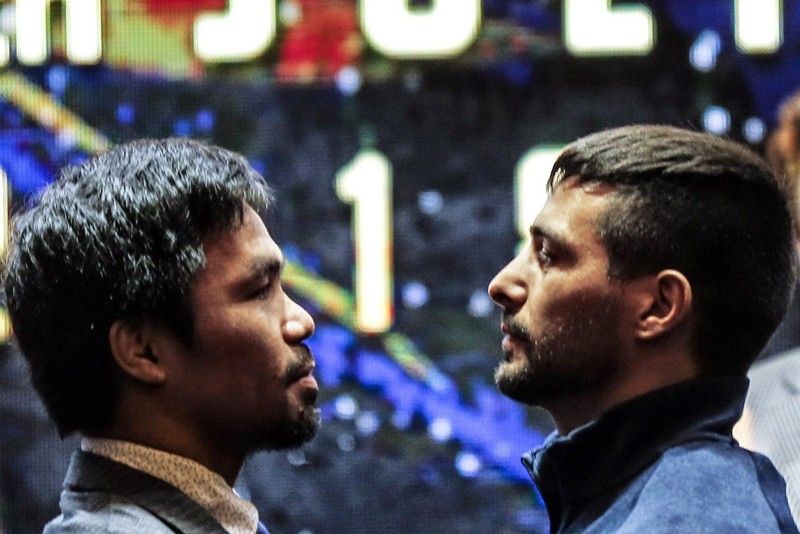 Manny Pacquiao, Lucas Matthysse
Lucas Matthysse taking big risk in 1st defense
Abac Cordero
(The Philippine Star) - April 25, 2018 - 12:00am
MANILA, Philippines — World Boxing Association welterweight champion Lucas Matthysse really can't count Manny Pacquiao out.
Not even when he and his promoter have publicly declared that Pacquiao's "time is over."
"Look, he's still a very good fighter," said Matthysse of the 39-year-old Pacquiao.
"You can't underestimate him," added Matthysse during his brief stay in the Philippines.
Matthysse has vowed to score a knockout over Pacquiao, and send the Filipino into retirement.
But it's easier said than done when Pacquiao knows that if he loses this fight, he's done.
"For me, it's a risk also. My first defense, I'm fighting a very tough fight," said Matthysse.
The two fighters drummed up their July 15 clash during a quick two-city press tour in Manila and Kuala Lumpur.
It was the first time they came face to face.
Matthysse said that when he thinks of Pacquiao, he'd like to think of the Filipino superstar in his best form, in his younger days.
It took him a few seconds to answer the question on which of the previous Pacquiao fights he remembers most.
"Morales," he said, referring to Mexican legend Erik Morales, who fought Pacquiao three times.
He said it's the Pacquiao fight that really sticks to his mind.
"They were really good fights," said Matthysse, looking back at the trilogy that took place in March 2005 and until November 2006.
Matthysse was on his first year as a pro when Pacquiao and Morales fought for the first time, with the Mexican winning on points.
"But for the most part, I've watched pretty much every one of his fights, when he was defending his titles," Matthysse said.