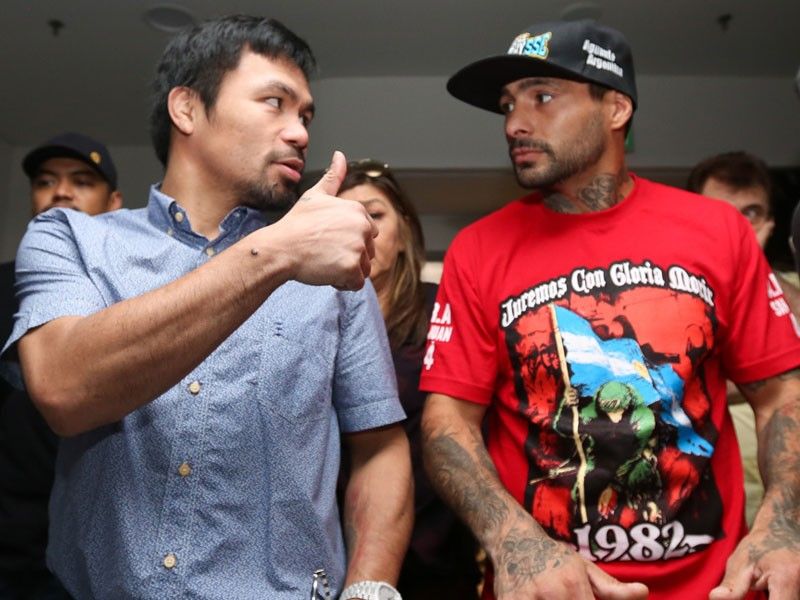 Manny Pacquiao gestures to WBA welterweight champion Lucas Matthysse during their visit to Kuala Lumpur, Malaysia over the weekend.
Wendell Rupert Alinea
Matthysse camp confident of KO win over Pacquiao
MANILA, Philippines – The camp of WBA welterweight titltist Lucas Matthysse vowed to pull off a knockout victory over Manny Pacquiao when the boxers lock horns in July.
Speaking to Philstar.com during their brief stay in Manila last week for the press conference for the July 15 fight, Mario Arano, Matthysse's manager, said he has been a follower of Pacquiao's career.
"I saw his (Pacquiao's) fights live in Las Vegas and in many places," he told Philstar.com through Golden Boy Promotions public relations head Ramiro Gonzalez, who acted as his translator.
It was Arano who also made the bold declaration that "Pacquiao's time is over." He told a packed crowd at the presser inside the Grand Ballroom of City of Dreams that it's Matthysse's time now.
And he believes the 35-year-old pride of Chubut, Argentina will beat Pacquiao in spectacular fashion in Kuala Lumpur, Malaysia.
"I still think Lucas is gonna knock Pacquiao out," Arano added.
Pacquiao, who possesses a granite chin, has been knocked out only three times in his career. It will take a great deal of power and timing for someone dreaming to stop the Filipino icon.
Arano is confident that Matthysse can do it, adding that their camp has long waited for the chance to take the 39-year-old Pacquiao out.
"Since three years ago we want to fight Pacquiao. Everyone knows that this is the fight we've been looking for because we know we can beat Pacquiao," said Arano.
After fulfilling his obligations in the two-city promotional engagement — also gracing a press conference in Kuala Lumpur over the weekend — Matthysse will begin training in Indio, California under Joel Diaz.
Diaz is the same man who trained Timothy Bradley for his first two fights with Pacquiao.
It will be weeks of hard work for the defending champion.
"We got the opportunity, we're not gonna let go of it," Arano said.