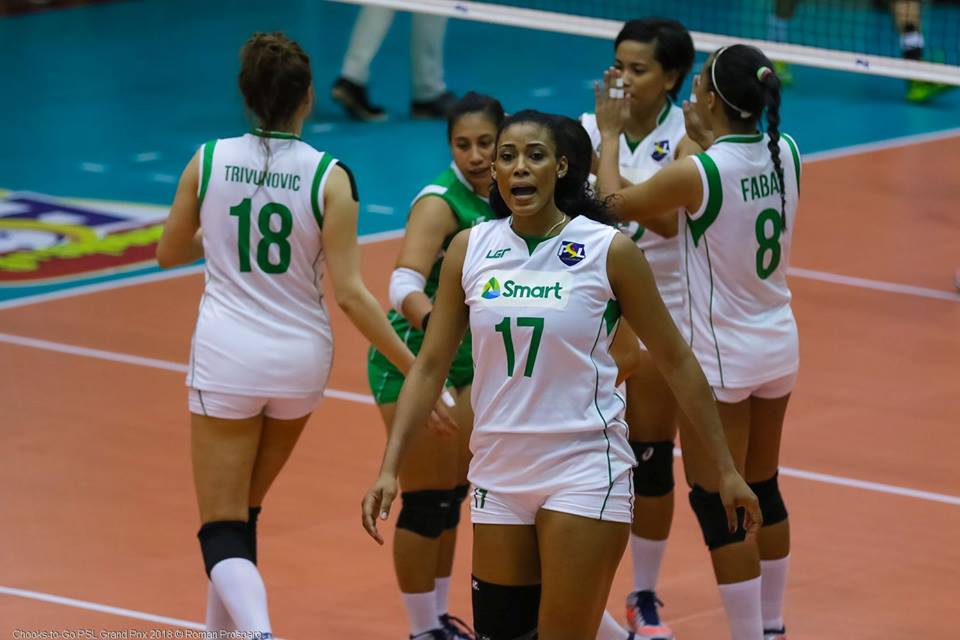 Gyselle Silva and the Smart Giga Hitters
Philippine Superliga/ Roman Prospero
Silva continues to impress for Smart
MANILA, Philippines — Everybody was in awe when Gyselle Silva asserted her dominance when Smart surrendered a five-set decision to Generika-Ayala, 21-25, 23-25, 25-23, 25-22, 11-15, in the Chooks to Go-Philippine Superliga Grand Prix late Tuesday at the Imus Sports Center.
The prized Cuban put on a show.
She knocked down 30 attacks, three aces and two blocks for a conference-high 35 points for the Giga Hitters, who remain winless in five matches.
The venue was rocking every time she gets a clear opportunity to attack. At one point, she used her sheer power and skills to get her shot through the outstretched arms of blockers Ria Meneses and Darlene Ramdin.
But there was one man who was greatly impressed — Lifesavers' coach Sherwin Meneses.
Meneses, a rookie mentor in the PSL, admitted that he couldn't help but watch in awe as Silva asserts her dominance.
Although they came in prepared defensively, the power of Silva was still too much for them to handle.
"I told the team that she's only human. But my God… she's so good," said Meneses shortly after posting his first win as PSL mentor. "She's good at both ends, either offense or defense."
Silva may have shone on offense, but the game didn't belong to her.
Darlene Ramdin, Generika-Ayala's returning import from Trinidad and Tobago, stole the thunder as she delivered crucial hits in the deciding set that broke the back of the Giga Hitters.
Silva, meanwhile, appeared to have ran out of gas as she was seen huffing and puffing before soaring for an attack.
"I think she got tired," said Meneses. "The blocking of Ria and the backline defense of Bang (Pineda) were impressive and it gassed out Silva."
"Sure, she's good, but we played as one team and our imports had the support of the local players, and that had been the difference."