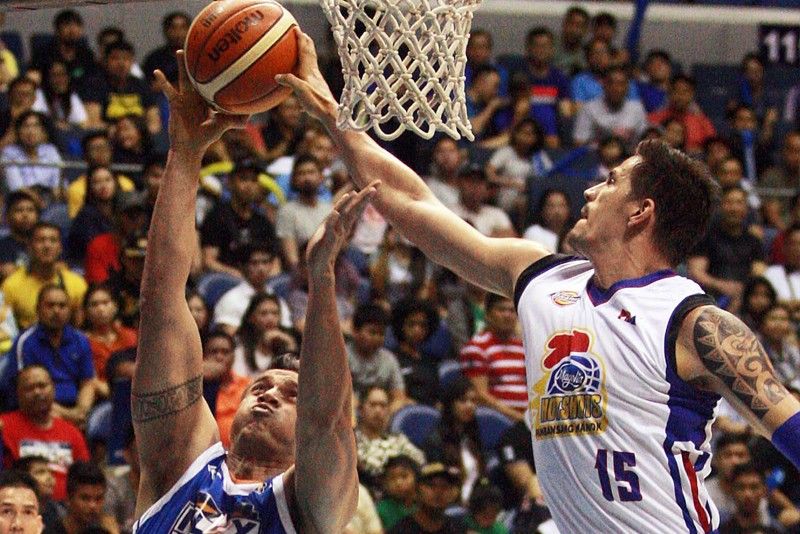 Magnolia's Marc Pingris (right) foils Asi Taulava of NLEX underneath during Game One of their PBA Philippine Cup semifinal clash last Sunday where the veteran Hotshot suffered a knee injury. Joven Cagande
Injured Marc Pingris sheds tears over tribute
MANILA, Philippines — Magnolia's Marc Pingris said he was moved to tears when his teammates dedicated Game 2 of the Hotshots' best-of-7 semifinal series against NLEX in the PBA Philippine Cup to him by sticking tape with No. 15 on their jerseys as a tribute to the injured forward who will undergo surgery for an anterior cruciate ligament (ACL) tear in his left knee today.
Pingris, 36, suffered the ACL tear in Game 1 of the NLEX duel at the Smart Araneta Coliseum last Saturday. He was wheeled off the court on a stretcher and brought to the hospital for an MRI. Last Monday, it was confirmed that Pingris tore the ACL in his left knee.
The Hotshots' win in Game 2 was crucial because it levelled the series count at 1-all. NLEX beat Magnolia, 88-87, in Game 1 but the Hotshots bounced back to take Game 2, 99-84, in an emotional tribute to Pingris.
"Naiyak nga ako solid dahil nakita ko number ko sa sando nila," said Pingris. "Dami nga nag text sa akin, kahit fans ng ibang team. Di ko akalain ganoon karami nag-mamahal sa akin." Pingris said it's the fans' prayers that will inspire him to work through rehab and eventually, return to action. The expectation is Pingris will be out of commission from six to eight months.
Orthopaedic surgeon Dr. Jose Raul (George) Canlas of St. Luke's Medical Center will perform the operation. He was the same surgeon who did a similar surgery on Pingris about 20 years ago. Pingris was then 17. "Ping was with the Philippine team at the time," said Dr. Canlas, the only Asian member of the 10-man FIBA Medical Commission. "I think he was with the Youth team. This was years before Gilas. After that, he played on the national men's team. Ping has been patriotic way, way before he was known."
Pingris' recovery from ACL surgery when he was a teenager is considered one of the most interesting success stories of athletes coming back from a serious injury. Dr. Canlas took care of Pingris through the rough period of rehab. Pingris was so grateful to Dr. Canlas that he made the surgeon one of his principal sponsors at his wedding.
The prognosis for Pingris to recover is positive. "He'll be able to play if he chooses to," said Dr. Canlas. "He had ACL surgery 20 years ago and he knows there have been advances since and that he can get back." For now, the Hotshots will try to take of business without Pingris. They're gunning to make the first conference finals after three semifinal finishes last season.