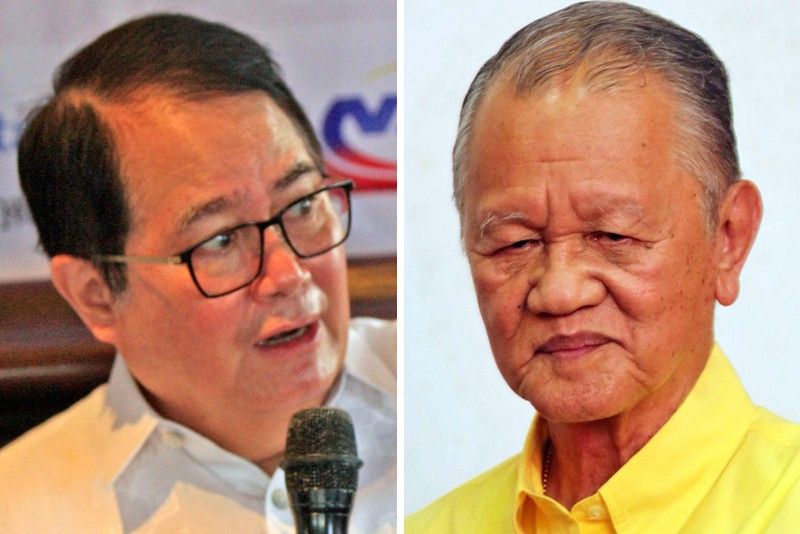 Ricky Vargas, Jose 'Peping' Cojuangco
Ricky Vargas, Peping Cojuangco bury hatchet in turnover
Abac Cordero
(The Philippine Star) - March 7, 2018 - 12:00am
MANILA, Philippines — Newly installed Philippine Olympic Committee president Ricky Vargas brought the peace pipe to yesterday's turnover of power in the local Olympic body.
Jose "Peping" Cojuangco, president for 13 years, handed over the white POC flag to his successor in simple rites held at Philsports in Pasig.
After the turnover, they shared the table for lunch, joined by Cojuangco's daughter, International Olympic Committee representative to the Philippines Mikee Cojuangco, and other POC officials – old and new.
It was Vargas who suggested that the turnover be done quickly so everybody could have lunch together inside the POC boardroom.
Newly elected chairman Abraham Tolentino was also present, along with the new POC secretary-general Patrick Gregorio of boxing, who takes over Steve Hontiveros.
Vargas and Cojuangco acted like allies, despite the long and bitter dispute for the POC leadership, triggered by the controversial 2016 elections that led to a court case.
"This exercise has brought us many hurts and partisan politics, and I offer my hand as I have offered it to Mikee and president Cojuangco privately in reconciliation," said Vargas.
The two sports leaders – one who grew up in politics and the other in the corporate world – spoke of unity for all sports leaders in the country to follow.
"The election is finished and for Philippine sports I seek everybody's cooperation. Who knows one of these days we may still learn to be good friends after this whole exercise," said Vargas.
"B.F.F. (best friends forever)," was how one attendee to yesterday's traditional turnover described Vargas and Cojuangco.
Cojuangco smiled for most of the time, accepting the sad fact that his days as POC chief were over. He has cleared the POC office of his personal belongings.
The former congressman from Tarlac walked gently as he left the building – like an ordinary 83-year-old.
Vargas sent him off with kind words.
"I also wish to acknowledge the many sacrifices and accomplishments of president Cojuangco and look forward to his continued support," said the new POC chief.
Before the turnover, the executive committee sat down, and Vargas announced his appointment of Gregorio as the new sec-gen and Karen Caballero as his deputy; and that of Robert Aventajado, the former POC chairman, as head of the arbitrations and disputes committee.
Present yesterday were POC second vice president Col. Jeff Tamayo, auditor Jonne Go, board members Cynthia Carrion, Robert Mananquil and Rep. Prospero Pichay, and elections committee head Frank Elizalde.
Skipping the exercise were first vice president Jose Romasanta, treasurer Julian Camacho and board member Clint Aranas.
It was a smooth turnover – or so it seems.