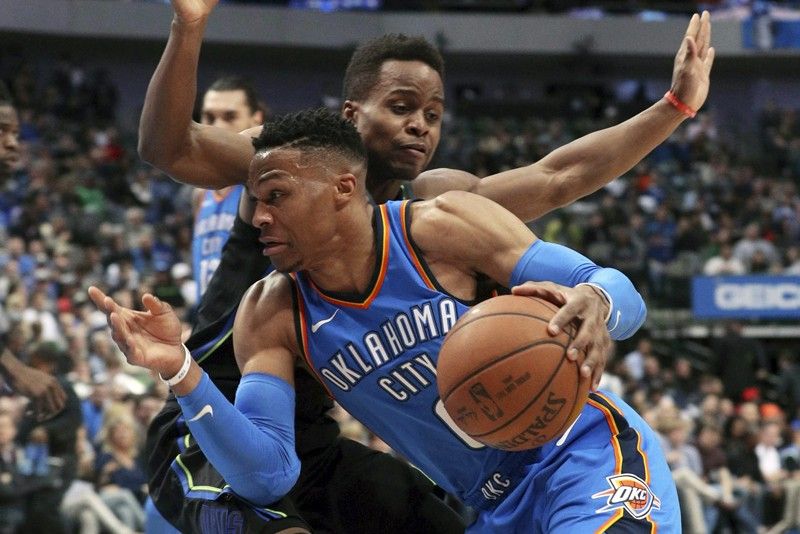 Oklahoma City's Russell Westbrook drives to the basket against Dallas' Yogi Ferrell during their NBA clash in Dallas. AP
Russell Westbrook lifts Thunder over Dallas Mavericks with 30 points
none (Associated Press) - March 2, 2018 - 12:00am
DALLAS – Russell Westbrook didn't waste much time putting just his second single-digit scoring game of the season behind him.
The Oklahoma City star won it with the play that wrapped up his 20th game with at least 30 points.
Westbrook's go-ahead three-point play in the final minute of overtime put him at 30, and the Thunder beat the Dallas Mavericks, 111-110, on Wednesday night.
Westbrook, who had 11 rebounds and seven assists, drove for the tying layup and made the free throw with 38 seconds left in OT to help the playoff-contending Thunder salvage a four-game split of the season series against a one-time postseason rival now among the NBA's worst teams.
In other results, Detroit clobbered Milwaukee, 110-87; Toronto routed Orlando, 117-104; Atlanta stunned Indiana, 107-102; Boston crushed Charlotte, 134-106; Golden State stopped Washington, 109-101; Phoenix repulsed Memphis, 110-102; New Orleans upended San Antonio, 121-116; and the Houston Rockets smothered the Los Angeles Clippers, 105-91.
Back in Dallas, the reigning MVP had 10 points on 5-of-6 shooting in the first quarter after scoring eight in a win over Orlando. Westbrook cooled off from there and missed all five of his 3-pointers, but scored seven of Oklahoma City's 11 points in overtime.
''Just keep going, man,'' said Westbrook, who was 11 of 25 from the field and made eight of nine free throws. ''Regardless of missed or made shots, my mentality never changes throughout the game and I always continue to stay in attack mode.''
Dwight Powell forced overtime at 100-all with a follow shot at the buzzer to match his career high with 21 points.