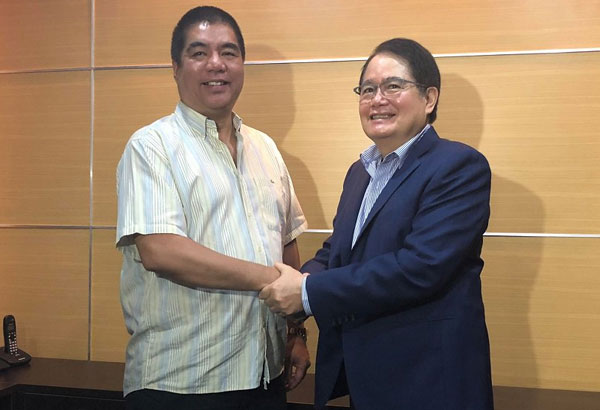 New PBA commissioner Willie Marcial is congratulated by PBA board chairman Ricky Vargas following the former's appointment Thursday at the PBA office in Libis, Quezon City. | PBA Images
PBA banking on 'healing commissioner' Willie Marcial
MANILA, Philippines – Willie Marcial, schooled by the ups and downs, and the highs and lows the league has gone through, has been chosen unanimously by the PBA board to serve as the 10th commissioner of the Philippine Basketball Association.
"He'll help us through. He'll be the healing commissioner," said PBA board chairman Ricky Vargas in announcing the appointment of Marcial.
The 56-year-old Batangas native was promoted from league officer-in-charge to full-fledged commissioner with a term of three years. He'll also serve concurrently as PBA media bureau chief, a position he's held since 2003.
Marcial, a son of a surgeon, rose all the way from being a statistician during the time of founding PBA commissioner Leo Prieto. He also worked with the league TV coveror Vintage Enterprises before moving over to the Commissioner's Office during the time of PBA honcho Noli Eala.
After serving under four commissioners — Eala, Sonny Barrios, Chito Salud and Chito Narvasa — Marcial was deemed by the league board as the best choice to take the league rein at this time.
"As you know the PBA board has gone through a very difficult time before the opening of this season. And we're looking for somebody that can put it together and help us heal the process as there will be a lot of changes as we move along," Vargas said.
"At this time, it's important to give it to somebody who grew up in the PBA, who understands the PBA, the by-laws; who has been mentored by many PBA commissioners in the past. He's one who has learned over the years in the PBA," Vargas also said.
"He's worked with various types of commissioners, so he's learned so much. He will bring with him that experience, that demeanor as opposed to getting fresh candidates or going through the process of hiring," Vargas added.
Thus, the board did away with the search process gone through by the previous commissioners from the time of Eala.
"As we reviewed the names of the candidates in a scenario such as this where we go through a difficult situation, we felt it very appropriate, bigay ng Diyos that we have somebody like Willie," said Vargas.
The board is already thankful to Marcial to the changes the league made to improve the game.
"The PBA is back, I heard that in social media. We're thankful to Willie for that. I'm excited to see people in the venue really enjoying the game," said Vargas.
In their first meeting in the year, the PBA board also approved the lifting of restrictions on the number of players a team can lend to the national team.