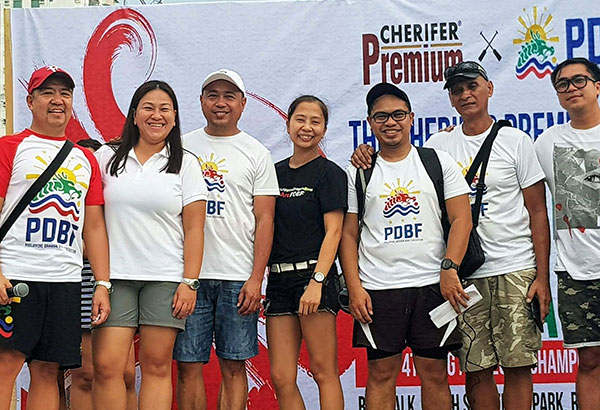 Officers of the Philippine Dragon Boat Federation, led by PDBF president Doji Lopez (left) and secretary general Jen Escueta (center), are all smiles as they pose for posterity after successfully organizing the fourth and final leg of the Cherifer Premium-PDBF Dragon Boat Regatta at the Manila Bay over the weekend.

Navy dominates Cherifer Premium-PDBF Regatta
(The Philippine Star) - December 13, 2017 - 4:00pm
MANILA, Philippines — Philippine Navy capped its campaign in the 2017 Cherifer Premium-PDBF Dragon Boat Regatta in impressive fashion, sweeping all three events of the fourth and last leg and clinching overall honors in the series at Manila Bay along Roxas Boulevard over the weekend.
After rallying to edge Triton A in the 300-meter women's small boat race, the Navy paddlers settled down and ruled the mixed standard and men's open standard events of the circuit sponsored by Cherifer Premium and organized by the Philippine Dragon Boat Federation.
The seamen led from start to finish in topping the men's open division in one minute, 8.82 seconds over runner-up Rogue Pilipinas (1:11.52) in the event backed by Manila Ocean Park, Fitbar, LeMinerale, Red Bull and BangkaPro, which gave two snorkel masks as raffle prizes. Bruins finished third (1:11.94).
Teams from Army, Coast Guard and Air Force had to beg off due to military training.
Navy likewise topped the mixed standard contest (1:12.47) while Rogue Pilipinas (1:14.28) and Triton A (1:15.58) placed second and third, respectively, in the series backed by the National Parks Development Committee, Manila City government, Nivea Sun, Tent City and Soundfreak.
The Navy bets, however, needed a strong finishing kick in the last 75 meters to surge past Triton A and top the women's small boat race in 1:24.86. Triton A clocked 1:25.07 while RCP Sea Dragons A finished third in 1:29.19.
Navy garnered the open overall championship with 640 points, Bruins (540) took second and Triton A (510) third, while Navy (540), Triton A (460) and RCP Sea Dragons A (410) were 1-2-3 in the mixed division, respectively.
The Navy paddlers also took the overall title in the women's division with 380 points, nosing out Triton A (380) for the plum by securing the last leg. RCP SEA Dragons was third (300).
"Even without the other three military teams, we can no longer take the private clubs lightly since they have vastly improved," said a Navy spokesman following the success of the team. "These clubs are worthy rivals and we had to work hard for these victories."