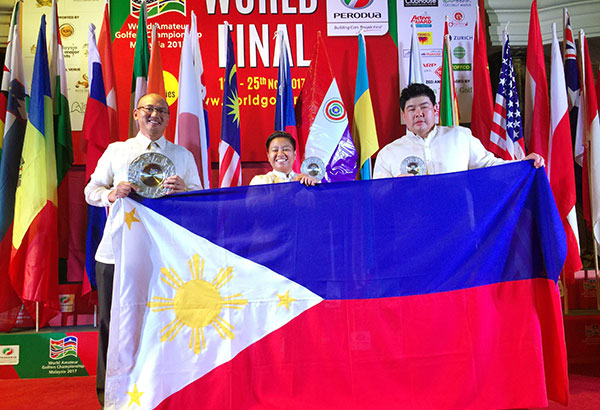 Photo shows (from left) Division I champion Tonito Payumo, Division 3 third placer Mabel Salivio and Division I second runner-up Oliver Gan during the awards rites in the World Amateur Golfers Championship and Invitational in Malaysia.
Payumo fights back, wins World Am division crown
(The Philippine Star) - December 12, 2017 - 4:00pm
MANILA, Philippines — Tonito Payumo bounced back strong from a third round meltdown at the tough Kota Permai course with a gutsy net 70 at Templer Park Country Club to snare the Division I crown in the World Amateur Golfers Championship and Invitational (WAGC/WAGI) in Malaysia recently.
Payumo, who also shot a 70 at the Mines course to grab the second round lead but fumbled with an 81 at Kota Permai to drop to fourth, overcame a bogey-par-bogey-bogey run in the final round and barely found his ball in the thick rough on Templer's No. 5 in time before playing the remaining holes in one-under.
He wound up with an aggregate of 295, including a first round 74 at Sungai Long Country Club, and beat Czech Petr Bilek by four for the individual crown in the WAGI two-man team event.
"It was a great experience playing on an international stage against top competitors from other countries and I was proud of how I was able to handle the four challenging courses," said Payumo of Orchard/Manila Golf and Anvaya Golf Club. "The victory was unexpected. Though I had a good feeling about my chances for a podium finish, I didn't expect to win the division."
Payumo's team-up with Mickey Tan also netted them a sixth place finish out of 74 teams after leading the field at the halfway mark of the 72-hole tournament.
Oliver Gan of Wack Wack pooled a 300 and finished third in Division I while Forest Hills' Don Padilla placed fifth with a 304 to underscore the Philippines' solid showing in the event which drew over 330 players from 38 countries.
Tan, on the other hand, placed sixth in Division 2 with a 305, Team Phl skipper Errol Chua finished eighth in Division 4 with a 325 while Francis Talion of Ayala Greenfield wound up 11th in Division 4 with a 328.
Meanwhile, the Phl placed seventh in the WAGC five-man team event with Gerald Katigbak of Riviera finishing fifth overall in Division I with a 298 aggregate.
Mabel Salivio of Aguinaldo finished third with a 293 in Division 3, Beverly Place's Augusto Cruz ended up sixth with a 305 in Division 2, Marc Leviste of Summit Point placed seventh in Division 4 with a 305, while Alfredo Abarintos of Mt. Malarayat wound up 11th in Division 5 with a 305.
Team Phl also bagged the 2017 Tumba Trophy given to the country that embodies the overall vision of WAGC founder Sven Tumba which is "Sport promotes friendship and business."
Payumo, a former football and junior tennis star, hurdled the local elims where he beat the reigning national Mid-Amateur champion then placed second to Katigbak in the national finals to gain a berth in the Phl delegation to the four-day event spread over four courses.
After two practice rounds, Payumo carded a 74 in the first day at Sungai then shot a 70 at the Mines to seize the individual lead as the Phl, with Tan also dishing out a superb round, grabbed the upperhand in team competition.
But the Filipinos struggled at the tricky Kota Permai layout as Payumo limped with an 81 despite birdying the opening hole and fell off the lead. But he fought back in the final at Templer and pounced on his rivals' wavering finish to run away with the Division I diadem.