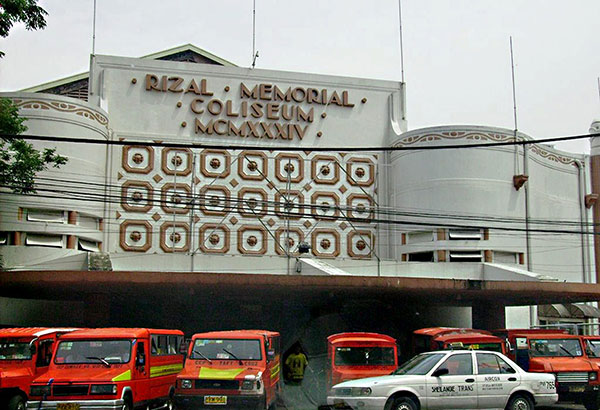 The 83-year-old basketball coliseum inside the Rizal Memorial Sports Complex on Vito Cruz, Manila. www.panoramio.com

Rehab of old Rizal to cost P2 billion
Abac Cordero
(The Philippine Star) - November 3, 2017 - 4:00pm
Facelift needed for 2019 SEAG
MANILA, Philippines — The Philippine Sports Commission (PSC) would need as much as P2 billion to rehabilitate and modernize existing facilities like the Rizal Memorial Sports Complex in Manila and Philsports (formerly Ultra) in Pasig.
Chairman William Ramirez said the PSC is drawing up the plan, considering that the facilities may be used when the country hosts the 2019 Southeast Asian Games.
"We want to rehabilitate them and make them look fresh and new," said Ramirez yesterday in a press briefing also attended by PSC executive director Sannah Frivaldo and commissioner Arnold Agustin.
Ramirez said the plan to rehabilitate the 83-year-old RMSC puts an end to talks about its sale and privatization.
"Wala na (There's none)," he said.
Instead, the Rizal Memorial Sports Complex will soon undergo a major facelift, from certain facilities like the swimming and tennis center, billiards hall, Ninoy Aquino Stadium, PCSM (center for sports medicine), athletes' dormitories and other training venues.
Also part of the plan is to build a five-star canteen to cater to the nutritional needs of the athletes.
Frivaldo, however, said there are certain sections within the RMSC that are labeled as "untouchable," like the historic baseball stadium and basketball coliseum.
"Before we can touch them we have to confer with the National Historical Commission of the Philippines," she said.
Frivaldo said the planning and engineering departments of the PSC are now taking initial steps regarding the ambitious project.
Possible funding may come with help from the Senate and the Lower House.
"That's why we need to come up with budget estimates," she said.
During the same briefing, Ramirez announced the rescheduling of the 2017 Philippine National Games, originally set Dec. 10 to 16 in Cebu City, to April 15 to 21 in the same province.
Ramirez said since classes are ongoing in December, the classrooms will not be made available to house the athletes from the different regions nationwide.
The Batang Pinoy, however, will push through from Nov. 10 to 16 in Dumaguete City.