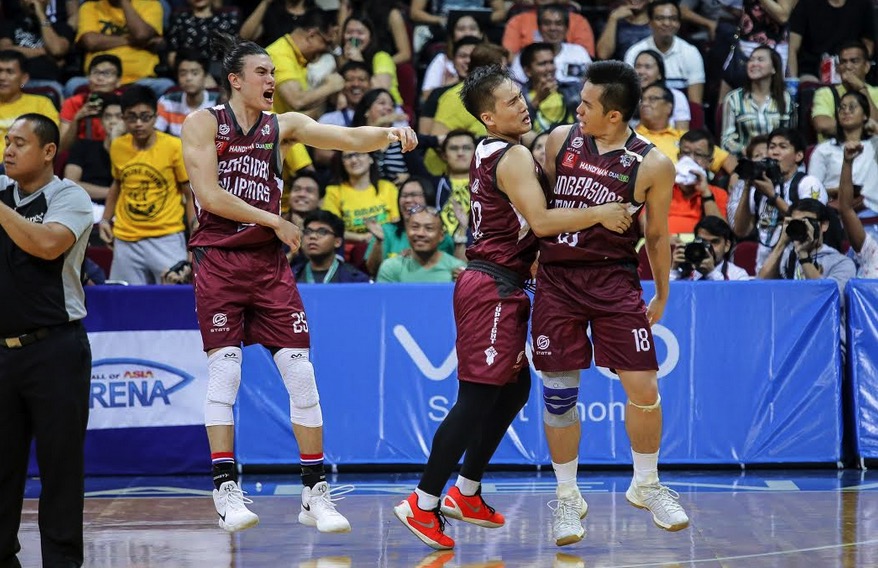 University of the Philippines' Paul Desiderio celebrates his dagger against the University of Santo Tomas. | Contributed Photo
Statement win by UP highlights UAAP weekend
(philstar.com) - September 26, 2017 - 3:37am
MANILA, Philippines — What a weekend it was for UAAP men's basketball. And we have to start with the biggest and loudest result from the last weekend.
That was a statement win from UP
We know that the Maroons sneaked in these wins over top tier teams over the past few years – meron pa-isa isa. However, this isn't one of those paramdam games. As we said in our season Philstar.com preview, "If they do well in the first round that should give them a massive dose of confidence. And that will rub off on everyone. Why wait for next year when there is this year?"
Who would have thought they'd be in second spot after four games played? Yes, it is too early to celebrate. But no one is taking them lightly.
On the verge of being blown out by La Salle, they methodically came back. And how! That win sent ripples down the league.
UST can't seem to get over the hump
We'll say this again… the Growling Tigers are better than their record of 0-4. They battle tooth and nail and sometimes, such as the case against FEU over the weekend, led for nearly three-quarters of the game before succumbing. Yes, they are young (although Jeepy Faundo is graduating, as he played on the last of Pido Jarencio's teams of five years ago) and you certainly cannot buy big-game experience. Having said that, the turnovers are killing them.
When four of your top guns are in the dubious record of the ten players leading the league in turnovers, how are you going to win?
Check it out: Marvin Lee is tops in this category with 5.8 errors a match! Regie Basibas is seventh with 3.5. Steve Akomo is eighth with 3.3 while Jordan Sta. Ana is tenth with 3.0!
How bad was this loss? On national television, Steve Akomo was shaking his head post-match.
Jerie Pingoy is reading to strap this team on to his back
He led the Adamson fightback against La Salle and continued that deadly form we've seen from his high school days and intermittently during his stint with Ateneo. The way he bent the Falcons to his will in that win over National University is impressive. He almost singlehandedly tore apart the Bulldogs in the first half. He's never been short of confidence. His belief in himself is sure-fire. And now his body — and he put on weight for a while — is rounding out into form!
On another note, you have to like head coach Franz Pumaren's willingness to change the starting five. Jerie Pingoy, Dawn Ochea and Jonathan Espeleta started. Pingoy and Espeleta responded while Ochea did well at the start.
The NU B?ulldogs need their vets to play well
I tabbed them to be a contender for the Final Four. In my conversations with some college ball analysts and even members of their coaching staff, they were surprised that I wasn't giving them a shot to make it to the next round. That is because of — in order — their youth and their veterans not playing well.
This is Matthew Aquino's first full season under a frenetic type of offense and defense. This was so unlike the team he played on in Adamson. Chino Mosqueda should be used to this type of game having played under something close to it in high school. Except the fact that you are up against better, taller, and more athletic players. Enzo Joson missed a huge part of the pre-season as he had to finish things up in Thailand. The rest, well, too young. Jordan Bartlett will be all right. This is his learning year.
That's incumbent upon the veterans. JJ Alejandro is playing the best ball of his college career. Some still look lost in this system – Matt Salem is one. I figure, he is overthinking things. Teams have adjusted to his new style with NU where he would post up and drive instead of the spot up shooter he was in La Salle. Maybe if he just does the nitty gritty then the defense would follow. Rev Diputado is a shade of his former self. He's been given chances but I can't figure this out. Obviously, I am not with them 24/7 so who knows? Dave Yu who has been better was off during the Adamson game.
Ronnel Lastimosa has a chance to be the x-factor here. I was surprised that head coach Jamike Jarin included him in the summer tourneys but with Meds Salim and JV Gallego parked due to disciplinary action and Joshua Sinclair out with an injury. And well, he's doing well.
I think though that the late substitution of Issa Gaye – perhaps to give him a brief rest – backfired. After the NU center went out, Adamson scored five straight points to put a severe crimp on NU's chances. We've seen coaches do this late in the game. You hope your subs will hold the fort but I can understand when you're up but not when you're trying to rally from a deficit. I thought this hurt the Bulldogs in that instance.
Yes, Matt Nieto and Thirdy Ravena played well but Ta?b Baldwin won this game for Ateneo
The danger when a top tier squad faces one at the cellar is to be complacent. And the UE Red Warriors had 'upset' on their minds. They stayed close and were pesky. Imagine if they were even half of what they used to be (seven players transferred to other schools) – they would have really hurt Ateneo. Ateneo played to the pace of the Red Warriors. And they were sloppy.
Until Tab Baldwin sternly admonished them only then did they respond. Hey, Blue Eagles pay attention… Four-and-oh doesn't mean you have accomplished anything.