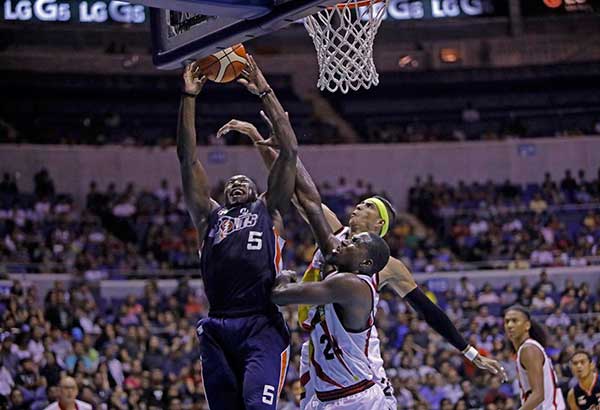 Meralco's Allen Durham soars for a basket against San Miguel Beermen during the nightcap of Sunday's PBA action at the Big Dome. | PBA Images
Bolts, Hotshots seek semis seats
(The Philippine Star) - September 25, 2017 - 4:00pm
MANILA, Philippines — Top seed Meralco and fourth ranked Star take their first of two cracks at the semifinals, going for the kill versus Blackwater and NLEX, respectively, tonight at the start of the PBA Governors Cup playoffs at the MOA Arena in Pasay City.
Second seed TNT KaTropa and No. 3 Barangay Ginebra also go for the clincher versus Rain or Shine and San Miguel Beer, respectively, tomorrow at the same venue.
As the lower seeds, Blackwater, NLEX, Rain or Shine and San Miguel all need to win two in a row to salvage a berth in the Final Four.
Meanwhile, even with the twice-to-beat advantage, coaches Norman Black of Meralco and Chito Victolero of Star said they still have a job to be done.
They said they have to raise their level of play if they're contend for the crown in the season-ending tourney.
"We're going to the playoffs where things are going to get more difficult," said Black, not counting out a Blackwater team that has been playing well with import Henry Walker.
After a 0-3 start, the Elite piled up a 5-3 win-loss record with Walker and thus joined the major contenders in the Final Eight.
The Hotshots are as determined to play their best right in the first game so as not to make it a two-game playoff.
"It's our third game in five days," said Victolero, wary the effects of fatigue may take their toll in a long grind.
"I need to make sure that my players are motivated enough and ready for the battle. We need to be mentally tough and physically prepared especially coming from back-to-back games," said Victolero.
For the Road Warriors, it's win or vacation time.
The Road Warriors missed the Top Four and found themselves in a precarious spot in losing their last two games, including their faceoff with the Hotshots at the close of the elims Sunday.
Kris Acox and his teammates rallied from 15 points down and upended the Road Warriors, 101-93.