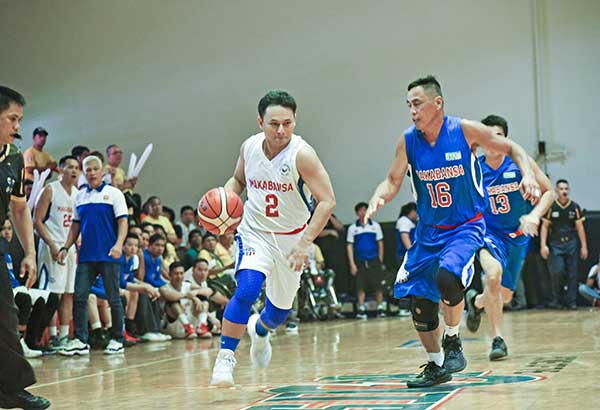 The Advocates' team captain Sen.Sonny Angara and Troopers' Rene Recto battle on the hard court to take the crown, as their teams' chosen beneficiaries watch along the sidelines.
Senate Advocates, Star Troopers duel for MBL title
(The Philippine Star) - September 23, 2017 - 4:00pm
MANILA, Philippines — After dominating its road to the finals with a 9-0 record, The Philippine STAR Troopers battle the Senate Advocates on a quest to win the Makabansa Basketball League (MBL) Season 1 Championship in a best-of-three Finals Series.
During the historic Game 1 of the MBL Finals held last Sept. 10, the Advocates, under the leadership of co-captains Sen. Sonny Angara and Sen. Joel Villanueva, put up a strong fight leading to a thrilling overtime period. Despite their efforts, the Advocates fell to The STAR Troopers as Vher Roque, Jhong Bondoc and Raymond Maconocido stepped up their overtime game in the final canto to settle the score at 80-75.
Looking to even the score in Game 2 held on Sept. 19, the Advocates' teamwork and resiliency, combined with the aggressiveness of James Mangaran and Mark Anthony Marcos, led the team to victory over the Troopers – handing the Troopers its first loss in the season at 66-64. Anthony Lim saved the day for the Advocates when he stole the ball in the dying seconds, with the Advocates only up by 1 point.
Now, the MBL Season 1 Finals series is tied at one apiece and the teams find themselves in an epic battle – a do-or-die match today at 10 a.m. at the Meralco Fitness Center, the home of the MBL.
The MBL's project lead, Atty. Oscar "Jang" Moreno Jr. of Meralco, when asked why he formed the league, said that "sports is important in nation- building with immense potential to resolve conflicts and create cohesiveness in society by promoting unity within a nation. The MBL, through sportsmanship, camaraderie, and healthy competition, aims to solidify partnerships in and among the public and private sectors to better serve the public."
Officially opened last July 16, 2017, the MBL comprises of seven private companies and 10 government organizations. The participating private companies are Meralco, NLEX, Maynilad, PLDT, SMART, TV5 and The Philippine STAR, while the government offices are Senate, House of Representatives, Justice League, Department of Justice, Office of the Solicitor General, Department of Public Works and Highways, Department of the Interior and Local Government, Department of Environment and Natural Resources, Metro Manila Development Authority and the Philippine National Police.
It is sponsored by the MVP Sports Foundation, Inc. and Metro Pacific Investments Corporation. The MBL's cgv ommissioner is Atty. Rebo Saguisag, who also serves as University Athletic Association of the Philippines (UAAP) executive director and Season 80 commissioner.
With the inaugural season coming to a close, the Advocates will set out to win for its beneficiaries, Tahanang Walang Hagdanan, Inc. and Manila East Safety Riders Association Rizal Organization, while the Troopers will fight for Operation Damayan.
Today, the enormous following of the MBL championship teams will witness the showdown between this season's two powerhouses – the Advocates and The STAR Troopers. MBL is powered by Kings of the Court and Gatorade. – Lair Balocal/Contributor