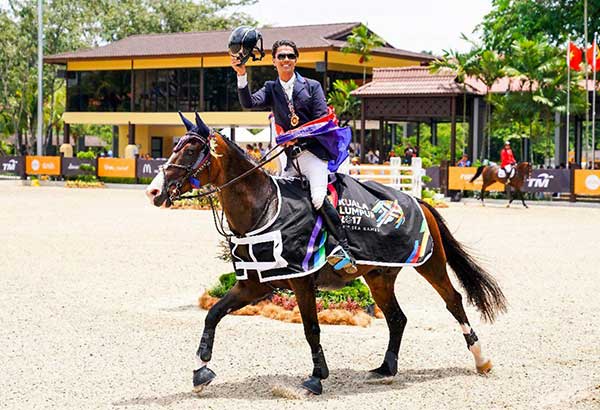 Colin John Syquia, aboard Adventure E, acknowledges cheers from supporters after winning the showjumping gold medal. Kuala Lumpur twitter account
Gerry Carpio
(The Philippine Star) - August 28, 2017 - 4:00pm
With US-based rider winning Phl 23rd gold
KUALA LUMPUR – A professional horseman from Florida gave Team Philippines its lone win and the 23rd gold in stirring showjumping jumpoff in equestrian, giving the country a dim prospect of a worst finish in the Southeast Asian Games.
With only a handful of final events lined up for the Filipino athletes in the penultimate day of the 29th SEAG here, the Nationals are hard-pressed to match their Singapore gold-medal output of 29.
Still, Team Philippines remains hopeful Olympian Kirstie Elaine Alora and Francis Agojo will deliver a strong finishing kick in taekwondo along with the four-man national squad in the wushu finals today.
But even if they win, the Philippines had already missed its initial target of 50 gold medals and now headed to its worst finish in terms of gold-medal output the past 18 years.
The Philippines emerged with only 29 gold medals in the last two editions in Myanmar in 2013 and Singapore in 2015.
Prior to that, its worst finish was in the Brunei SEA Games in 1999 where it took home only 20 golds.
But the Brunei Games, where only 233 gold medals were disputed, although it paled in comparison with this year's SEAG where a total of 404 gold medals from 38 sports were staked.
The 46-year-old Florida-based Colin John Syquia, aboard Adventure E, was tied with five other riders after the second round, but was a runaway winner in the jump-off with 37.63 seconds to win the gold medal over Malaysians Sharmini Christina Ratnasingham (41.30 seconds) and Dato' Seri Mahamad Fathil, Qabi Ambak (41.66 seconds) at the 3Q Equestrian Center in Rawang, 46 kilometers from here.
Ratnasingham was on board Arcado while Ambak used 3Q Qaliya.
"This (gold) is very special because this is my first time to compete in the SEA Games," said Syquia, a professional equestrian and horse dealer who participates in shows and derbies in Wellington, Florida.
Syquia himself had to endure a 36-hour flight and three flight changes to come to Malaysia and take the 46-km ride to Warang to compete against an elite field. He and his mount had to take the longer flight, from Florida to New York to Amsterdam to Baku on time for the opening of the SEA Games.
Team manager Daniella Virata said Syquia is "a cool guy with rock star personality."
"He is our rock star here," said Virata of Syquia, who began riding at Claremonth Academy. "We call him our secret weapon."
"He is a cool guy with good personality. He gave us six clear rounds; three in individuals and three in team event."
The gold was the country's first after the Palembang SEA Games in 2011 and its 23th gold going into the final day of the biennial meet.
Syquia was also part of the team that settled for the silver medal together with Chiara Sophia Amor, Joker Arroyo and Toni Leviste.
In the lone taekwondo match at the Kuala Lumpur Convention Center, rookie Rhezie Canama Aragon lost to Indonesian Marska Halindak 4-9, in the women's -53 kg and settled for the silver. Aragon drew a bye into the finals of the event where only three participated.
Nestor Colonia, competing with an injury suffered in training, finished fifth in the 56 kg category in men's weightlifting.
With its gold in equestrian and the silver in taekwondo, the Philippines ended the day with 23-30-55 gold-silver-bronze medals and remained sixth behind virtual champion Malaysia (102-70-69), Thailand (60-71-72) which surged to second past Vietnam (54-41-50), fourth-ranked Singapore (48-43-49) and fifth–placed Indonesia (32-53-62).
Meanwhile, reigning two-time world champion Geylord Coveta of sailing and Olympian Nestor Colonia of weightlifting suffered heart-breaking setbacks while the entire muay squad was wiped out in the championship battle.
Coveta, the 27-year-old sailor who was crowned as world champion in 2012, settled for silver in the men's windsurfing RS One event behind Olympian Natthaphong Phonoppharat of Thailand while Illham Wahab of Indonesia bagged the silver medal.
A hurting Colonia also suffered a stinging setback, ending up fifth out of six competitors in the men's 56 kg division in weightlifting.
Muay fighter Ryan Jafiri was also knocked out of contention by a Cambodian legend in the 63.5 kg class.
After drawing a bye in the five-man field, Jafiri was caught by a ramming front kick and a thunderous punch from Khun Dima of Cambodia that sent him crashing with 1:11 left.
Jafiri was the fifth Filipino muay fighter to bid goodbye in the 11-nation conclave.
He, however, would still go home with a bronze medal.
"His foe was a muay legend in Cambodia," said head coach Billy Amumno.
Out of contention were Jonathan Polosan, Jay Harold Gregorio, Khen Johnson Marques and Philip Delarmino.