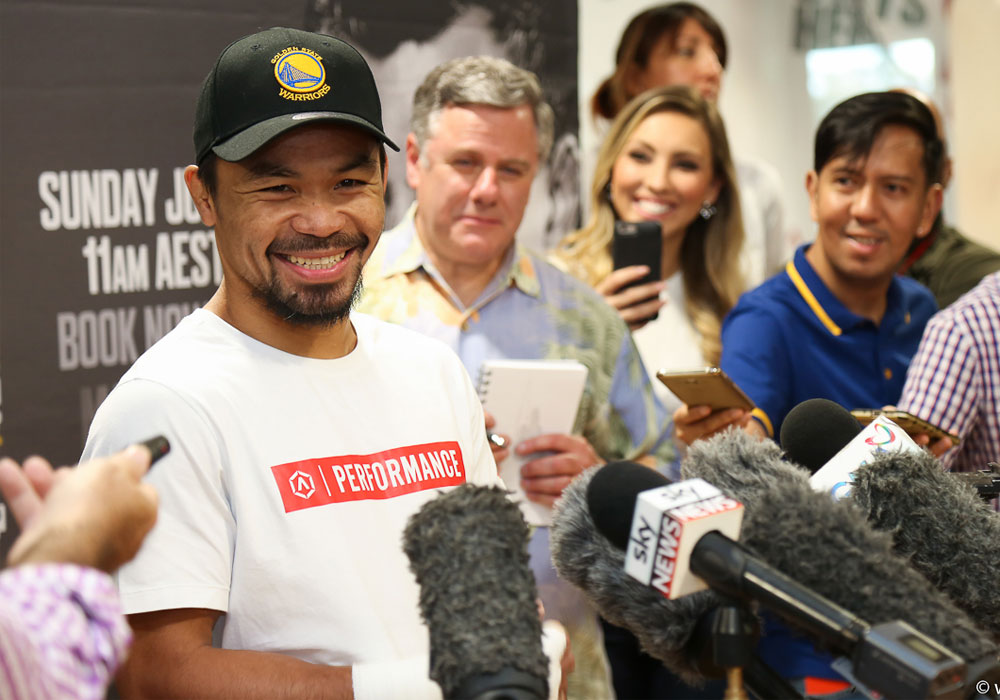 Manny Pacquiao smiles as he talks to the press before a workout at a gym inside Suncorp Stadium in Brisbane, Australia on Tuesday. | Wendell Rupert Alinea
Laid-back Pacquiao delights Australian media with jokes
BRISBANE, Australia – A usually calm and collected Manny Pacquiao on Tuesday faced the media for a short talk before a scheduled workout at a gym inside Suncorp Stadium, the venue for his WBO welterweight title defense against Jeff Horn on Sunday.
Sporting a white shirt, blue shorts and a Golden State Warriors cap, Pacquiao entertained a range of questions from the predominantly Australian press, addressing his readiness for the younger Horn and even fielding questions about politics.
In between the seriousness of his generic replies, Pacquiao managed to inject some humor in the form of witty one-liners.
And the crowd, cherishing the rare moment of being in the presence of the boxing superstar, fell for them.
Pacquiao took the floor with a noticeably red spot in his left eye, a result of subconjunctival hemorrhage or a broken blood vessel in the eye. He was inevitably asked what happened.
"It's just a contact lens," the Filipino icon replied, drawing laughter from those around.
It was later learned from a source that Pacquiao got clipped in the same eye by a sparring partner the day before. But it was hardly a concern for his handlers, who are eyeing no less than a knockout victory by Pacquiao over Horn in hopes of rejuvenating his career.
Meanwhile, the laughter continued at Tuesday's media session, as Pacquiao again put his sense of humor to full display after being asked one more question, this time about the possibility of being "educated" in the ring by Horn.
Horn, of course, is a licensed schoolteacher, a fact that is being consistently brought up throughout the promotion in hopes of adding interest in the fight.
In response to the question, Pacquiao unleashed this equally witty reply.
"What I can say is that it's good that he (Horn)'s a teacher. Also, I'm a teacher in the ring. So we're both teachers," he said, again to the delight of the press.
Pacquiao spent the rest of his media workout cracking jokes with his team in between rounds of shadowboxing and mittwork—a clear proof that the champion is worry-free heading into Sunday's affair.