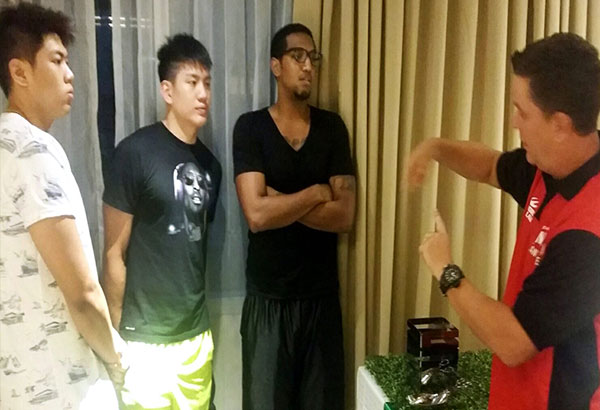 Ginebra coach Tim Cone (right) shares insights with La Salle's Prince Rivero, Jeron Teng and Jason Perkins the night before the Archers clinched the UAAP title. JOAQUIN HENSON
Archers heed Cone's advice
MANILA, Philippines – Barangay Ginebra coach Tim Cone dropped by the Novotel Hotel to talk to the La Salle senior men's basketball team the night before the Archers beat Ateneo to clinch the UAAP crown via a two-game sweep of the best-of-three finals and spoke about the danger of playing in a winner-take-all knockout showdown.
Cone, the PBA's winningest coach, advised the Archers to close out the series in last week's Game 2 because a rubber match would be a 50-50 proposition where the better team may not necessarily win. La Salle took the opener and with the victory, earned two chances to bag the crown. The Archers could afford to lose Game 2 and still go for the title in Game 3. Cone explained the sense of urgency in ending the series without giving Ateneo the chance of pulling off an upset in Game 3.
"In my years of coaching, I avoid a situation where the team I'm coaching plays a Game 3 in a best-of-three or a Game 7 in a best-of-seven," said Cone who made his PBA coaching debut with Alaska in 1989. "That's because in a knockout game, anything is possible. The team that happens to have a good night will win and it may not necessarily be the better team. So if a team has a chance to close out a series with a cushion, go for it."
Cone recalled that in the Governors Cup last season, Ginebra ended the best-of-seven finals in Game 6. "I didn't want it to go to a Game 7," he said. "Look what happened in the NBA finals last season. Golden State was up, 3-1, then Cleveland made the adjustments and won the championship in Game 7. In the Philippine Cup last season, Alaska had a 3-0 edge over San Miguel Beer but couldn't close it out and lost in Game 7."
Cone told the Archers not to open the door for the Eagles to step in and steal the title. La Salle heeded his advice and the next day, ended the finals with a 79-72 decision. Cone's audience included San Miguel Corp. chairman and La Salle patron Eduardo Cojuangco Jr. and the entire coaching staff. The team checked in at the Novotel Hotel the day before Game 2 and players surrendered their cellphones to the coaching staff to stay focused for the closer at the Big Dome next door. The Archers were also quartered the day before Game 1 with former La Salle finals heroes Dino Aldeguer and T. Y. Tang dropping by to share their championship stories. They were billeted at the Golden Phoenix Hotel near the MOA Arena where the opener was played.
Cone also spoke about the importance of playing together. He said Michael Jordan enjoyed his best scoring seasons in his first six years as a pro but never won a championship. It was only when Jordan embraced coach Phil Jackson's team-oriented triangle offense that he began to win titles starting his seventh year. Cone pointed out that no player can score all the points or grab all the rebounds for his team, meaning it takes a collective effort to win a game or a series.
"I've coached a lot of great players like James Yap whom we went to for big baskets when San Mig Coffee won the Grand Slam or Justin Brownlee who hit that huge three to win Game 6 for us and closed out the Governors Cup finals," he said. "That's what great players like L. A. Tenorio do, they bail out their teams. But in the course of a game, great players can't do it by themselves. Jeron (Teng) and Ben (Mbala) are great players but they won't win games by themselves unless their teammates contribute."
Cone said basketball is evolving and coaches need to keep up with the times. "The way my team practices today is different from the way we practiced two years ago," he said. "Sportswriter Roland Lazenby told me his books of today are far better than his books of years back. You have to keep improving. I used to be a strictly triangle guy. Now, I still apply the triangle concept of equal opportunity but my system has become more read and react to different situations. It's more continuity. There's no term to describe the system. It's like there's no term to describe what coach Pop (Gregg Popovich) runs at San Antonio. It's just Pop's system. We employ different formats. Sometimes, we do post opposite or Joe De Vance brings up the ball instead of the guards. In basketball, you don't want to be predictable."
Cone said he'll never forget playing college basketball. "It was the best time of my life," he said. Cone told the Archers to cherish the moment of playing in the finals. "La Salle is your family," he said. "Play with and for each other. Whatever happens later in your life, as you develop your career, you'll always look back at the foundation you built in college."
Cone's message resonated loud and clear. La Salle coach Aldin Ayo said Cone's talk inspired the team to go all out and finish the series in Game 2, avoiding a risky situation in a rubber match.