Transitions: Adamson's Jansen Rios looks up to Kenneth Duremdes
MANILA, Philippines – The Adamson Falcons were in the midst of an intense practice. First year head coach Kenneth Duremdes wanted it that way. After all, their next foe was La Salle. Already a tough match-up, what made it seem more daunting is that the Green Archers were coming off a huge loss to FEU that knocked them off the UAAP's top spot.
"Baka kami mapagbuntungan ng galit (They might vent their ire on us)," thought Duremdes.
Point guard Ryan Monteclaro received the ball atop the 3-point arc where he was wide open. As the defense scrambled to cover him, he whipped a pass to his right to a suddenly open teammate. Except his teammate had gone inside in anticipation of an offensive rebound. Turnover.
Duremdes, who was two feet away from the midcourt line, bowed his head for a moment in frustration then quickly changed gears. "C'mon, boys. Let's run it without any turnovers! Kaya natin 'to!"
As practice wrapped up, Duremdes, the former Falcons star and one of the PBA's 25 greatest players, pulled a few of his players to offer more advice. Later, he reflected, "You cannot get down on these kids. It's a tough situation. We lost 11 players from our team from the previous season. Our remaining players didn't get much playing time. You have to remain positive and give them positive things to think about."
Transitioning is something that Duremdes is used to. Growing up in Koronodal, South Cotobato, he had dreams of glory on the baseball diamond.
"I love the game," gushed Duremdes about the sport. "I don't have too much time to watch the regular season, but when the World Series is on, I always watch."
Even during his time in the PBA, Duremdes would make it a point to catch up on Major League Baseball especially if his favorite team, the Los Angeles Dodgers, were playing. In fact, when he was in the Philippine Centennial Team that competed in the 1998 William Jones Cup, Duremdes and then national head coach Tim Cone would spend time in the lobby watching MLB games and the historic single-season home run chase that saw the St. Louis Cardinals' Mark McGwire and the Chicago Cubs' Sammy Sosa battle it out neck and neck for the record.
As a youngster, Kenneth was his elementary and high school team's pitcher and second baseman. The perspective from the second base helped him read the game properly. And sizing up the game is something that served him well especially when he transitioned to basketball.
Basketball. At first, he played center for his high school team (hence, his ability to post up him man). However, when he got to college to join Adamson, he had to adjust to the two and three-spots because the Falcons featured their Twin Towers combination of seven-foot EJ Feihl and 6'9" Marlou Aquino.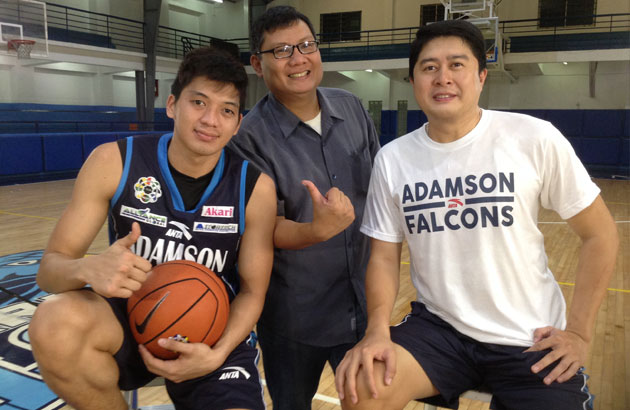 Jansen Rios and Kenneth Duremdes with the author in the middle
"I was known to be a slasher back then but when I got to the PBA I had to work on my jumpshot. Kasi mas matatangkad na yung mga kalaban mo so hindi na pwede drive nang drive," he explained.
And what a drive it was. Duremdes' PBA resume is a chock full of achievements. Having won what he could in the pros and in the national team, he has taken the next step… coaching.
"Definitely not easy," succinctly put the man on the hot spot.
Duremdes is no stranger to difficulty and challenges. This year, he has taken the Falcons' fifth year forward Jansen Rios under his wing. Rios was promoted to the starting five last season, but his inability to get going saw him demoted to the bench where he fared much better by mid-second round. The coach can understand the disadvantage his team is in. The best they can do now is salvage what has been a difficult season.
It is easy for Duremdes to identify with Rios. Both play the same position (small forward), are close to height (6'3" to 6'2"), and are both from the province.
"That is another aspect na kailangan i-address ng bawat player na nanggagaling sa probinsya," noted Duremdes. "Kung lalambot-lambot ka sa Manila, walang mangyayari sa 'yo. You have to show everyone you belong."
When Duremdes became a UAAP and PBA star, he helped put his hometown of Koronodal on the map. Rios now has that same opportunity.
Jansen hails from Romblon and he is the first of its native sons to play UAAP basketball so much that when he left for Manila, his townsfolk sent him off with banners and song.
"Romblon is a football country," he recalled of life back home. "Hindi ko alam kung ano yung UAAP. Saka na lang nung fourth year na ako. Sa Romblon kasi, football yung buhay namin."
Like his coach, basketball wasn't his first sport. Jansen played center forward for his elementary and high school teams. And growing up, he rooted for Liverpool FC where aside from Reds' talisman Steven Gerrard, he keenly observed the techniques of former stratospheric striker, the 6'8" Peter Crouch.
Watching Crouch closely, Rios, standing at 6'2" used his height advantage in winner headers and corners to score goals.
However, by mid-high school, Rios underwent a growth spurt and basketball eventually beckoned.
"Yung football," noted Rios. "Ay nakatulong sa paglaro ko sa basketball sa lateral movement and sa quickness. Pero yung height ko, kailangan pang maraming gawin sa basketball court."
In his most productive season, Rios is averaging through 10 matches, 12.2 points, 7.9 rebounds and 1.8 assists. With four matches remaining, Duremdes has asked his senior forward to raise the level of his game and lead the downtrodden Falcons to victory.
The Falcons have their own legacy. From Hector Calma to Louie Alas to Nandy Garcia and Romulo Orillosa and to Aquino, Feihl and Duremdes himself (and later to players like Ken Bono and Alex Nuyles).
The Falcons don't win too often (the 1978 UAAP title and the 1994 National Intercollegiate Championships are perhaps their two biggest cage prizes), but they've always had a proud and winning tradition.
This year, however, the soaring Falcons have been grounded at 0-10. From all prognostications, they could end up winless, their first since the inglorious 2000-01 seasons where they went a combined 0-28.
While conventional wisdom will say that the Falcons can realistically win only one game, Duremdes steadfastly refuses to let his players think that way. "So we think we can only win one and we think we will lose the other three?"
"No," emphasized Duremdes. "You have to go on the court believing you can win all four. Losing attitude yung thinking one game lang."
"How Jansen and the other veterans play (in particular, fellow fifth-year swingman Don Trollano) will determine how far they want to go in this world," noted the coach.
"When I was playing, the games were hardly televised and there were no distractions," said Duremdes. "So focused kami. Now for Jansen, in this day and age, it is harder given the high level of competition and the increase of Fil-Ams and foreigners in the local game. He has the tools. But the question is – how bad does he want to succeed?"
"Changes," summed up the coach, "are always part of the game. How you adapt will determine how far you will go."