A french bulldog club in the Philippines
September 21, 2023 | 12:00am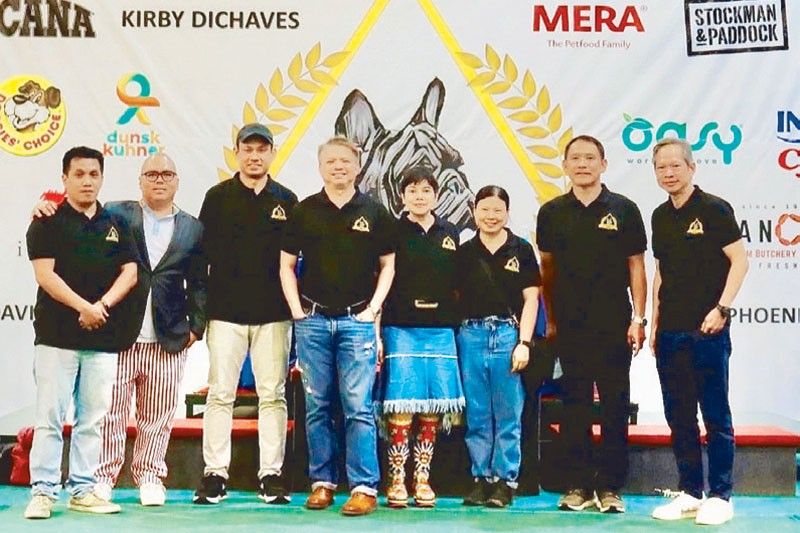 Whenever people ask me what dog I would recommend, I would always say, "A French bulldog!" They are fondly known as "Frenchies" and known in France as Bouledogue Francais.
These lovable companions are getting to be so popular and for the first time in history, the French bulldog took over the American Kennel Club's No. 1 spot last year, ending the Labrador Retriever's 31-year reign as the most popular dog breed in America.
Also last year, popular French Bulldog Winston won Best in Show, the top spot, at the 21st Annual National Dog Show. Winston is the first French bulldog to ever win the competition's top prize.
Jeweler Ann Ong is one of the biggest French bulldog fans I know (and I know a lot) and she is now the president of the new Club Bouledogue Francais PH Inc. This group was formed for all the French bulldog enthusiasts. The mission of the club is to protect the breed and promote Philippine-born Frenchies in prestigious dog shows abroad, together with our own skilled competitive handlers. The vision of the club is to participate more at international dog shows starting next year. They will bring top French bulldogs to the Thailand Impact Show 2024 and the World Dog Show 2024 in Croatia.
Ann's own Frenchie, Hatrisse Sweet Cookies, participated at the World Dog Show 2023. The puppy was handled by Spaniard Joan Asensio and was the sole participant that the French bulldog club had in Geneva this year. They aim to increase that number by next year.
PCCI or the Philippine Canine Club Inc., especially president Dinky Santos and executive vice president Bong Natividad, have been very supportive of the new French Bulldog Club of the Philippines. Working with Ann is vice president Mariano Ng, Jr., treasurer Jason Ong, secretary Paulo Miguel Paras, and director, engineer Vern Araneta.
Off menu
2023Off Menu by Tatler Dining is back on Sept. 29 and 30 at the Grand Ballroom of Shangri-La The Fort. This two-day food festival brings the Philippines a one-of-a-kind culinary experience designed to excite diners, whet appetites, and further ignite one's love for food.
This year, 14 stellar chefs have teamed to create seven dishes. These duos have each worked in tandem to create an Off Menu dish that will not be available at any of their restaurants. The seven featured chef pairings are Margarita Forés and Jordy Navarra, Nicco Santos and Miko Calo, Stephan Duhesme and Don Baldosano, Josh Boutwood and Jorge Mendez, Tom Bascon and Rhea Rizzo, Joris Rycken and Aaron Isip, and Bettina Arguelles and Yoji Kitayama.
Ticketholders will gain entrance to this food festival, complete with DJs, free seating, and unlimited drinks, to boot. Guests can make their way around the room and chat with the country's best chefs at each station. The casual, interactive food festival is from 6 p.m. to 10 p.m. Guests can visit each food station, where their passport booklet is stamped prior to getting their food.
Tatler Dining editor Isabel Martel Francisco said, "This year's roster of chefs is spectacular and the menu is truly delicious. We at Tatler Dining are so excited to welcome guests to Off Menu 2023! This two-night-only festival is primed to showcase the best of Philippine culinary creativity and is a project I could not be more proud of. This is one of my favorite events of the year!"
Last year's Off Menu was great and I look forward to tasting these creative dishes prepared by such talented chefs.
* * *
Go to https://media.tatlerasia.com/events/offmenuph for tickets.
Follow me on Instagram @pepperteehankee.