Angel Lontok Cruz, Jr.: Time traveler
September 8, 2023 | 12:00am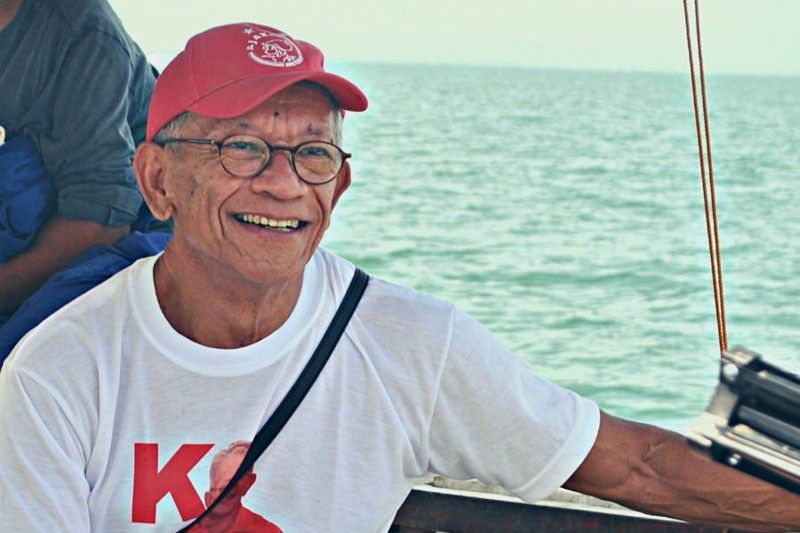 He is a time traveler in more ways than one, preserving centuries-old indigenous art pieces from the Cordilleras and Iloilo on the one hand, while keeping a modern-day town in Bulacan afloat on the other.
Somewhere in between this thread of time is Angel Lontok Cruz, Jr., who is among the world's best collectors of indigenous Philippine art. Pieces from his collection are in major museums around the world.
Cruz, from the wealthy and prominent Cruz and Lontok families of Bulacan, is very well-known among Manila's collecting circles, thanks to his hagabi, the Ifugao prestige bench auctioned last year at Leon Gallery for almost P20 million, the second most expensive hagabi sold at any auction. It was described as "the king of the hagabis" by none other than William Beyer, the son of Henry Otley Beyer, foremost scholar on Philippine indigenous culture and "Father of Philippine Anthropology."
For Cruz, who graduated with a bachelor's degree in Political Science from Haverford College in Pennsylvania, and Architectural Engineering from Hogere Technische School te Amsterdam in the Netherlands, "indigenous art is true Filipino art."
Cruz regards the bu'lul as the consummate proof of Philippine cultural authenticity, but laments its diminishing stature and further commercialization.
"The bu'lul belongs, in fact, to an authentic ancient civilization," he tells me. "They represent a time when we were still neither Hispanized nor westernized. They tell us who, as a people, we once were, and remind us in a way of who we truly are."
"The thing that saddens me the most is there seems to be just a few pieces of evidence of our true and authentic culture," he adds. "The modern reinterpretations of the bu'lul image in commercial products do not really honor what these images represent, and that shows one message: how we have so become detached from the original expressions of our original culture that we no longer feel or appreciate these pieces the way they should be appreciated."
"That's why when I returned (to the Philippines in 1996), I chose to settle not in Manila but in the province because there, the people are still authentic… the traditional values and cultures remain intact," he shares.
***
While in school in the Netherlands in the early '70s, a Senufo sculpture from the Ivory Coast in the home of Dutch friends caught his interest.
"My curiosity led me to further discovery. In the mid-'70s, I planned regular treks through the mountain villages of Bontoc, Sagada and Ifugao. In Bontoc, I witnessed women from Maligcong in traditional tapis harvesting rice with their men still proudly wearing G-strings transporting the rice to the granaries. I saw women of Banaue still pounding rice in wooden lusong and came across elegant elderly couples with the aid of their ornamental walking sticks climbing the steep stone steps of Batad — the last vestiges of the original culture, I later realized," he shares.
For him, collecting "was never a routine process." Sometimes, a piece would be offered to him directly by the original owner.
"One encounter during my mountain treks was the bu'lul pair from Lagawe. I was approached by a mother offering me the pair in order to be able to pay for the tuition of her daughter entering nursing school."
Sometimes, he would have to rummage for it in a dealer's stockroom, and sift the chaff from the grain, or from a special exhibit.
And there would be times when it would be the reward of patient courtship.
"Sometimes, it was from enduring time and patience with a collector only willing to part with a piece under steep conditions. The joy of collecting is in the joy of discovering — and in the art of negotiating as well!"
What really is a bu'lul?
"The bu'lul represents different deities, for instance, fertility, power and strength or healing. They were venerated spirits and treated with great respect by their original owners. They deserve the same respect from collectors and must be given the right place in any setting."
How can a collector discern the authenticity of a bu'lul?
"The patina and wood texture provide an estimate of age and usage," Cruz reveals. "Form and style help to determine place of origin. And, finally, there is the element of 'aura,' which must capture the eye of the beholder."
He is now in the mood for letting go of his prized collection. A milestone that marks a first for both Philippine indigenous art and the Philippine art market, the landmark sale of Cruz's important collection tomorrow, Sept. 9, is one that Leon Gallery director Jaime Ponce de Leon deems an honor. He says, "The enigmatic collector Angel Lontok Cruz has also determined that this is the right moment to share some of his most extraordinary indigenous art."
Why is he letting go of his prized pieces now, I asked Cruz.
"All of the pieces have drawn my appreciation to the fullest over the years. In other words, each piece has withstood my personal 'test of time.' If we regard responsible collecting as a form of long-term stewardship -— at best, then it is time for a new generation to find inspiration and enjoyment in these works, while at the same time providing the appreciation that these works in turn surely deserve."
Aside from preserving the past, Cruz, two-time mayor of Hagonoy (he served as mayor for two consecutive terms, 2007-2010 and 2010-2013, and vice mayor from 2019 to 2022), is also into the thick of safeguarding the future with his involvement in saving the town from being inundated, drawing from his knowledge and experience while living in Amsterdam, his home for the last 40 years.
"Our advocacy is for long-term solutions to the recurring flooding along the coastal towns like Hagonoy and others along Manila Bay," Cruz says.
He is a champion of the Alyansa ng mga Baybaying Bayan ng Bulacan at Pampanga (ABB-BP). In these times when coastal cities and towns, particularly in Manila Bay, are constantly being flooded and rapidly sinking due to rising sea levels caused by climate change and global warming, the ABB-BP is hard at work.
A traveler from north to south, bridging past and present, Cruz is a crusader in his relentless campaign to preserve what is left of our rich past, and what might yet become of our future. *