An unforgettable time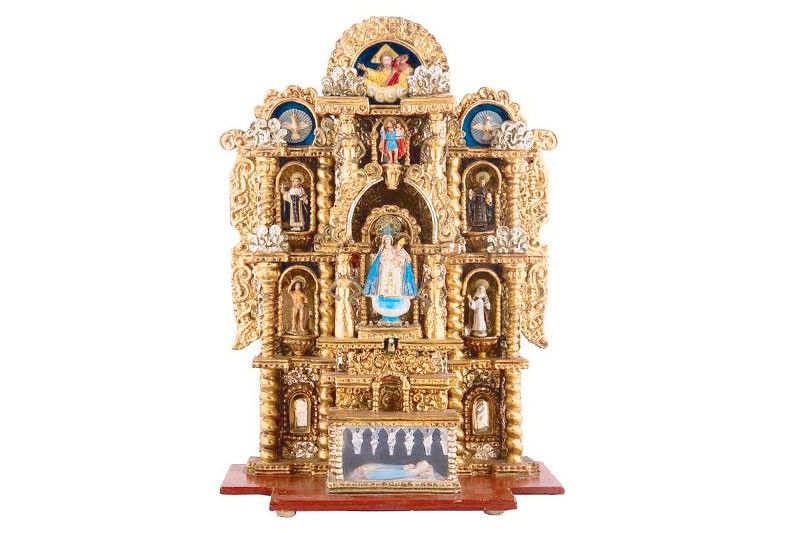 It may not be the best of times, but it is undeniably the most unforgettable of times in recent memory. A time of seismic changes in the way we live and let live.
And bleak and surreal though the times may be now due to the coronavirus, an unseen juggernaut that has displaced most everything on its path, we place our hopes on the return of normalcy, whether modified or enhanced or both.
That is perhaps why most people are carrying on, conducting business as usual in an unusual way.
'The Casa'
As the Philippine economy slowly purrs before it roars once again, Palacio de Memoria's auction house, Casa de Memoria, or simply the Casa, will be offering a new online experience filled with art, celebration and goodwill as it holds two special auctions to mark its fourth anniversary.
The Casa is donating part of the proceeds from both auctions to the emergency quarantine facility (EQF) in Sta. Ana Hospital Manila for COVID-19 patients. The EQF, designed by WTA Architecture and Design Studio, can accommodate 15 beds, a testing box, sanitation and disinfection areas, and a nurse's lounge.
"Our current situation, while it may be difficult, has taught us the value of helping one another. These two auctions are special for us as we enable ourselves to reach out to our community while showcasing the beauty and legacy of the illustrious past," said Palacio de Memoria general manager Camille Lhuillier.
Casa's Primero auction and Segundo anniversary auction will be held online at www.casadememoria.com, powered by Invaluable, on May 30 and 31, both at 2 p.m. These exciting auctions will showcase a curated selection of some of history's most beautiful artworks, antiquities, and heirlooms of European-Filipino provenance.
The seven-story Palacio de Memoria, which displays the items up for auction, has seen times as difficult and as deadly as today's pandemic — World War II, in particular. And yet, she is still standing. In fact, Camille believes it is the last mansion of its kind still standing on Roxas Boulevard that has been renovated and repurposed. The Palacio is, in fact, the embodiment of what art should be no matter the times — it should be preserved, appreciated and honored.
Camille's father Ambassador to Spain Philippe Lhuillier bought the mansion — which had seen better times — from the Villaroman family, which acquired the mansion after World War II. The Lhuilliers christened the multi-story mansion (which came with its own elevator), "Palacio de Memoria."
The Spanish colonial mansion is a work of art in itself, with floors of Italian marble designed by National Artist architect Juan Nakpil depicting Filipiniana — a couple dancing the tinikling, for one.
"We hope that it will impact on what our family brings to Philippine history," she adds.
At the Primero auction, some treasures that are up for bidding are the rare Islas Filipinas map by mapmaker Francisco Coello and Antonio Morata, an ivory and bronze art sculpture by Louis Barthelemy of ethical provenance, an art nouveau lamp and a glass vase by Émile Gallé, and two 20th-century distinct Murano goblets, among other silver, crystals, memorabilia, and decorative art pieces.
At Segundo, the Casa will auction distinctive pieces spanning paintings, furniture, pieces of sculpture, centerpieces, and religious antiques.
Segundo's selection of paintings reflects the cultural richness of Europe during the 18th to 20th centuries, such as Pablo Picasso's Sala Gaspar and Betsy Westendorp de Brias' Summer Nights in Madrid.
(To register for Primero and Segundo auctions, visit bit.ly/CDMPrimero20. Absentee bids can also be placed before the live auction. Interested parties may also opt for telephone bidding. For more details, call (02) 8253-3994 or e-mail [email protected]. For more information, visit www.casadememoria.com, @thecasadememoria on Facebook and @casadememoria on Instagram.)
Making time count
Another scion of a prominent family is making time count, literally.
Brian Poe Llamanzares, owner and CEO of Time Master Watches (TMW), a proud Filipino brand, is donating a portion of the sales generated by its first automatic watch, the "Apollo," to helping Filipinos combat COVID-19.
TMW is launching the "Apollo" to mark its third anniversary.
"I'm proud to announce our partnership with Habitat for Humanity. We will be dedicating a portion of our sales to support their COVID-19 response efforts. This program will help to support hygiene and sanitation projects to protect communities across the Philippines," says Brian, firstborn of Sen. Grace Poe and her husband Neil Llamanzares.
It's no surprise that Brian chose to partner with Habitat for Humanity Philippines. He has been volunteering for the NGO since 2014 building homes in Bohol, Bantayan Island, and other parts of the country.
The "Apollo" is a tourbillon, chronograph, automatic watch retailing at P12,500 per piece. This luxury watch was designed by Brian and his team and is of a limited edition. Due to the COVID crisis, the sale of the watch will be done purely online.
The company began developing the watch upon Brian's return from Columbia University in 2018. They first conceptualized the name and decided to launch "Apollo" by 2020 to commemorate the third anniversary of the watch.
Time Master Watches was founded in May 2017 and was Brian's first attempt at entrepreneurship after having served in his mother's presidential campaign.
Proud of his latest project, Brian hopes he truly has made time count for him and future "Apollo" owners.