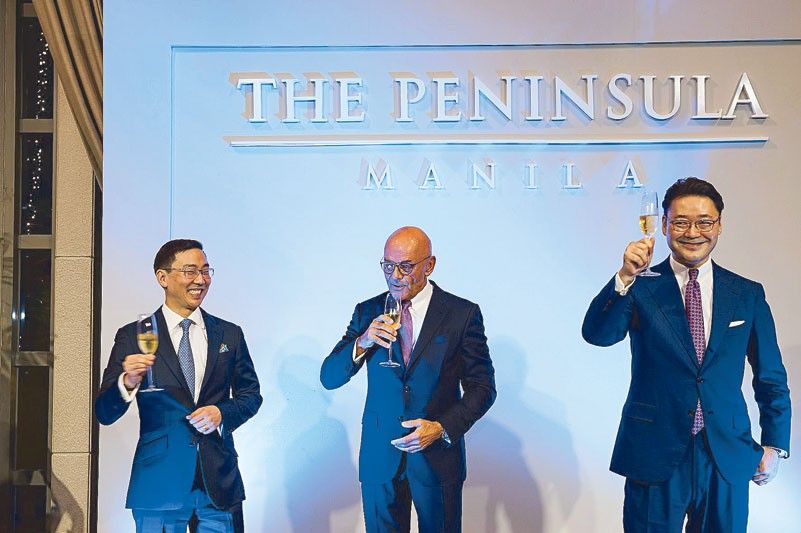 Hongkong and Shanghai Hotels Ltd. COO Peter Borer with former The Peninsula Manila GM Mark Choon and new GM Masahisa Oba.
It was an evening filled with reminiscing and gratitude as then outgoing The Peninsula Manila general manager Mark Choon welcomed the hotel's new general manager Masahisa Oba.
Mark, who recently assumed his post as general manager at The Peninsula Tokyo, thanked the people who made his Manila sojourn memorable from the support he received from The Hongkong and Shanghai Hotels Ltd. (HSH) chief operating officer Peter Borer, who flew in from Hong Kong for the affair, to the kindness accorded him by his wonderful hotel team, and all the friends he made in Manila during his stay here for the past four years.
It was in Manila where Mark assumed his first GM position of the hotel. He shared that The Peninsula Manila was a wonderful training ground for new general managers as he had been told it would be by his predecessors.
Masahisa, on the other hand, said he was not a stranger to Manila and the Philippines, so moving to Manila and taking on the mantle of general manager of the hotel was a bit of a homecoming for him.
"This is not my first journey to the Philippines. I worked in Manila years ago and was enchanted by both the people and the culture," Masahisa shared.
He closed his speech by recounting a piece of advice given to him by COO Peter Borer when he learned of his posting to Manila: "'Once you do Manila, you can do anything.' I think he is a great testament to that since he is now the COO!"
Farewell, Mark! And welcome, Masahisa!