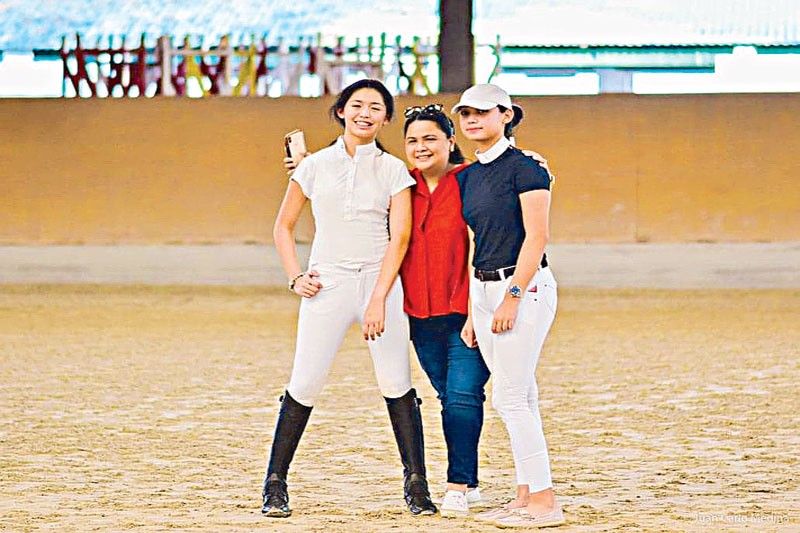 Equestrian Philippines Inc. president and Philippine Red Cross governor Carissa Coscolluela (center) with the big winners of the day, Paola Lorenzo, winner of the 1.20 m. class, and Minxie Romualdez, winner of the award for highest donations raised for the Philippine Red Cross at Ride for Life.
RIDE FOR LIFE: No 'horsing around' for charity
There are people to the manor and the manner born, and a significant number of them jump to their full potential — for themselves and for others.
Last year, friends who have been involved in equestrian sports for decades formalized their efforts under one umbrella organization called Equestrian Philippines Inc. (EquestrianPH), which is committed to upgrading the sport in the country and keeping Filipino riders competitive in the international arena.
EquestrianPH brings together the efforts of Carissa Oledan Coscolluela as president, Toni Leviste (Leviste Equestrian Park) as vice president, Joker Arroyo (JFJC Equestrian Training Services) as sports director, Marivi Camcam as finance director, and Anton Barretto as communications director. Proof of the success of the EquestrianPH program is the strong presence of its riders at the highest levels of the sport both in the Philippines and abroad.
Last Nov. 16, which also happened to be Carissa's birthday, EquestrianPH launched "Ride for Life," an ambitious, unprecedented program in the Philippine equestrian scene — during which over P1.3 million in donations to the Philippine Red Cross (PRC) was raised in an afternoon of showjumping excitement and family fun!
How the seven-figure amount was raised in one afternoon was leap of faith itself. Carissa, who has served as governor of the Philippine Red Cross since 2011 and is chairperson of its blood services committee, explains, "Ride for Life encouraged riders to find sponsors who would donate to the Red Cross on their behalf depending on their results at the event. For example, if the rider places first in his/her class, their sponsor commits to donate a certain amount to the Red Cross. If they place second, it's this amount, and so forth and so on. Sponsors can also donate a fixed amount regardless of the rider's results. The funds generated will go to the Blood Samaritan Program of the Philippine Red Cross, a program which supports the blood supply needs of indigent patients."
Thus, an afternoon of showjumping excellence saw a jump in Red Cross donations as well. The winners of the competition were Paola Lorenzo (1.20 meter), Lara Zobel (1.10 meter), Lillian Tang (1.00 meter), Mohamed El Akkad (.90 meter), Alex Ynares-Villalon (.75 meter), Amanda de Guzman (.65 meter) and Minxie Romualdez, winner of the prize for the rider with the most donations raised.
The over-all champ was none other than the Blood Samaritan Program of the Red Cross, which was infused with much needed funds to sustain its life-giving services. In cases when a patient badly needs a blood transfusion, the PRC is mandated to provide blood for this patient. However, safe and quality blood carries costs that most indigent patients cannot afford. And while the blood itself is free, having been donated by volunteers, collecting and processing blood entail costs, as much as P1,800 per unit for whole blood. In 2018, the PRC was able to give about 26,501 blood units to indigent patients.
***
"The idea behind Ride for Life was, first of all, to make our riders aware that there are a great many people out there who need help in accessing clean, safe blood, which often spells the difference between life and death," says Carissa, who has been involved in equestrian sports as a rider, horse owner, chef d'equipe, sponsor and advocate, and in governance positions since the early 1990s. "Second, I want to drive our riders to ride and compete not only for honor and victory for themselves, but to really push themselves in excellence towards great results because the better they do, the more money they will raise, and the more people they will be able to help. It's winning for more than just themselves. Beyond the medal and the rosette that the rider wins at the competition, his/her efforts that day easily translate to a life saved."
Carissa gratefully shares that many young riders are already very compassionate.
"For example, I have a goddaughter, Minxie Romualdez, who, when she was about eight or nine years old, embarked on her own Christmas Pig Project, where she gave away piggy banks to all her friends, titas and titos, at the beginning of the year, and then collected them in time to distribute the fully loaded piggy banks to children in pediatric wards in hospitals in Cebu and Leyte so that they could have a nice noche buena or buy gifts. The natural inclination to help those who are suffering is there, and it is important to create avenues by which they can express their compassion and be of help."
Well, Minxie also brought in the most number of donations during Ride for Life's debut.
In addition to staging the competition, Equestrian Philippines is also sponsoring the training and certification of all employees of the Manila Polo Club equestrian facilities in first aid and basic life support. "Because of the nature of the sport, and the fact that we are surrounded by horses who have minds of their own and can sometimes be unpredictable, it is important that our grooms and stable personnel all know how to respond in case of emergency," adds Carissa.
Life is indeed a gift and it is a joy to know that there are many willing to go through great lengths — on or off a horse — to help others receive this precious gift. *