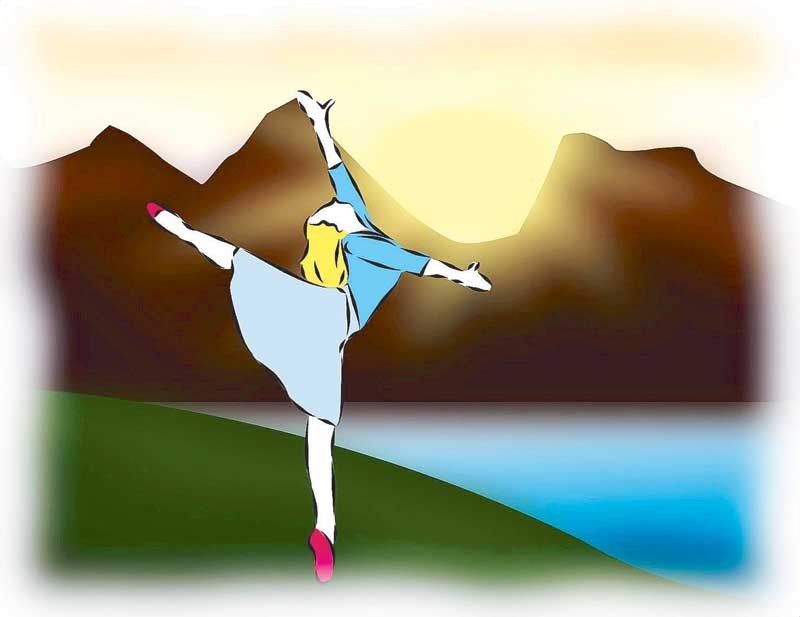 'Create reasons for living.'
Illustration by Jaymee L. Amores
Create new happy memories & exercise!
'The brain, like the heart, is an organ. Severe depression, psychosis or suicide is a form of 'brain failure.' It is not weakness or a family flaw.'
Last week's death of a popular Filipino rock star who fell down a building in an apparent suicide — with the act streamed live — shocked and rocked many Filipinos anew, bringing to the fore once more the fragility of human emotion.
A friend who saw the video said the rock star "looked alright and normal."
When someone has the flu, he usually exhibits very clear signs that make it easier to address the ailment. But how does one perceive the signs of mental illness (mental illness does not mean "crazy") when the person outwardly looks "alright and normal?"
Psychiatrist Geraldine Mayor, a graduate of the UP College of Medicine now practicing in Philadelphia, was in town last week to attend our mother's 80th birthday. She was here but 10 days and in those 10 days, in the midst of a round of parties for our mother, her own visit to animal shelters, she made time for two requests for her to talk about depression and its consequences. Geraldine took her residency at the Albert Einstein Medical Center, Philadelphia, and has practiced emergency psychiatry, in-patient psychiatry, community psychiatry and psychiatry in medical and surgical units in Philadelphia, over the years.
Last June, after the successive suicides of Kate Spade and Anthony Bourdain, Dr. Mayor (for this article, I will refer to my sister with her professional title) wrote, "Yes, we should wonder why suicide rates are up, as much as we do when heart failure rates are going up. The brain, like the heart, is an organ. Severe depression, psychosis or suicide is a form of 'brain failure.' It is not weakness or a family flaw.
"It is a genetic, chemical, psychological, environmental, social, situational 'perfect storm.' The balance is lost between the thinking brain and the emotional brain, between meaningfulness and emptiness...It is not simply an escape act for the victims."
* * *
In her recent talks before Assumption Convent alumnae at Milky Way in Makati and before parents at Everest Academy in Taguig (she was surprised that for each talk, close to a hundred people were present), Dr. Mayor said, "Having a few symptoms of depression and anxiety is part of the human condition, unless you are part robot."
Dr. Mayor cites a published study that, "Most suicidal ideation does not result in an attempt." It goes this way: thought, intent, plan, attempt.
For a layman like me, I guess this means that from thought to attempt, there are many ways to stop a person from taking his own life.
What leads a person to take his life? According to Dr. Mayor, based on published studies, the triggers include but are not limited to: feelings of defeat, burdensomeness, entrapment, low social support, exposure to the suicide of others, access to means and impulsivity.
Be very vigilant when a vulnerable person has been exposed to a death by suicide.
* * *
In addition to seeing a mental health professional, Dr. Mayor gives the following sound professional advice:
• Sleep is very important!
• Don't delay, if needed, starting medication, but also don't rely on medication alone as medication alone will not make you better. Generics work and are less cost prohibitive.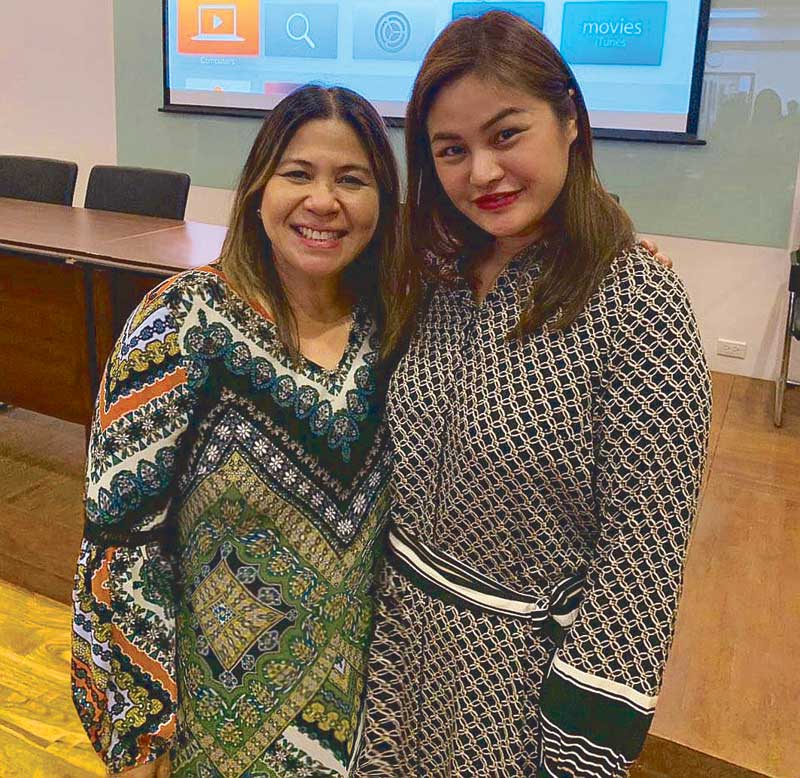 With Dr. Jennifer Ignacio, a fellow physician and a mother of a kindergarten student at Everest.
• Exercise is the newest hot topic in mental health management.
• Lessen stigma, shame, guilt.
• There's talk therapy, group therapy.
• There's self-management, i.e., quit smoking, exercise, diet modification, yoga, painting, gardening, faith-based activities, pets.
* * *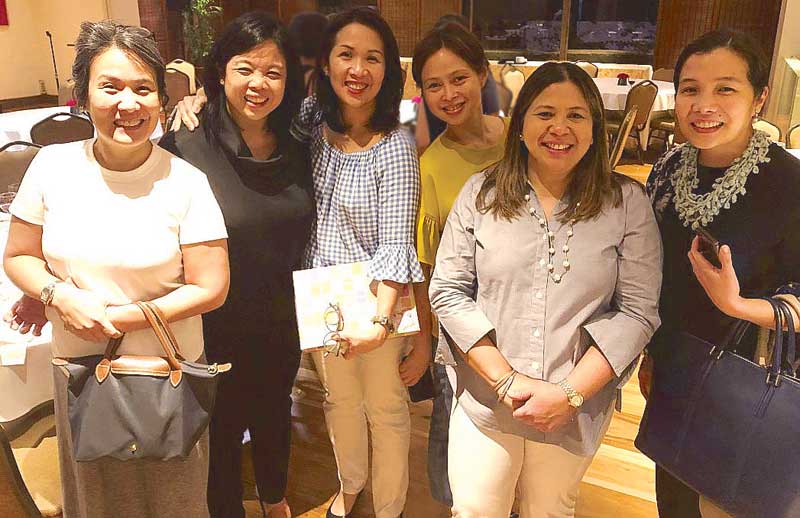 Assumption alumnae Marnie Roman-Torres, co-speaker Dr. Rissa Pineda Franks, Loudette Roman-Tanjuatco, Mia Tambunting Padilla, speaker Dr. Geraldine Mayor and Pia Roman Tayag at the recent forum.
As for the family, co-workers, classmates and community in general, Dr. Mayor urges, "Be welcoming as individuals and as a community."
Like the groups that asked Dr. Mayor to speak to them, people should seek information on warning signs of depression.
In addition, family members should have a list of hotlines, emergency phone numbers, hospitals, the way they know the numbers to call if there is a burglar in the house!
And once aware of the warning signs, "Decrease access to means. Create reasons for living. Add new happy memories."
In this very competitive world, where social media measures you more critically than the traditional world does, Dr. Mayor advises parents: "Teach resilience. Emphasize the learning value of losing, of failure when it happens."
I remember there was a parlor game during the Christmas party for media hosted by Dr. Vicki Belo and her daughter Cristalle Henares Pitt. Cristalle's sister Scarlet Snow happened to be saling pusa in the team that didn't win, and she started to cry. And very lovingly, Cristalle told her, "It's okay to lose sometimes, Scarlet." Then Vicki scooped up her little girl to comfort her.
Dr. Mayor says improving one's coping skills in life is also key when tossed around by the waves of grief and misfortune. Learn to roll with the punches.
(You may e-mail me at joanneraeramirez@yahoo.com. Follow me on Instagram @joanneraeramirez.)