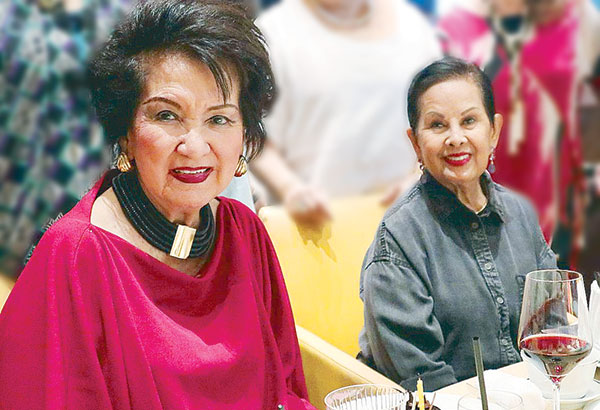 Nene Leonor (left) and Dr. Elenita Binay.
my LIPS are SEALED… sometimes…
-
Maurice Arcache
(The Philippine Star) - January 3, 2018 - 12:00am
That hostess with full of surprises for her guests, always comes up with different ideas and menus for her dinners and lunches.
Marieliese Evaristo recently threw a belated birthday luncheon for her pal, Nene Leonor, no less, palanggas, at the upscale Red Lantern Chinese Restaurant at Solaire Resort and Casino in Parañaque City.
Guests had a fantastic and sumptuous dimsum buffet that left the ladies wanting more. That's how good it was, dahlings. Appetizers were the ever-must-have Peking Duck, fritters and wanton dimsum. Then the main course included (roll call time!) sweet and sour pork, minced duck with lettuce, minced pork with eggplant, lemon chicken with extra lemon sauce, beef hofan noodles, fried spare ribs, salted fish fried rice and crispy noodles with assorted seafood.
Then the calorie counting was thrown out the window, dahlings, when it was time for the delectable desserts kataifi, sesame balls and sansrival cake.
Naturellement, Marieliese E. introduced Marcy David's band with his two singers who belted out fabulous operatic and romantic songs, which entertained the guests.
Presidential Legal Adviser Sal Panelo, a good balladeer, also took center stage and sang for the celebrator together with George Sarakinis, who sang a la Elvis Presley.
Now, how can anyone not enjoy a bash like this, palanggas? Guests had a blast with good food and warm company of friends. All for everyone's favorite host Marieliese Evaristo and the honoree Nene Leonor, palanggas.
Holidays in S Maison
The luxe Christmas tree of S Maison — embellished with thousands of Christmas balls, naturellement, in silver and rose gold and other geometric shaped ornaments — created a festive vibe in the upscale mall during the holiday season.
S Maison welcomed the season with a Christmas tree lighting ceremony and a performance of The Magical Toybox by the Philippine Ballet Theater.
The Christmas tree lighting — an SM tradition — was graced by no less than Pasay City Mayor Antonino Calixto as the guest of honor.
The ceremony was followed by The Magical Toybox performance, dahlings. "The Magical Toybox is about a little girl receiving a magical music box, which comes to life and takes the child and the audience on a spellbinding elegant ballet performance," explained SM SVP for marketing Millie Dizon, no less, dahlings.
SM Supermalls assistant vice president for operations Perkin So and SAVP for marketing Chiqui Tan with S Maison assistant mall manager Grace Mindanao welcomed guests to the magical event.
Seen having a great time at the Christmas tree lighting were Pasay City administrator lawyer Dennis Acorda, SM Youth ambassadors Tommy Esguerra, Kaila Estrada, Janna Tee, Macauly Lofgren, Erika Kristensen, Alex Lopez and Marielle Ardiente.
It was great celebrating the holidays at S Maison in Conrad Hotel Manila! It's a winner. Photos by Alex Van Hagen, Powered by MAC Center